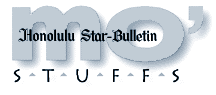 ---
Wednesday, October 20, 1999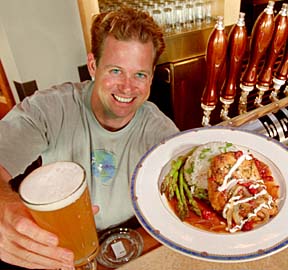 Star-Bulletin
Brennan Fielding serves up some Brew Moon beer and food.
---
Brewmaster wins
national honor
Brew Moon's Black Hole Lager won a gold medal in the Great American Beer Festival just completed in Colorado.

The lager, brewed in Honolulu by Brennan Fielding, was recognized in the category of German-style Schwarzbier in the competition sometimes called "the Olympics of the beer world."

The Association of Brewers sponsors the festival, which draws entries from around the world.

Brew Moon also took a silver medal for its Special B., a basil-flavored beer, in the herb and spice category.

Brew Moon, located in Ward Centre, is a microbrewery featuring handcrafted beers and a full-service dining menu.

Celebrate Kauai
Produce and products homegrown on Kauai will be featured at Sunday's Savor the Flavors of Kauai event, noon to 4:30 p.m. at Kilohana Plantation. Cuisine, wine and products from Hanalei Poi to Kekaha Prawns will be featured.

Chefs Jean Marie Josselin and Sam Choy will participate, along with Kauai's microbrewers and wine distributors. Entertaining will be the Divas (Melveen Leed, Carole Kai, Loyal Garner and Noelani Cypriano), Hapa and the Brothers Cazimero.

Tickets are $5 in advance, $60 at the door.

"Le Cordon Bleu Gourmet Workshops"
Chef Patrick Martin, vice president of culinary education development of Le Cordon Bleu Academie D'Art Culinaire in Paris, will conduct instructional lessons in the kitchen of La Mer. Under the direction of Martin and La Mer's Chef Yves Garnier, participants will prepare a gourmet lunch.

On Oct. 27, 29 and 31, the menu will consist of Warm Potato Salad with Caviar and Watercress Sauce, Honey-Lacquered Duck Breast and Brochettes of Fruit with a Sweet Couscous served in an Iced Orange Soup. On Oct. 28 and 30, the menu will feature Salad with Shrimp Marinated with Caviar, Roasted Lamb Basquaise and Lemon Souffle Crepes.

Workshops are conducted 9 a.m.-2 p.m. Each workshop is $125. Prepaid reservations are required. Call 923-2311, ext. 5300.

Oktoberfest in the Country
Alii Brewing Co.'s Second Annual Oktoberfest in the Country will take place noon-6 p.m. Oct. 31 at the Waimanalo Polo Field.

The festival will feature Alii beers, food booths including Surf Taco and The Seafood Garden, live entertainment, rides, craft booths and more.

Admission: $5 donation in advance; $6 at the door; keiki under 12 are free. All proceeds will benefit the Friends of Foster Kids. Call Michelle Wong at 236-1058 for more information.

"Roy's Disco Zin & Barrel Night"
Roy's Restaurant will host an Annual Zin night at 5:30 p.m. Nov. 7 with a menu of Fresh Ahi Tortellini, Wild Arborio Risotto, Waimanalo Mesclun Salad, Wood Roasted Salmon in Drunken Sake Sauce, Rosemary Pork Loin Skewers and Bittersweet Hawaiian Vintage Chocolate Petit Fours. Selected Zinfandels will be served.

The cost is $50; $36 without wine. Call 396-7697.

Care for your kidneys
The Kidney Foundation of Hawaii will host a health fair from 10 a.m. to 4 p.m. Saturday at Pearlridge Uptown and Downtown.

There will be free kidney and health screenings, organ donor information, cooking demonstrations, educational exhibitions, a display of the National Donor Family Quilt, children's activities and entertainment.

Call 593-1515.

Walk for Diabetes set
Hawaii will take part in America's Walk for Diabetes for the first time Sunday.

Registration begins at 6:30 a.m. at McCoy Pavilion, with the 10K walk scheduled to start at 7:30 a.m. Pledges and donations raised by walkers will support local programs and services of the American Diabetes Association, as well as fund research and treatment of the disease, which affects 80,000 people locally.

The walk loops twice around Ala Moana Beach Park before ending with a celebration with food and entertainment by the Opihi Pickers, Na Hoku Pa Maunalua, the Countryside Band and Halau I Ka Wekiu.

Those interested in supporting ADA can pick up pledge forms at Blockbuster Video, Longs Drugs stores and Safeway. Call 521-1142.

Health expo at HPU
Performances by the Sea Warrior Band and Hawaii Pacific University cheerleaders and dancers will be among the activities on Fort Street Mall Oct. 27 when the school hosts its HPU-Kaiser Health and Wellness Expo.

There will be a fitness challenge, cholesterol testing, body fat analyses and massages from 11 a.m. to 3 p.m.

Call 544-0277.






Click for online
calendars and events.
---
Send WatDat? questions, stories
or any other story ideas or comments to:
Features, Honolulu Star-Bulletin, P.O. Box 3080,
Honolulu, HI 96802 or send a fax to 523-8509
or E-mail to features@starbulletin.com.
Please include your phone number.
E-mail to Features Editor
---
---
© 1999 Honolulu Star-Bulletin
https://archives.starbulletin.com