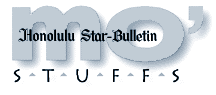 ---
Tuesday, October 19, 1999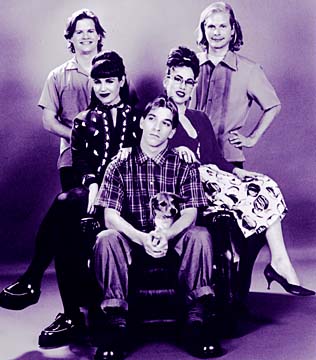 File photo
---
Crashers coming to
play at World Cafe
The Dance Hall Crashers will be back in Hawaii to play World Cafe beginning 7 p.m. Nov. 13.

The show is open to all ages, and doors will open at 6:30 p.m.

Tickets are on sale for $16.50, plus applicable service charge, at Tower Records-Kahala and Pearl Kai, Tower Video Kapiolani, Hungry Ear Records-Makaloa, Kailua and Wahiawa, Radio Free Music Center, Jelly's-Market City and Pearl Kai, Kaneohe MCBH ITT, Pearl Harbor Bloch Arena, Schofield ITR, the University of Hawaii Campus Center, Tempo Music-Windward Mall and Kapolei, House of Music and the Blaisdell Center box office.

To charge tickets by phone, call Ticket Plus at 526-4400.

'Village' hosts readings
Bamboo Ridge Press will host a day of literature, poetry and music at the Hawaii Plantation Village from 12:30 to 4 p.m. Nov. 6.

On hand to tell stories will be Cedric Yamanaka, Lisa Kanae, Virgilio Felipe, Lanning Lee, Lee Tonouchi, Carrie Takahata, Chris Planas and Lois-Ann Yamanaka.

Musical guests will include John Keawe and Shoji Ledward.

Admission of $8 ($5 without tour) will include a tour of the village, which preserves Hawaii's immigrant history. Proceeds will benefit Bamboo Ridge.

Hawai'i Plantation Village is at 94-695 Waipahu St. For more information, call Lehua Lilinoe at Borders Waikele, 676-7820.

'Celebration of the Century'
Tickets are on sale for the "Celebration of the Century" millennium concert Dec. 31, starring Cecilio & Kapono and Kalapana.

The event will begin at 8 p.m. in Irwin Park, in front of the Aloha Tower Marketplace. In addition to music, there will be food booths featuring goodies from Gordon Biersch, and no-host drinks will be available at The Pier Bar.

Streamers and toasts to auld lang syne will add to the evening's cheer, ending with a display of fireworks.

Tickets are $30, available at the Blaisdell Center box office (service fees apply), Gordon Biersch, Big Island Steakhouse, Hooters and The Pier Bar. Tickets also at Tickets Plus; call 526-4400.

A portion of profits will benefit Child and Family Services. For more information, call 566-2337.

Get help on first job search
Those looking for a first job or career, may find help through the Child and Family Service's Job Education and Training program.

A free eight-day workshop will help potential employees learn how to start a job search, write a resume, make a positive impression on employers and brush up on interview skills.

Sessions will be 9 a.m. to noon on Oct. 25, 26, 27, 28, Nov. 1, 2, 3 and 4. For more information, call Glen Arcalas at 681-1552.

Preview
Coming to the big screen

Oahu theaters expect to be opening the following movies on Friday:
Bats
Rated PG-13
When the small Texas town of Gallup experiences a series of inexplicable bat attacks on local residents, the government calls upon eminent zoologist Dr. Sheila Casper.

The Best Man
Rated R
Harper Stewart (Taye Diggs) is the best man at his pal Lance's (Morris Chestnut) wedding. But Harper's recycled the stuff that happened among his crowd into a steamy new novel. The wedding party turns into an emotional roller coaster ride when the book makes the rounds of the assembled friends.

Body Shots
Rated R
A candid portrait of sex, love, and everything in-between for eight twenty-somethings one momentous night. Sean Patrick Flanery, Jerry O'Connell, Amanda Peet, Tara Reid, Ron Livingston and Brad Rowe.

Bringing Out the Dead
Rated R
Frank (Nicolas Cage) is a paramedic suffering from serious burnout. Director Martin Scorsese takes us into the hell of Frank's life over the course of three nights and two days, exploring the madness and mayhem of New York's wailing wounded. With Patricia Arquette, Ving Rhames and Tom Sizemore.

Crazy in Alabama
Rated PG-13
Eccentric Melanie Griffith flees the South of 1965 for Hollywood to seek her fortune, bringing her nephew, Peejoe (Lucas Thomas), into a confrontation with the struggle for racial equality. Co-stars Rod Steiger, Cathy Moriarity, David Morris and Meat Loaf

Happy Texas
Rated PG-13
Escaped cons plot a bank robbery while running a beauty pageant in a Texas town.

Three to Tango
Rated PG-13
Businessman Dylan McDermott, believing that restaurant bidder Matthew Perry is gay, asks him to keep tabs on his mistress, Neve Campbell.


Click for online
calendars and events.
---
Send WatDat? questions, stories
or any other story ideas or comments to:
Features, Honolulu Star-Bulletin, P.O. Box 3080,
Honolulu, HI 96802 or send a fax to 523-8509
or E-mail to features@starbulletin.com.
Please include your phone number.
E-mail to Features Editor
---
---
© 1999 Honolulu Star-Bulletin
https://archives.starbulletin.com