---
Saturday, October 16, 1999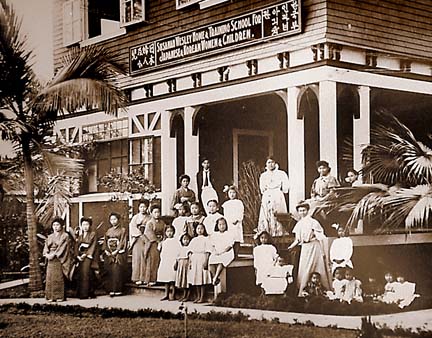 Susannah Wesley Community Center
In the early 1920s, the Susannah Wesley Community
Center was known as the Susanah Wesley Home & Training
School for Japanese & Korean Women and Children.
---



The Susannah Wesley Community
Center on Oahu, a refuge for many
over the years, prepares to celebrate
its 100th anniversary

By Lori Tighe
Star-Bulletin

Blanche Harbottle was 7 months old in 1913 when her father took her to the Susannah Wesley Community Center. The center at the time was a home primarily for girls, and her father was a single parent who had emigrated from Japan and needed to put in long hours on the plantation.

Harbottle lived at the center with two sisters until she was 18, and then headed out on her own. Now 86, she was drawn to the center again when her husband died in July, and she told her son she wanted to return to take part in activities there.

"It's home," said Harbottle, who goes to the center almost every day. "It's always thinking about you. It's friends."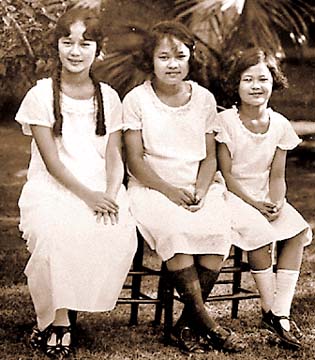 Susannah Wesley Community Center
Blanche Harbottle, pictured on the right. Now 86, she
recalls life at the Wesley center, where she grew up
with her sisters -- Jennie, left, and Edith.
---
Her feelings are shared by many in Hawaii, who throughout the century have found a home or help at the center: immigrants, the poor, troubled youths and families, and the elderly.

With roots that go back to 1899, the private, nonprofit center at 1117 Kaili St. in Kalihi began observing its 100th anniversary today with a block party, to be followed by special activities throughout the next year.

Times change, and so has the center's mission. It traces its foundations to a Methodist missionary who, with a $500 appropriation, went to the homes of Japanese women in Waipahu to teach English and sewing. In 1903, a cottage was rented to care for unattended plantation children and named for Susannah Wesley, "the mother of Methodism."

The center moved to its Kalihi location in 1919, and was known as a home for girls -- U.S. Sen. Daniel Inouye's mother stayed there briefly as a child. When the need for orphanages declined, the residence was closed and the center in the 1950s began its transformation to its present structure: a multipurpose community center that today offers services such as counseling to high-risk youths, mental health services to children, clothes for the poor and hot meals for the elderly.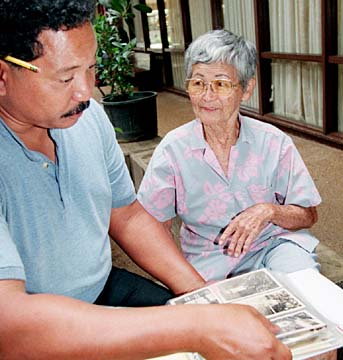 By Ken Sakamoto, Star-Bulletin
David Gibson, Wesley Center's development director,
looks at old photographs of the center with Blanche
Harbottle, 86, who spent her early years there.
---
Terry Nakamatsu is among the center's employees dealing with a problem of the '90s. Five years ago, fresh out of the University of Hawaii, she started working with teen-age Samoans in a youth gang prevention program.

"I saw the stereotype of Kalihi as a dangerous place," she said. "But when you work with the kids they're good at heart. When you treat them fair, they are fair with you. When they have a place to go, it keeps them off the streets."

Dominic Inocelda has worked at the center for 18 years, and now is in charge of its programs. He said he's stayed so long because the center's mission had become his own: to help people and the community develop. A decade ago, he recalled, a blue-collar worker struggling to make ends meet donated $1,000 in gratitude for straightening out his troubled son.

"That was a lot 10 years ago for a working man," he said.

That people give back to the center is perhaps a testament to its work. Executive Director Ronald Higashi -- he has worked for the center for 25 years and often shows up wearing shorts and slippers -- directs a staff of 60, which serves some 3,000 people annually.

What pleases him most lately is an 8,000-square-foot youth center and gymnasium finished two years ago. It took 20 years to plan and three years to build. Major funding came from the Harry and Jeanette Weinberg Foundation, but many others contributed during a five-year drive to raise money.

"We got a lot of little gifts to pay for it, nothing big, but a lot of little gifts which made the difference," he said. "We're proud of that."

And there are the volunteers, who emulate the spirit of the center's founders. Ruby Rogan, 64, said she was taken to the center at age 5 after she was lost during a family move from Maui to Honolulu. Her parents claimed her seven months later, but she returned when they divorced, and has "happy memories" of her time there.

A mother of nine, with 34 grandchildren and 22 great-grandchildren, Rogan felt depressed when three of her grandchildren were adopted after one of her daughters became addicted to crystal methamphetamine. A psychiatrist urged her to volunteer, and now she plays the ukulele and sings to seniors, helps lead exercise classes and never misses a day except when she's sick.

"When somebody treats you good when you're young, you want to do the same when you're older," she said. "That's what I wanted to do."

And she hopes to keep doing that, as the center enters its second century of giving help and hope.
E-mail to City Desk
---
---
© 1999 Honolulu Star-Bulletin
https://archives.starbulletin.com