---


View Point
By Dianne Pana
Saturday, October 16, 1999
---
Fire took everything
and gave more

Editor's note: Tragedy struck the Pana family of Pacific Palisades Aug. 15 when a fire broke out in its rented home, destroying the structure and most of its contents. Friends and strangers alike came to their aid and the following column was written as a thank you note to the community.

As soon as the fire was out, the help began, and to this day it has not stopped. When our home in Pacific Palisades burned down on Aug. 15, my family and I were left feeling shocked and hopeless.

The fire consumed everything including furniture, mementos and collectibles that belonged to my mother who had just passed away.

Of course, those items can never be replaced, but we consider ourselves blessed because no one was injured in the blaze that amazingly even melted our brand new refrigerator. We also consider ourselves blessed because the people of Hawaii responded with such concern and generosity.

We never expected such an outpouring of aloha. The list of donations is extensive and includes school supplies (enough for at least another year), new clothes, furniture, food, appliances and the list goes on.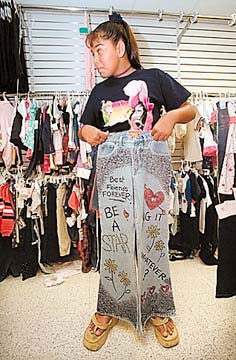 By George F. Lee, Star-Bulletin
Jaylyn Pana shops for replacement clothes at Ross'
a few days after the fire. The shopping spree was
sponsored by The Holy Bible Church of Ewa Beach.
---
As a small token of our appreciation, we would like to thank the neighbors who risked their lives trying to save our home. their bravery will never be forgotten. A special mahalo goes out to 12-year-old Angel Fujimoto, who put herself in danger while rescuing our dog Bula.

It would be an impossible task to thank each person individually because there were so many donations, and many were made anonymously.

For instance, one day we came home and there were at least 10 boxes full of clothes, pots and food stacked neatly in the garage. Another day we received a card in the mail which was signed simply "a retired social worker."

These acts of kindness have helped pull my family out of the darkness caused by the fire and into the light of hope. Though we are no longer surrounded by familiar possessions, we are surrounded by items that remind us how much the people of Hawaii helped in our greatest time of need.

Many of the cards mentioned that "this is just a small donation," but in my family's opinion, there were no small contributions. When one has lost everything down to the last roll of toilet paper or tube of toothpaste, every donation is appreciated.

All in all, the fire did not take anything from us. New friendships were made, old ones renewed and we learned that amid all the hurt and anguish we hear about daily, there are still people out there who care about one another.

For that we are truly grateful. My family and I are in the process of moving forward now, thanks in large part to the support and encouragement from the people of Hawaii.

Mahalo nui loa.

---

The Pana family includes Nelson, Dianne,
Shannon, Julie, Sharee , Jaylyn, Shyanne, Kiley and
two dogs, Bula and Nellie.
---
---
© 1999 Honolulu Star-Bulletin
https://archives.starbulletin.com