[News]
[Business]
[Features]
[Sports]
[Editorial]
[Do It!]
[Info]
[Classified Ads]
[Home]


OBITUARIES and
WEATHER in the
news section daily.







Most recent columns



To March 18, 1996
PAST WEEK:
| M | T | W | T | F | S |






Aloha Worldwide

Join SETI team

1998 Election

Legislature

SAT Scores

Pet Quarantine







Phone numbers, e-mail addresses, subscription info



E-mail notifier



---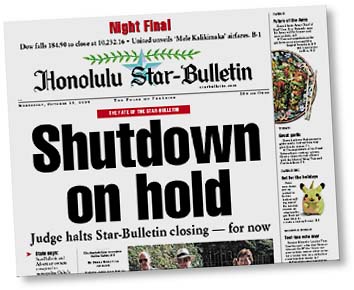 Sign up for our e-mail news notifier


---
Starbulletin.com publishes online editions Monday through Saturday.
Starbulletin.com publishes articles written by our staff and
selected articles of particular interest to our readers.
Entire contents of this Web site © copyright 1999 by
Honolulu Star-Bulletin. All rights reserved.

---
Featured on:





Preliminary injunction - Shutdown on hold; City skeptical of newspaper condemnation; City protests tobacco survey; UH - Indigenous students silent no more; UH - Students learn about themselves; Shinseki envisions quick force; 100: Keleher, Yanagisawa, Atherton; Akaka seeks drought aid; Military: Chinooks in service; Newswatch; Kokua Line; Corky's Hawaii; Weather; Island Images; Obituaries; Whatever Happened To...




Calendars & Events




Stinkin' wonderful; The making of a celebrity chef; Videos honor son's memory; Hawaii Kitchen; Stuffs; Hawaii; Honolulu Lite; By Request; Health Options






Chamberlain a gentle giant; Prep Extra: Uila Crabbe; 1979 Champion Wahine: Rocky Elias Wade; An Honest Day's Word; Bodytalk; Hawaii Beat; Scoreboard; Hawaii Sports Broadcasts



UAL offers discount fares; Nurses seeking wage increase; Business Briefs; Hawaii Stocks; Closing Market Report; Mortgage Rates



Hawaii Convention Center passes test; Church and state; O.J. Simpson calls 911; Capitol View; Corky; Letters to the Editor