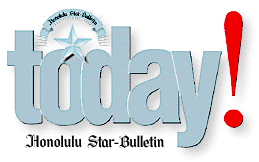 ---
Monday, October 11, 1999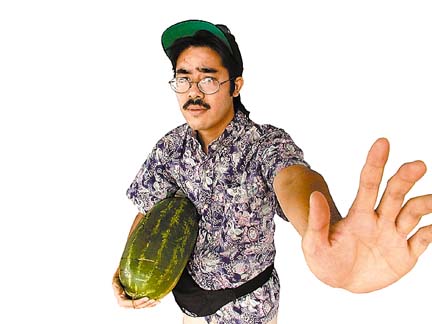 By Craig T. Kojima, Star-Bulletin
'Hybolics' takes a big step
in promoting pidgin as
legitimate language

By Cynthia Oi
Star-Bulletin

Note: This story is written in pidgin. If you have difficulty understanding what's being said, the gist is that Lee A. Tonouchi, a strong believer in the merits of pidgin English, has started a magazine that promotes all kinds of writing, including pidgin.

---

LEE A. TONOUCHI LIKE THE NEWSPAPAH put dis story in pidgin English, but we wen' argue dat some people not going unnastan da story if we put 'em in pidgin.

Das exackly his point, he say. If nobody promote or push pidgin, one unique part of Hawaii going be lost and da loss going get one impack on da island culcha.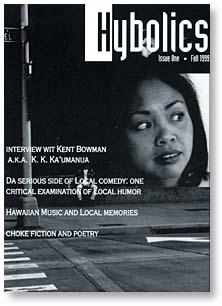 HYBOLICS HAPS

What: Da Hybolics Happening: Onreal Reading and Book Fair
When: 7 p.m., Thursday
Where: Campus Center Ballroom, University of Hawaii-Manoa
Cost: Free
Book info: Hybolics: 80 pages, paperbound, $9.95 ($13.35 with tax and shipping). Write to Hybolics Inc., P.O. Box 3016, Aiea, HI 96701
Call: 366-1272 or hybolics@lava.net




Tonouchi really believe dis. He no back down. Wen' you ax him how one kid going get one job if he no can talk standard English, he no more easy ansa. He say he speak ohny pidgin and he get jobs. He work fo' "Bamboo Ridge" in sales an' marketing and he teach English at Kapiolani Community College.

His newest ting is one magazine, called "Hybolics." He da co-editor with Normie Salvador and Carrie Y. Takahata. Da magazine get short stories, poetry, essays, art and one interview, some in pidgin, some in standard English with pidgin dialogue, even some with no pidgin.

Tonouchi no like call "Hybolics" one literary magazine, even tho' smell like one and look like one and get stuff insai dat stay literary.

"No call the magazine literary," he say, "because you tell people dat and dey no like read one literary magazine."

Da co-editors trying to break da mold of da genre by using graphics and different, mo "modern" type styles, he say.

Da stuff in da magazine comes from some well-known writers on da island scene: Cedric Yamanaka, Darrell H.Y. Lum, Juliet S. Kono, Rodney Morales and John Wythe White. Tonouchi get two pieces, one essay on pidgin and local comedy, and one interview with Kent Bowman, a k a K.K. Ka'umanua.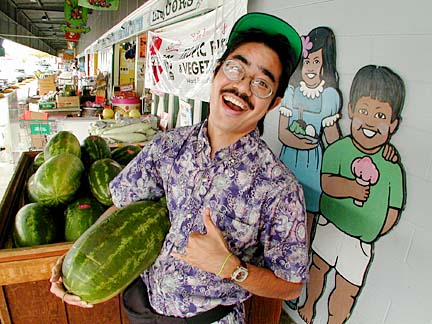 By Craig T. Kojima, Star-Bulletin
'No call the magazine literary
because you tell people dat
and they no like read one
literary magazine.'

Lee Tonouchi,
CO-EDITOR, HYBOLICS, SHOWN 'ACTING UP'
AT FARMER'S MARKET, WARD

Tonouchi, 27, wen' grad Aiea High, and get master's in English from da University of Hawaii at Manoa. He one wiry guy, who tinks carefully befo' he ansa questions. He wait, sometime like 30 seconds, quick eyes looking lef' den right, den lef' again befo' the words come outta his mout'.

"What I try is to use pidgin as much as possible," he say. He wen' write his college papahs in pidgin and wen' even do his job application to KCC in pidgin and still wen' get da job.

He tink standard English is one myth. "Who did da standardization?" he ax.

He contend dat standard English not one standard, dat da language "always evolving." People in da South of da continent talk different from guys in da East. Words and phrases stay different in different places, even from one age group to anoddah, so wat give dat validity ovah pidgin, he say.

If da guy had his way, pidgin would be da official language of da islands.

"My ting is dat for some people pidgin is a bridge, but why not make pidgin da goal."

He tink dat if you no like your kids talk pidgin in public schools, den da kids should go private school. In fack, he envision all-pidgin schools, where kids learn everyting in pidgin.

"Pidgin such a big part of our culcha, and if you feel like you no unnastan, den you can learn. If you no like learn, den why you hea? Da reason somebody come here is cuz you want to be hea in dis place with dese people. If you hea, you should learn," he say.

Pidgin wen' develop in da plantation days when people from planny different countries was working togeddah an' had to fin' one language dey all could unnastan. In da Pacific Historical Review, UH professor Eileen H. Tamura wen' write: "Language intolerance has been especially strong when those in power have felt threatened by people they consider culturally different from themselves."

"Pidgin not judgmental, not exclusive," Tonouchi say. "It really is inclusive."

So is da magazine, he say. Notting was lef' out cuz da writer wasn't local or nevah write in pidgin.

"I like to tink of it as a pidgin continuum," Tonouchi say.

"Pidgin is important cuz it's who we are and how we talk."






Click for online
calendars and events.
E-mail to Features Editor
---
---
© 1999 Honolulu Star-Bulletin
https://archives.starbulletin.com