---
Friday, October 1, 1999



Court panel:
Set salary for
trustees at $97,500


The committee also recommends
the chairman receive $120,000

By Rick Daysog
Star-Bulletin

Bishop Estate trustees, whose annual compensation has topped the $1 million mark recently, should see their pay reduced by as much as 90 percent, according to a report released today by a special court-appointed compensation committee.

In court documents filed this morning, the Trustee Compensation Committee recommended that the annual compensation of the Bishop Estate's trustees be capped at $97,500.

The committee -- whose members include the estate's former court-appointed master, Colbert Matsumoto; local attorney Allen Hoe; and 1963 Kamehameha Schools graduate Mike Rawlins -- also recommended that the annual pay of the chairman of the Bishop Estate be limited to $120,000.

The recommendations underscore the widely held belief that the trustees of the 115-year-old Bishop Estate were receiving excessive pay and will go a long way toward resolving the two-year controversy surrounding the estate, according to Rawlins.

"We'd like to think it will help restore" public confidence in the Kamehameha board, said Rawlins. "We think that what we've come up with is a reasonable compensation."

To be sure, the amounts recommended by the committee exceed the average directors' fees at Hawaii's largest for-profit corporations. They also exceed the amounts recommended by the committee's outside consultant, Towers Perrin. The consulting firm recommended a declining pay scale, with a cap of $100,000 for the estate's chairman and $50,000 for individual trustees during their first year of service.

In the second year, Towers Perrin recommended a cap of $75,000 for the board chairman and $37,500 for regular trustees.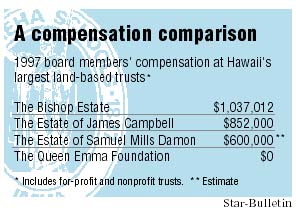 Rawlins said the committee decided to adjust its recommendations because members felt the consulting firm didn't take into consideration the importance of the trustees' post. He added that the committee also believed that the recommended pay levels will help attract qualified board candidates.

The committee's report comes as various oversight groups have proposed their own versions of what the trustees should have been paid.

The Internal Revenue Service, in the preliminary findings of its four-year audit of the Bishop Estate, said the former trustees should have been paid between $60,000 and $158,000 for the 1990 through 1996 period.

The state attorney general's office is recommending that future trustees receive no pay for their work at the Bishop Estate. The state's consultant -- Radnor, Pa.-based Solutions Network Inc. -- said trustees' service should be voluntary and that it is not necessary to pay a retainer to attract qualified board candidates.

The trustee compensation committee was created last May by Probate Judge Kevin Chang after the 1998 state Legislature passed a new law limiting the compensation of board members of local nonprofits to reasonable levels.

Chang's May order came as he froze the pay of former trustees Henry Peters, Oswald Stender, Richard "Dickie" Wong, Gerard Jervis and Lokelani Lindsey and temporarily removed all but Stender from the board.

Stender and Jervis have since resigned from the trust and Lindsey was permanently ousted for numerous breaches of trust.

Chang is expected to hold a hearing on the trustee compensation recommendations.

---




Bishop Estate archive



E-mail to City Desk
---
---
© 1999 Honolulu Star-Bulletin
https://archives.starbulletin.com