---
Thursday, September 30, 1999






Frank Young of K&Y Chevron
has been a vocal critic of
company pricing

By Rob Perez
Star-Bulletin

Chevron dealer Frank Young is one of the company's top performing service station operators in Hawaii.

His gasoline sales have soared so much this year he's a virtual shoo-in to win a company contest for a free round-trip for two to Lanai in November, including a stay at the luxurious the Lodge at Koele.

But two months later Young will lose the Kakaako station his family has run for nearly 47 years -- if Chevron has its way. The oil giant is suing Young for allegedly failing repeatedly to open the service station for the hours specified in his lease.

Stellar sales performance aside, Young has another distinction with the oil company: He's one of the harshest and most quoted critics of Chevron's gas-pricing policies in Hawaii.

The company said its federal lawsuit, filed last week, has nothing to do with Young's criticism and is all about his station's hours of operation. Despite repeated warnings, the company says, Young continues to violate his operating-hours requirements, hurting Chevron.

The lawsuit seeks unspecified damages and asks the court to order Young to vacate the station by mid-January.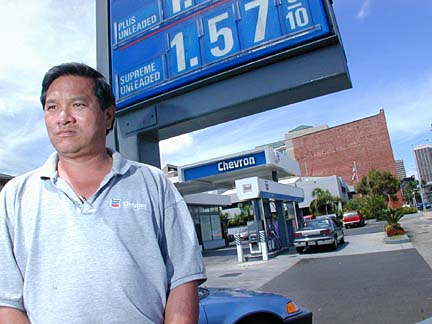 By Ken Ige, Star-Bulletin
Frank Young of K&Y Chevron stands at his gas station on
South Street down the street from the old Honolulu Brewery.
Chevron is trying to shut him down for not being
open at the hours listed in his lease.
---
The station is owned by Chevron but operated by Young as K&Y Chevron. It has been run by his family since 1953, when Young's father, Jimmy, took over operations.

"The situation is very unfortunate," said Brant Fish, Chevron's marketing manager in Hawaii.

Young "just put us in a situation where we had no choice" but to take action, Fish added.

Young declined comment.

An advocate for lower pump prices, Young often has among the lowest prices of all Chevron dealers in the state.

In addition, Young has lauded the state publicly for filing what is now a $2 billion antitrust lawsuit against Chevron and other oil companies, accusing them of overcharging Hawaii consumers.

Young's supporters say Chevron's Sept. 24 lawsuit smacks of retaliation, especially given that his business has grown so much, benefiting him and the company.

Young's gas sales are up 92 percent in the nine-month period through June, according to Chevron documents. The next best-performing Chevron dealer in Hawaii posted a 27 percent increase in the same period.

Because Young frequently has criticized Chevron and other oil companies, accusing them of gouging Hawaii consumers, some people believe the lawsuit and his possible ouster is Chevron's payback.

"You know they're after him," said Birch Akina, a retired Chevron employee who spent more than 20 years as a retail representative to local dealers. "There's no question this is retaliation."

But Fish emphatically denied the charge. "That's totally unfounded."

He said Young repeatedly has broken the rules and has been warned a number of times that such action could result in termination of his lease.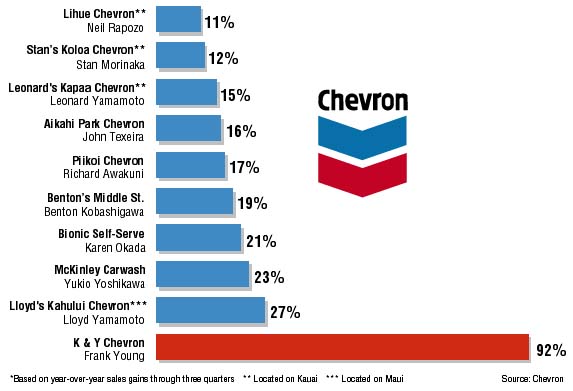 According to the lawsuit, Young failed to operate the station in accordance with the required business hours as far back as December 1998 and as recently as late last month.

During that period, Chevron issued four warnings, advising Young in three of those instances that failure to comply with the required operating hours could or would result in termination of his lease, according to the lawsuit.

Despite such warnings, Young continued to violate the lease, Chevron said. It noted that in June and July of this year, for instance, the station was closed when it should have been open.

The lease requires Young to open the station from 6 a.m. to 10 p.m. Monday through Friday and from 7 a.m. to 10 p.m. on weekends and holidays.

In August, Chevron said it issued its final warning, advising Young that the next violation would result in the company exercising its right to end the lease. Despite that warning, Young violated the hour requirements Aug. 29, Chevron said.

Fish would not elaborate on how Young allegedly violated such requirements.

He acknowledged that Young and his employees have done a good job this year, but the dealer breached basic contractual obligations.

By not opening when he was required to, Young's volume, however high it was, could have been higher, Fish said. Also, customers who expected the station to be open couldn't buy gas, hurting the company, he added.

"That's just what retailing is all about, being there when the customer needs you," Fish said.

But Akina said dealers routinely fudge on operating-hours requirements and typically don't get sued for such behavior.

"The problem is Frank's been very effective (with his criticism of Chevron)," Akina said. "He's accurate."

Fish acknowledged that this lawsuit was the first he knew of in which Chevron sued a Hawaii dealer over operating hours. But he said the company has sued dealers over other issues related to contract breaches. He said other dealer lawsuits besides Young's are pending, though Fish declined to say how many or what specifically the cases were about.

Because Young runs a good business with a good group of employees, Chevron took extra steps to try to resolve the problem before filing the lawsuit, Fish said.

"It was clear Frank was not going to change his operating practice," Fish said. Although Young declined comment, Chevron said in the lawsuit that he disputes breaching the lease and believes the company is not entitled to end the contract.

Young's lease actually expired in May, but he has been operating under terms of that agreement on a month-to-month basis.

If Young contests Chevron's nonrenewal of his lease, the company will let the court determine when he must vacate the station, Fish said.

No matter what happens, though, Young still will be eligible for the Lanai trip, Fish said.
E-mail to City Desk
---
---
© 1999 Honolulu Star-Bulletin
https://archives.starbulletin.com