---
Wednesday, September 29, 1999



P R E P _ E X T R A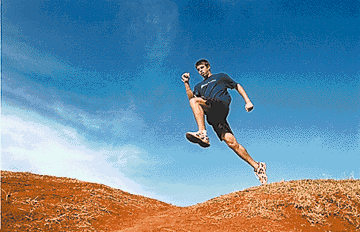 By Dennis Oda, Star-Bulletin
---
Going cross country


Mililani senior Robby Philipp
has been running
all of his life

By Ben Henry
Special to the Star-Bulletin

On a day like this, the last thing any sane person would want to do is run. But Robby Philipp, red faced and wheezing, looks like he just finished a marathon.

The Mililani senior, his shirt soaked in sweat, his chest pumping madly to catch some breath, is late for practice.

Normally, the sight of Philipp in this condition is not very noteworthy.

After all, he is a cross country runner, and he runs long distances at practice almost every day. But this time, it's hard not to take note -- especially considering that practice hasn't even started.

"I thought that I'm going to come to practice to run anyway, so I might as well run," Philipp said.

Philipp usually catches a ride from a friend to get to practice. But his ride fell through, so, doing his best Forrest Gump impression, he ran - a mile and a half, just to get to practice.

For Philipp, who has lived in the same Mililani house his entire life, running is no big deal. He's done it all his life. Whether it's trying to keep up with his older brother or chasing his friends' bikes when he didn't have one, Philipp was always running.

"I talk story with some of my old neighbors sometimes, and they say, 'Remember when you were a little kid, and all you did was just run?' " Philipp said.

But it wasn't until he applied that energy to competitive running that he realized there were opportunities to be had.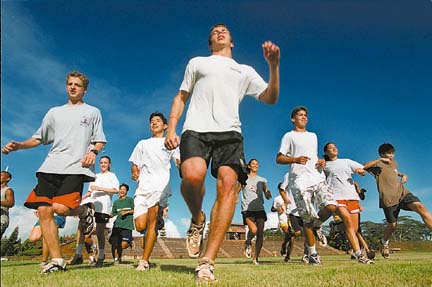 By Dennis Oda, Star-Bulletin
Robby Philipp, who also plays soccer, is the front runner
for the state boys' cross-country championship.
---
"My first run, I didn't know what I was doing. I just jogged the thing," he said. "But my second race, somehow my dad knew I was cruising, and he gave me a little pep talk. He told me to just run as hard as I could. So I went out with the top guys, followed them the whole race, and it hit me. I don't think I've ever run that hard my entire life. I lost by a second to a senior, but all I remember is the look on everyone's face. They just saw a little freshman - I was a real small runt - and all their mouths just dropped. That was the first time I really knew what cross country was all about."

Philipp finished 15th in the state that year, and first in the OIA and fourth in the state the next year. And this year, with last year's champion moving out of the state, Philipp, who finished second in the OIA and in the state last year, is literally the front runner for the state championship.

"He's probably the most talented guy we've had here - and we've had a lot of talented runners," said head coach Shane Akamine, who has coached at Mililani for 15 years. "He has a lot of natural gifts."

According to Akamine, Philipp's talent is frightening not because of how good he is, but because of how good he could be.

But his talents go beyond cross country. He is also a two-time defending state champ in the mile and has earned a starting position on the varsity soccer team.

Still, Akamine says Philipp could be so much better at cross country if he focused on it alone. "Soccer takes away a lot. He's not able to train completely for running," Akamine said. "If he was more focused on running, he could achieve a lot more. He could run at a Division I school."

Philipp says it's hard sticking to a single sport. But he realizes that it's time to buckle down and accept the opportunities a cross country career would offer. "I guess now (my focus) is running, because in college I'm hoping for a running scholarship," he said.

"I guess (my focus) kinda shifted when I got to high school, because in cross country, I was the top dog. Then I went to soccer, and I just rode the bench the whole year."

But ever since his second race as a freshman, he could change the entire complexion of a race.

"Other teams know who he is; they know that if he's in the race, they have to watch for him," said Akamine. "He's already a top-echelon runner."

After three years in the state cross country spotlight and no state championships, Philipp is hungry.

"Running cross country ... it's just different," he said. "When you hit the last mile, you know everybody's dying, and what it comes down to is who's going to go. The last mile, you want to start to pick it up. And as soon as I see the finish line, it's everything I've got."
E-mail to Sports Editor
---
---
© 1999 Honolulu Star-Bulletin
https://archives.starbulletin.com