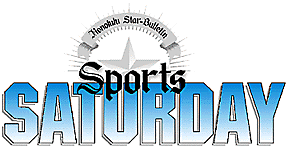 ---
Saturday, September 18, 1999



I L H _ F O O T B A L L
---
PICKED OFF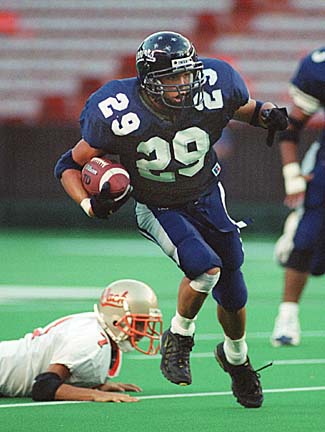 By George F. Lee, Star-Bulletin
Kamehameha defensive back Kaulike Rice makes a move past
Pac-5 receiver Matt Sakagawa after making an interception in the
second quarter of the Warriors' 55-7 win over the Wolfpack at
Aloha Stadium last night. Rice's 13-yard interception return
set up a Kamehameha touchdown.
---
Kamehameha rolls
over Pac-5

OIA in Prep Beat By Ben Henry
Special to the Star-Bulletin

No matter how much Kamehameha tried, Pac-5 -- undersized and overmatched -- refused to fold.

Yes, Kamehameha (3-0 ILH) scored 29 points in the first quarter, and yes, Kamehameha won, 55-7; but throughout the game, no matter how much they were down, the Wolfpack's press never went off-line.

"They're a hurt team -- they've got some guys injured," said Kamehameha head coach Kanani Souza, explaining the lopsided score. "It's just a matter of personnel."

Decided underdogs, Pac-5 (0-3) had only 54 players on its roster for yesterday's game at Aloha Stadium, while Kamehameha had 92.

But Quarterback Paulo Futi seemed oblivious to the mismatch, throwing for 313 yards, including strikes of 28, 30, 31, 41 and 76 yards. His favorite target, Britt Komine, caught 16 passes for 233 yards.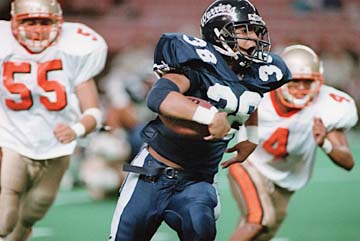 By George F. Lee, Star-Bulletin
Kamehameha running back Kelena Hookano outruns
Pac 5's Justin Matsuda and Patrick Porter.
---
Pac-5's resilience was evident in its reaction early on. Down 15-0 after a couple of quick scores by fullback Everett Hesia, Futi rolled to the right under heavy pursuit in the first quarter and let loose a pass to the streaking Komine, who caught it and ran for a 76-yard score.

But the Warriors were just too much, as they used a consistent running attack peppered with the threat of a potent pass to keep Pac-5 off-balance.

The Warriors dominated on the ground, scoring six of eight touchdowns and gaining 268 yards on the turf. And this, with starting running back Kiely Loo sitting out.

"We like to think that we can run if we need to run, and hopefully we have the ability to throw if we need to throw," Souza said.

Pac-5's undoing, meanwhile, manifested itself in its negative 21 yards rushing for the game.

Kamehameha was able to take a good look at its future at running back in sophomores Kelena Hookano and Keola Marks and junior fullback Preston Velasco-Laybon. They collectively rushed 28 times for 145 yards and three touchdowns.

Pac-Five	7  0 0 0 -  7
Kamehameha	29 13 6 7 - 55

Kam -- Everett Hesia 26 run (Kanoa Alapai run)
Kam -- Hesia 2 run (Justin Ayat kick)
Pac -- Britt Komine 76 pass from Paulo Futi (Jayson Abe kick)
Kam -- Hesia 1 run (Ayat kick)
Kam -- Elia Akau 49 pass from Kauka Castro (Ayat kick)
Kam -- Kelena Hookano 1 run (Ayat kick)
Kam -- Michael Akiu 19 pass from Castro (kick failed)
Kam -- Hookano 6 run (pass failed)
Kam -- Keola Marks 1 run (Ayat kick)

RUSHING -- Pac-Five: 45 4-9, Michael Hom 1-0, Chad Rayno 5-(-4), Futi 2-(-26). Kamehameha: Preston Velasco-Laybon 14-87, Hesia 10-86, Hookano 11-55, Keano Noa 2-15, Jon Fo 3-22, Marks 3-3.

PASSING -- Pac-Five: Futi 25-37-3, 313 yards. Kamehameha: Castro 9-15-0, 160 yards; Fo 1-4-0, 28 yards.

RECEIVING -- Pac-Five: Komine 16-233, Brandon Ahakuelo 2-36, Patrick Porter 2-29, Chad Rayno 3-12, Brian Wilkinson 1-3. Kamehameha: Alapai 3-54, Akau 3-79, Kimo Yates III 2-36, Michael Akiu 2-19.

St. Louis 48, Iolani 9

Timmy Chang threw six touchdown passes, tying the ILH record he set last season, as the Crusaders (3-0) scorched the Raiders (2-1)

Individual statistics and scoring summary were not reported
E-mail to Sports Editor
---
---
© 1999 Honolulu Star-Bulletin
https://archives.starbulletin.com