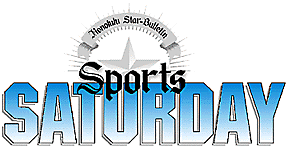 ---

Hawaii Beat
By Star-Bulletin Staff
Saturday, September 18, 1999

Hawaii Pacific soccer men fall

The Hawaii Pacific men's soccer team fell to Humboldt State, 4-2, yesterday in a Pacific West Conference match at Arcata, Calif.

The Sea Warriors (3-3) had goals from Mark Vallee and Darren Juliano.

Shoji at QB Club

Hawaii women's volleyball coach Dave Shoji, assistant UH football coaches Ron Lee and Dan Morrison, and Kailua football coach Darren Johnston will be the guest speakers at the Honolulu Quarterback Club meeting Monday at the Pagoda Restaurant.

Luncheon will be served at 11:30 and the program starts at noon. The public is invited to attend.

Omuro wins Hickam title

Garrett Omuro fired a 4-under 68 to win the Hickam Air Force Base 54-hole invitational yesterday at Mamala Bay Golf Course.

Van Wright, John Lundgren and Al Bello tied for second place at 71.
---
See line scores and results in
the [Scoreboard] section.
---
http://uhathletics.hawaii.edu
E-mail to Sports Editor
---
---
© 1999 Honolulu Star-Bulletin
https://archives.starbulletin.com