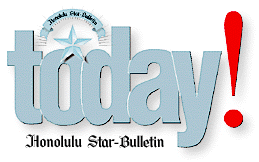 ---
Friday, September 17, 1999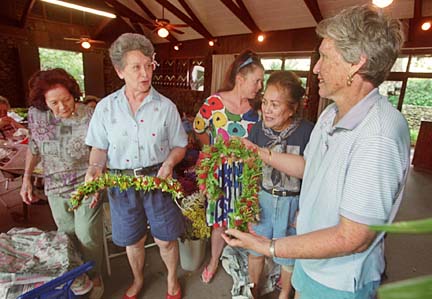 By Dennis Oda, Star-Bulletin
Daughters of Hawaii Laura Hind, left, Ulu Lani Duncan, Muriel
Shingle, Amelia Bailey and Marilyn Lee prepare leis at the Queen
Emma Summer Palace for their fundraising event this weekend.
---



1,400 strong, Daughters of Hawaii
are on a mission to preserve
Queen Emma Summer Palace

By Burl Burlingame
Star-Bulletin

NO matter America's intentions, best or indifferent, sometimes lines have to be drawn. Hawaii's dance with the United States has had its share of missteps and smooth moves, but we keep on our feet. The trick is finding the right groove.

So imagine yourself in 1903, a kamaaina lady so steeped in Hawaiian culture and language that it's difficult to watch it vanish under American influence. It has only been a decade since Queen Lili'uokalani's overthrow. Change is sweeping through the islands like a tidal wave.




A DAY AT QUEEN EMMA
SUMMER PALACE"

What:" Annual fundraiser for the Daughters of Hawaii's preservation efforts for the structure
When: 9 a.m. to 4 p.m. Saturday
Where: Palace grounds in Nuuanu
Cost: $3; $2 with Aloha Week ribbon; $1 children.
Call: 595-6291.




Seven like-minded women founded the Daughters of Hawaii that year in an effort to preserve Hawaiian culture, sacred sites and the language. After a decade of meeting and organizing and networking without anything concrete to show for it, suddenly they had a vision, a project. Queen Emma's "summer palace" in Nuuanu was to be leveled in 1913, replaced by that all-American arena, a baseball field.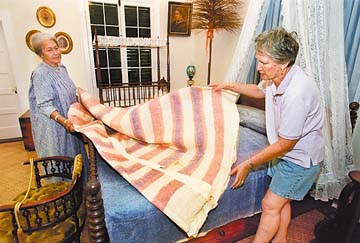 By Dennis Oda, Star-Bulletin
Top: Queen Emma Summer Palace curator Leiana Woodside and
Marilyn Lee show the tapa blankets on one of the beds inside the
Queen Emma Summer Palace. The striped tapa blanket is 7 layers
with the top layer dyed in uki berries (blue) and akala berries (red).
---
Ever since, Queen Emma's summer retreat has been the Daughters' primary, shining icon. They have done the same for Kamehameha III's birth site in Keauhou in 1925 and Hulihee palace in Kailua-Kona in 1927, but it is the stately white Greek Revival complex snuggled next to Pali Highway that is most closely identified with the Daughters.

The Daughters, which number about 1,400, are the ladies in white muumuus with yellow feather leis around their neck. They are not to be confused with the Kaahumanu Society -- the ladies in black holoku -- who show up at formal and somber Hawaii events.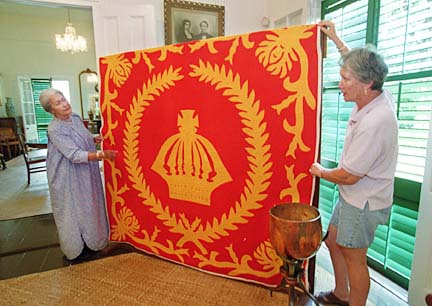 By Dennis Oda, Star-Bulletin
The two show a quilt that has the royal crown design.
The design is known as the "Kalakaua Crown."
---
Anyone can apply to be a Daughter of Hawaii, provided one has an ancestor who settled here prior to 1880. If you're a guy, they have a "brother" organization, the Calabash Cousins.

"Many of the women who founded the organization were the daughters and granddaughters of haole missionaries, who grew up speaking the Hawaiian language and with a reverence for Hawaiian culture," explained Valcino Beckett, the organization's current "regent" or head.

"The founders were really acting in reflection of what they saw happening in Hawaii. They were scared and felt they had to do something.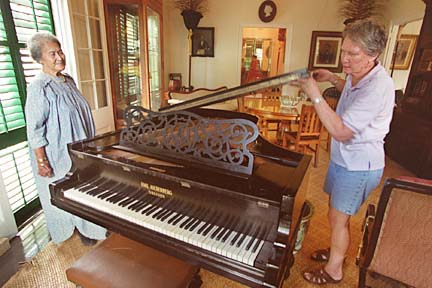 By Kathryn Bender, Star-Bulletin
Leiana Woodside, a curator and Queen Emma Summer Palace
watches as Marilyn Lee lifts up the grand piano lid. The piano
belonged to Queen Emma (made by Ascherberg in Dresden,
Germany between 1865-1870). It was a gift to the Daughters
of Hawaii by George E. Smithies in 1919.
---
"Our mission is to preserve the memory and spirit of the Hawaii of old and of historical events, to preserve historical sites, the nomenclature, and the correct pronunciation of the Hawaiian language."

Hawaiian culture classes are part of the Daughters' interpretive scope.

The Daughters receive no money from the state to pay for the ongoing cost of maintaining the palace, and all funds raised this weekend through the Daughter's "A Day at Queen Emma Palace" event will be earmarked toward preservation efforts. The event has occurred annually for more than two decades.






Click for online
calendars and events.
E-mail to Features Editor
---
---
© 1999 Honolulu Star-Bulletin
https://archives.starbulletin.com