---
Wednesday, September 15, 1999



S U M O
---
Akebono drops
from tournament


The yokozuna suffered a thigh
injury during yesterday's match

Associated Press

TOKYO -- Akebono, or Hawaii's Chad Rowan, withdrew from the 15-day Autumn Grand Sumo tournament today after suffering a thigh injury the previous day.

Akebono, tore a muscle in his left thigh when he was thrown out by Kaio, who handed the yokozuna his first defeat against two victories.

A spokesman for the Japan Sumo Association quoted a doctor as saying that Akebono needs two months of treatment to recover, meaning he could miss the next tournament as well.

Akebono's withdrawal came one day after yokozuna Takanohana's pullout because of a finger injury.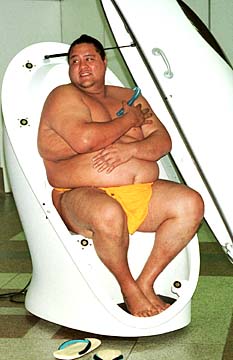 AP Photo/Tsugufumi Matsumoto
Sumo grand champion Akebono, or Chad Rowan from
Hawaii, looks out with resignation from a cocoon-shaped
capsule during a medical and physical examination in
Tokyo last June. Akebono, who is 2.04 meters tall and
weighs 227kg, was supposed to get his fat rate measured
in the capsule but his legs are too long and
unable to fit inside.
---
In action today, yokozuna Musashimaru, or Hawaii's Fiamalu Penitani, charged No. 2 maegashira Asanosho with a series of hand thrusts and sent him out for his third victory against one defeat. Asanosho is 1-3.

Ozeki (champion) Chiyotaikai remained undefeated at 4-0 along with sekiwake Kaio and No. 5 maegashira Miyabiyama.

In the day's final bout, yokozuna Wakanohana fought off No. 2 maegashira Kyokushuzan's initial charge of sidestepping to right and sent him out to improve his record to 2-2.
E-mail to Sports Editor
---
---
© 1999 Honolulu Star-Bulletin
https://archives.starbulletin.com