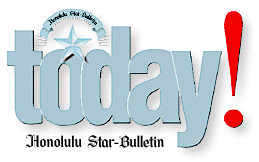 ---
Wednesday, September 15, 1999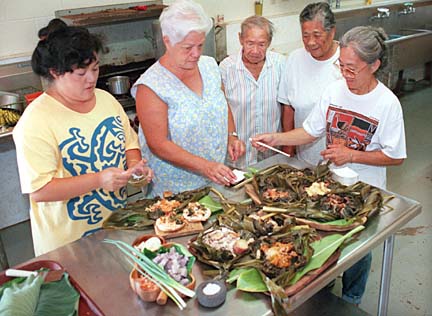 By Ken Sakamoto, Star-Bulletin
Sampling the offerings are, from left, laulau ladies Cheyenne Bajo,
Emmaline Causey, Clara Alameida, Mary Gora and Pat Sagon.
---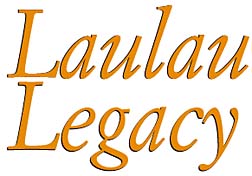 When laulau is a family
heritage, training begins
in childhood

Recipes: Seafood, vegetarian and chicken laulau
Betty Shimabukuro
Star-Bulletin
IN the beginning you pick leaves. When you achieve proficiency, you tie off the bundles.

Such is the chain of achievement in the laulau assembly line.

Kalei Bajo remembers his introduction to laulau -- watching at a very young age as moms, aunties and ladies of his church folded up the deep green bundles, hiding away the promise of pork and salted fish.

"Before you know it, you're in there." Part of the process. One with the laulau.

"It all started for us from picking the leaves -- Grandma showing us how to choose the good ones. If you come in with old luau -- one good scolding," Bajo recalls.

"After you pick, you learn to wash the leaves and prepare all the ingredients. Then your reward is assembly."




WAIALUA TARO FESTIVAL

When: 9 a.m.-4 p.m. Saturday
Place: Waialua Community Association Center, 66-434 Kamehameha Highway, Haleiwa
Highlights: Hawaiian entertainment, displays, taro plant and cookbook sales, poi-pounding, arts and crafts, food sales. Also, hourly trolley tours to Waialua Coffee center and Farmer's Market.
Admission: Free
Call: Hui Kalo 'O Waialua, 637-9364

LAULAU CONTEST

Do you have a prize-winning recipe for laulau?

Rules: Recipes must be submitted in advance. Finalists must bring 4 pounds of cooked laulau to the Taro Festival Saturday. Entry fee is $5.
Prizes: Neighbor island trip; dinner at Sam Choy's Diamond Head restaurant; dinner at Haleiwa Joe's.
Deadline to enter: Friday
Call: Kalei Bajo, 637-9679




Bajo's reward was mastery. The North Shore taro farmer learned his lessons well. Now he's coordinating a laulau recipe contest to be part of Saturday's Waialua Taro Festival.

For a recent laulau tasting, Bajo, his wife, Cheyenne, and mother, Helen, assembled a half-dozen types of laulau, from basic pork to corned beef (with cabbage). "A lot of people think laulau is only pork and butterfish," Bajo says. "We try to improvise."

After all, what, exactly, is Hawaiian about butterfish?

For that answer we turn to Eric Enos, a member of the 'Opelu Project 'Ohana, which produced "From Then to Now, a Manual for Doing Things Hawaiian Style" in 1996.

Enos says salted butterfish (or black cod), as well as salted salmon, came to Hawaii with whaling crews. Hawaiians were making laulau prior to that, usually in the imu, and they did salt the local fish. But butterfish, he says, with its high oil content, was an improvement in flavor. "It's become traditional."

One mystery solved. All it really means is that the pork-butterfish combination is nothing sacred.

Several high-profile Hawaii chefs have been experimenting with laulau. Alan Wong's new cookbook, "New Wave Luau," includes a recipe for Steamed Uku Laulau with Ginger-Scallion Sauce, which includes ogo and lup cheong, the finger-thin Chinese sausage.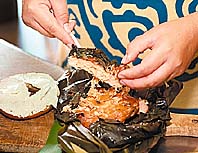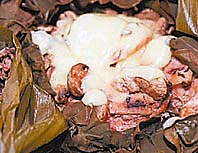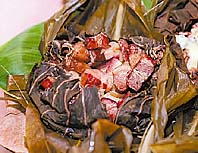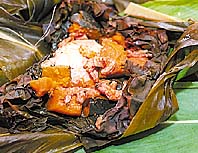 NEW WAYS WITH LAULAU

1. Smoked salmon with onion (serve on bagels with cream cheese and capers)
2. Shrimp, scallops, calamari and mushrooms, topped with hollandaise
3. Smoked pork with Maui onion and Hawaiian sweet potato
4. Chicken with pumpkin and dried shrimp

Bajo began his own experimentation with sweet potato from his yard. Then he tried stuffing a large sturgeon fish with sweet potato, wrapping it in luau and ti leaves and steaming away. The oily "fishy fish" was a big success with true fish-lovers, he says, but was a bit much for others. He never tried it again because he never caught such a big fish again.

But he has a world of other options. He'll use seafood in one bundle; tofu in a vegetarian version. "The main thing to remember is the cooking times vary. You cannot make a pot with all different ingredients and cook for the same time or you'll have a mess."

Remove seafood or vegetarian laulau after two hours, he says, pork or chicken after four.

Next decision after the insides is how much luau leaf.

Bajo includes three small, one large in each laulau bundle. His wife uses 12. Her bundles take up way more than their share of space in the pot, he complains.

Yes, says Cheyenne Bajo, but after the steaming bundles are opened, others covet her luau.

At home everyone makes their own customized laulau, she says, and each is marked with a different color twist tie.

"We always end up fighting because he ends up taking mine because I put lots of leaf ... so I end up stealing everyone else's luau."

Some kupuna are also particular about the type of luau used -- lehua, apuwai, haokea, palolu (a favorite in Waipio on the Big Island), her husband says. "If you serve them a laulau with a different type of leaf they'll know -- the taste and the texture -- cannot fool them."

---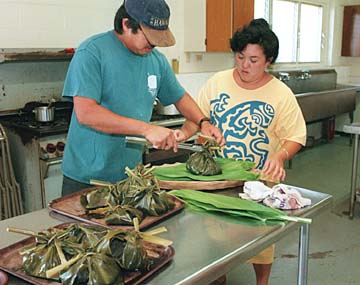 By Ken Sakamoto, Star-Bulletin
Kalei and Cheyenne Bajo open their bundles of laulau.
---
Beyond pork and butterfish

Betty Shimabukuro
Star-Bulletin

Helen Bajo, veteran laulau maker, says there are very few rules for making laulau. "Laulau could be anything. The variety could be endless -- just use your imagination."

Try Samoan-themed chicken with coconut milk and onions, or corned beef with cabbage and carrots, or any of the varieties pictured on the cover of this section.

Good ingredients, Bajo says, include half-ripe breadfruit, pumpkin, sweet potato, carrots and other hard root vegetables. Softer vegetables such as tomatoes can be used with pre-cooked meat or in seafood or vegetarian bundles that have shorter cooking times. They will disintegrate and their flavors intensify, so use lightly. Onions should be cut in big chunks or they will disappear.

And remember, laulau must include some fat and salt. The traditional pork laulau, Apau says, should be 1/3 fat, with a cube of salted butterfish or salmon for moisture and taste. When using chicken, use the fatter thighs; with lower fat or vegetarian combinations, compensate with coconut chunks or coconut milk.

Laulau making is basically low tech: Lay down four luau leaves (or more if you are one of those who think the luau is the best part), fill with your choice of ingredients (quantities are up to you), salt the contents and between the leaves.

Fold the leaves over. Place the bundle in the center of two ti leaves, placed cross-wise. Gather the ends of the leaves over the luau-leaf bundle and tie. If you can't manage the traditional wrap (ti leaf spine wrapped around and tucked), use string or twist-ties.

Do not use foil to wrap. Taste will be greatly compromised.

Place in a pot with water; steam. For those who like their techniques spelled out, here are some recipes, from Bajo's son, Kalei Bajo. He puts his laulau in the pot with water and then turns on the stove. Cooking times begin then, not when the water is boiling.

The Bajos recommend looking for luau leaf such as lehua instead of Chinese luau leaf, the type most common in supermarkets.

Chinese luau may have to be cooked longer because of the higher level of calcium oxalate crystals in the raw leaves. These produce an itch in the mouth. If all you can find is Chinese luau (other types are available at farmer's markets), increase cooking time or precook the leaves slightly.

CHICKEN AND PUMPKIN LAULAU

1/2 cup fresh pumpkin in 1-inch squares; leave skin on
1 chicken thigh
1/8 cup dried shrimp
1/4 cup Maui onion
Pinch pepper
1 teaspoon sea salt or Hawaiian salt
4 luau leaves
2 ti leaves

Wrap ingredients in luau leaves, sprinkling some salt between the leaves. Wrap in ti leaves. Steam 4 hours.

Approximate nutritional information, per laulau: 325 calories, 16 g total fat, 4.5 g saturated fat, 100 mg cholesterol, greater than 2,000 mg sodium.*

SEAFOOD LAULAU

6 jumbo shrimp
1/4 cup bay scallops
1 piece calamari, in bite-sized pieces, about 2 ounces
1/4 cup diced Maui onion
1 teaspoon garlic powder
Pinch pepper
1 teaspoon sea salt or Hawaiian salt
4 large luau leaves, ribs removed
2 large ti leaves

Mix together seafood and onion; sprinkle with spices. Wrap ingredients in luau leaves, sprinkling between leaves with salt. Wrap in ti leaves. Steam 2 hours.

Approximate nutritional information, per laulau: 390 calories, 7 g total fat, 1.5 g. saturated fat, 430 mg cholesterol, greater than 2,500 mg sodium.*

VEGETARIAN LAULAU

3 ounces sweet potato, cut in 4 pieces
1/8 block tofu (about 2.5 ounces)
1/4 cup fresh coconut in bite-sized pieces
1/8 cup diced Maui onion
2-inch square piece aburage, quartered
Pinch pepper
1 teaspoon sea salt or Hawaiian salt
4 luau leaves
2 ti leaves

Wrap all ingredients in luau leaf, sprinkling some salt between the leaves. Wrap bundle in ti leaves. Steam 2 hours.

Approximate nutritional information, per laulau: 640 calories, 41 g total fat, 29 g saturated fat, no mg cholesterol, greater than 2,000 mg sodium.*






Click for online
calendars and events.
E-mail to Features Editor
---
---
© 1999 Honolulu Star-Bulletin
https://archives.starbulletin.com