[News]
[Business]
[Features]
[Sports]
[Editorial]
[Do It!]
[Info]
[Stylebook]
[Classified Ads]
[Home]


OBITUARIES and
WEATHER in the
news section daily.







Most recent columns



To March 18, 1996
PAST WEEK:
| M | T | W | T | F | S |






Aloha Worldwide

Join SETI team

1998 Election

Legislature

SAT Scores

Pet Quarantine

Stylebook







Phone numbers, e-mail addresses, subscription info



E-mail notifier


---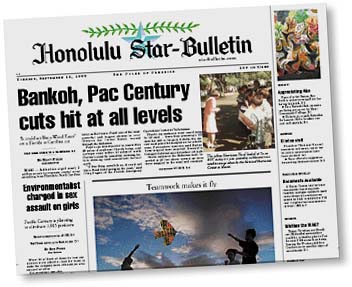 Sign up for our e-mail news notifier

---
Starbulletin.com publishes online editions Monday through Saturday.
Starbulletin.com publishes articles written by our staff and
selected articles of particular interest to our readers.
Entire contents of this Web site © copyright 1999 by
Honolulu Star-Bulletin. All rights reserved.

---
Featured on:




Bankoh cuts hit all levels; Environmentalist charged with sex assault; New trustee process sought; 100 - Frank F. Fasi; Princess Sayako visits UH; Teen sentenced for shooting; Reservists likely to East Timor; Hanauma fees spent elsewhere; Villag Park toxicology; Kokua Line; Island Images; Corky's Hawaii; Weather; Obituaries




Calendars & Events




Art for soul - Satoru Abe; Laury Hill in concert; Tadashi Sato Maui commission; 'Miss Saigon' local casting; Stuffs; Hawaii; Rant & Rave; The Goddess Speaks






WAC awaits another split; Grand Slam rescheduled for Tiger; 'Bows hope for another 'W'; Chevron sponsoring prep championship; Soccer Wahine win tourney; The Way I See It; Hawaii Sumotori; Notebook; Hawaii Beat; Scoreboard



Bankoh parent restructuring wins Wall Street approval; Airport firm closing - 135 jobs lost; Mac Farms losing millions to drought; Hawaii Gas Prices; Business Briefs; Hawaii Stocks



Rodrigues could face more charges; Peacekeeping force OK'd for East Timor; Hawaii's World; Corky; Letters to the Editor