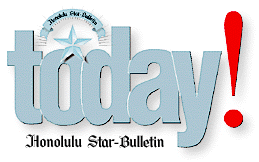 ---
Tuesday, September 14, 1999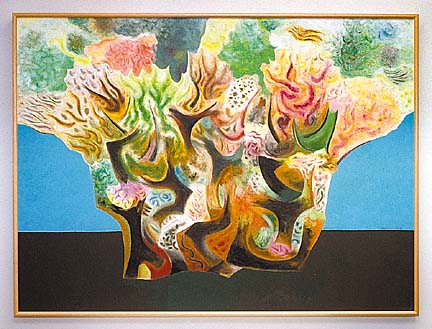 By Dennis Oda, Star-Bulletin
"Flower Vase," is a 40- by 54-inch oil on canvas painted by Satoru Abe in 1998.
---



Works of accomplished artist
Satoru Abe are for sale at his new
gallery ... to the 'right' buyers

By Suzanne Tswei
Special to the Star-Bulletin

DON'T take it personally, but Fred Abe doesn't want your money if you can't truly appreciate his brother's art.

"I think I am really a lousy salesman. Maybe you shouldn't tell my brother that," said the younger brother of one of Hawaii's most revered artists, Satoru Abe, whose abstract, treelike sculptures are instantly recognizable.

Fred Abe isn't really a bad salesman at all. The 70-year-old retired lawyer is jovial, enthusiastic, knowledgeable, a bit mischievous and never at a loss for words. Most of all, he takes his new job of gallery manager very seriously as he tends to Satoru's Art, a small gallery tucked away in a 16th-floor office space in downtown Honolulu.




NOW SHOWING

What: Satoru's Art, a gallery featuring the work of Satoru Abe
When: 10 a.m. to 2 p.m. Mondays through Fridays or by appointment
Where: Pioneer Plaza, 900 Fort Street Mall, Suite 1640
Call: 545-4220




"Let me put it this way. If I have a multimillionaire from Saudi Arabia who can afford to buy anything in here he wants, but he wants to buy -- because of Satoru's name or whatever -- because owning something by my brother gives him status or something. And I have a regular guy off the street, not so rich, but he really likes something, a painting, a sculpture, or whatever it is that really speaks to him. He can only afford one thing, but the millionaire can buy everything in here. Guess who I rather sell to?" he asks rhetorically. "The poor guy, of course. Absolutely. Without a doubt. No question. I don't even have to think about it."

Since the gallery opened in April, Fred Abe hasn't had to exercise his personal conviction. Mostly, visitors have been fans of his brother's work. A discreet ad in a local magazine and word of mouth buzz brought a steady stream of art lovers seeking prints, paintings and miniature sculptures ranging in price from $350 to $12,000.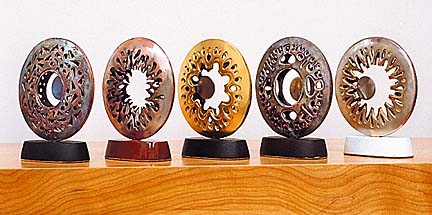 By Dennis Oda, Star-Bulletin
Satoru Abe sculptures, from left: "Wheel #3,2,1,4,6." All are
priced at $1,800 except for "Wheel #1" priced at $2,000.
---
Fred lost only one sale. Two potential buyers were miffed when he suggested that they go home and think about their decision before making a purchase. "They were not very happy, and they never did come back. But I rather they know what the heck they are buying. It's not just about money. I usually discourage people from buying anything the first time they come here."

A work of art is not merely a possession, he says. Nor is it a financial investment or a brand name that can be used to cultivate respectability.

"It has to really speak to you personally. It should move you. It should make you feel something. Just think, you are going to pay a lot of money for a painting. You take it home, hang it on the living room wall. Your neighbor comes over and he wonders what is that strange thing you have on the wall. How are you going to explain it? You may not want to explain it to your neighbor but you should know in your own mind what it means to you."

Fred Abe says he observes potential buyers carefully to scrutinize their sincerity, because selling his brother's art is the same as having to give away a litter of puppies. "In the end, you just want them to go to good homes, where they'll be loved."

Fred will be looking for good homes for some time. Despite Satoru Abe's plan to retire last year, after a rousing round of exhibits celebrating his 50-year-long career, the artist has found it impossible to give up his life's work.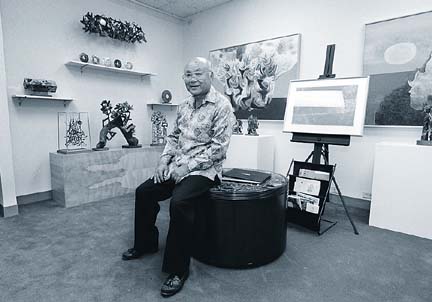 By Dennis Oda, Star-Bulletin
"In the end, you just want them to go to good homes, where
they'll be loved," said Fred Abe of his brother Satoru's work.
---
With a torch in one hand and a piece of bronze in the other, the 73-year-old artist looks up from a sculpture in progress in his studio and says: "Tell me, what am I going to do if I don't do this?"

Satoru Abe still is full of ideas and makes art every day. In between caring for his disabled wife Ruth and regular visits from collectors, he spends the day creating the metal sculptures for which he is famous, and paints and draws at night.

Abe belongs to a group of pioneer island artists who emerged after World War II, winning notice for their modern aesthetics. His name has become synonymous with large commissioned sculptures in public places, although he says he's a better painter than a sculptor. His work can be found in every school district, outside First Hawaiian Bank downtown, Aloha Stadium, Honolulu Airport, the Hawaii Convention Center, Neiman Marcus and numerous other locations.

While his pace has slowed, Satoru continues to accept commissions as time allows. "I think I would go crazy if I don't have my art. It really saves me."

Art became his salvation in 1948, when he decided to go to New York to become an artist. He won't tell you he chose art because he was good at it after taking several high school level courses. What he says, wryly, is that he was a failure at everything else.

"I wasn't good at academics. I had trouble reading. (Abe was diagnosed with dyslexia when he was in his 50s.) I pretty much slept through high school.

Then I lost two years after high school. I went from one menial job to another." Being a southpaw ruled out a trade requiring skilled labor because tools were designed for right-handed use.

"I know I didn't want to be a banker. I am a poor follower; I don't like to follow directions. And I am a poor leader. So what can I do? I had very little options."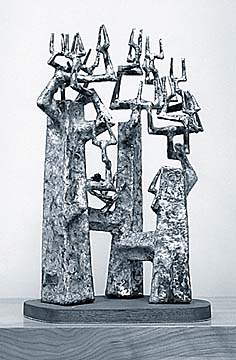 By Dennis Oda, Star-Bulletin
"Forest," of copper and bronze, by Satoru Abe,
priced at $3,500 at Satoru's Art.
---
He quit his job loading milk bottles into cartons at Dairymen's, the milk plant where his father worked. At the time, choosing an art career was scorned, particularly for a first-born male who was expected to be a major wage earner in a Japanese-American family. But his family was supportive.

Abe says he is indebted to his family, who never passed judgment on him. His brother Fred had to step in as a bread winner, going to work at a butcher store as soon as he was out of high school.

With little more than "a certain hunger" in him, Abe took the trip that would change his life. He worked as a strawberry picker in California and a dishwasher in Manhattan to pay his way through art schools. Kind-hearted people helped him along the way. The California School of Fine Art allowed him to pay his tuition and fees with janitorial service and other small jobs. At the Sculpture Center in New York, a mentor allowed him to fine tune his welding skills without any payments.

Abe's most important supporter has been his wife, Ruth, an accomplished artist herself, who worked as a textile designer to finance Satoru's artistic pursuits across the mainland, Japan and Hawaii. The couple met at The Art Students League in New York, where they were students, and married in 1950.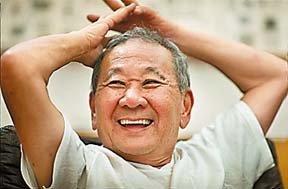 By Dennis Oda, Star-Bulletin
Satoru Abe of Satoru's Art.
---
"I owe her my career. She worked all those years and gave me all her money so I didn't have to worry about making a living to support her and our daughter. I wouldn't be here today without her."

Although his wife's earnings were instrumental, financial success that usually is elusive for artists came early in Abe's career. His first exhibit at Gima Gallery in Waikiki in his first homecoming, closed with $3,000 in sales. It didn't make him wealthy, but it amounted to about a year's wages in the early 1950s.

Abe says sales are important because they are acts of encouragement for artists.

"I don't care how inspired you are, or how confident you are. If you look around the place, and you haven't sold a thing; then I don't care who you are, you can't help but be discouraged.

"To me, it's better to work, sell it and move on. There are so many things you can work on, just keep going."






Click for online
calendars and events.
E-mail to Features Editor
---
---
© 1999 Honolulu Star-Bulletin
https://archives.starbulletin.com