---
Island Images



Thursday, September 9, 1999

More fun than a wheelchair
Photography by Ken Ige, Star-Bulletin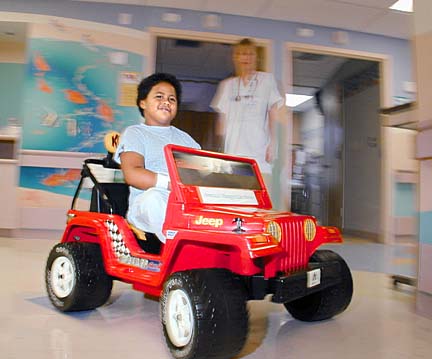 Keola Bryce, 6, drives a toy Jeep through the halls of Kapiolani Hospital.
Two of the Jeeps were donated by MultiPlan, a managed care company
based in Los Alamitos, Calif. Kids at the hospital can now drive the
Jeeps to their treatments, hopefully taking their minds off the treatments
and boosting their spirits. Keola is in the hospital for an appendectomy.
Willow Christensen, a UH nursing student, supervises Bryce's close-
quarters maneuvering in the hallway.
E-mail to City Desk
---
---
© 1999 Honolulu Star-Bulletin
https://archives.starbulletin.com