---
Thursday, September 9, 1999
Four months ago today, on Mother's Day, boulders,
rocks and debris suddenly cascaded into Sacred Falls
State Park. Eight people died and 32 were injured.
For the survivors, and those who knew the victims well,
the weeks since have been a time of coping and
adjustment, with some doing better than others.




A 9-year-old girl is meeting the
challenge of life without part of a foot
that was injured in the
deadly rock slide

By Jaymes K. Song
Star-Bulletin

SHe smiles and laughs as readily as any 9-year-old girl, a charming and upbeat Hickam Elementary School fifth-grader just through with summer vacation.

But while others of her age were spending the summer sunning at the beach or hanging at the mall, Chloe Woodington was facing the challenge of her young life: learning how to walk again, after half of her left foot was amputated.

And she did it in a way that made her "everyone's strength," according to her father, Rodney.

Chloe was one of the people injured in the Sacred Falls rock slide, when debris rushed down a dry waterfall chute, going airborne for the last 150 feet. Although plagued by recurring nightmares, she recounts her experience with matter-of-fact intelligence, sitting with her mother, Ireen, in their Hickam Air Force Base home.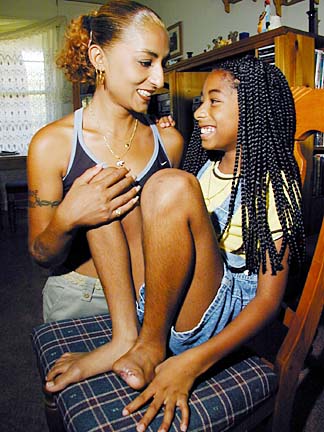 By Ken Ige, Star-Bulletin
Chloe Woodington, 9, and her mother, Ireen, were among
those injured in the Sacred Falls tragedy. Chloe, who lost
part of her left foot, has shown remarkable courage.
---
"It just looked like big ol' boulders falling down, like rain coming from the sky," she said. "First, it started to get dark. And then I heard the first rumbling sound. I'm like, 'Oh, that's nothing.' Then I heard another rumbling sound. And I looked up and all the rocks started to fall down."

Chloe was at the popular hiking spot with her mother, whose leg was seriously cut, and her father and 7-year-old sister, India, both of whom escaped unharmed.

Chloe was not as fortunate, as rocks struck her "all over the place." She may have saved her own life by crouching and covering her head with her hands, a practice she learned during earthquake drills at school.

But when she got up, she saw the front of her left foot was bent backward -- and the sole of her shoe was the only thing that kept it from falling off.

Incredibly, there was no pain and she didn't cry. Her father carried her down the trail to the army of firefighters and ambulance personnel who had responded to the slide. She was treated, tagged "amputee" and airlifted to Queen's Hospital, where doctors performed the amputation.

When the bandages came off about a week later, Chloe said her foot was covered with scabs, stitches and "mossy stuff." "It was really gross," she said. Her mother, though, remembers being "in shock. She was very upset and cried, 'It looks ugly! It looks ugly, Mommy!' " she said. "Those words still stick to me. Just watching her reaction was horrible."

For the sports-loving girl, having to use crutches to walk was devastating both for her and her family. "She would get around on her knees, and that hurt me so bad," said her mother.

It took months of struggle, but Chloe finally was able to throw her crutches away and run again, with just with a slight limp. She has been fitted for a prosthetic foot. She hopes it will allow her to "run better for baseball and basketball."

"Through all this, she was such a brave girl," her mother said, wiping away tears as Chloe snuggled in her arms. "She was more concerned about me than she was about herself."

The rock slide has left some emotional scars: In their nightmares, Chloe and her sister see boulders crashing on them, and they freeze whenever they see a mountain range.

Their mother -- who said "they're like little hermits now" -- understands the feeling. "To see the rocks coming down at you, and think you're going to lose your life, and to come out of it, look around, and see people dead all around you like a battle zone -- it was horrible," she said.

But the family is looking forward to the time when the nightmares and fears vanish. "I just want to get back to my life," Chloe's mother said. "My life stopped that day." She knows it's going to take time to heal. But when that happens, it may be Chloe who took the first big step.

---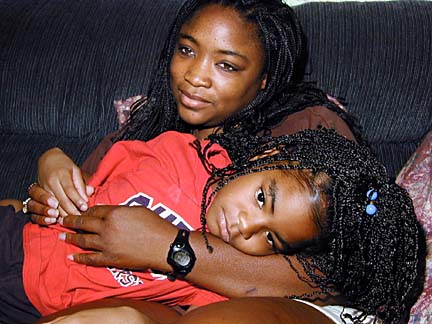 By Ken Ige, Star-Bulletin
April DeSaavedra, who lost daughter Danielle Williams in the
Sacred Falls rock slide, holds Chloe Woodington's sister,
India. Chloe was badly hurt but India was uninjured. The
Hickam Air Force Base families are close friends.
---
Pain persists for families,
loved ones

By Jaymes K. Song
Star-Bulletin

The sun was shining outside his Waikiki hotel room, but inside Robert Cole Graham was crying and shaking. He had come to Hawaii to visit Sacred Falls, where his fiancee, Jennifer Johnson, died in the rock slide. But the state has turned down access, citing litigation and safety concerns.

Graham said his life was shattered four months ago. He has taken medication to help with shock and depression, he said, and suicidal thoughts have crossed his mind. He flew over Sacred Falls in a helicopter on Tuesday.

He plans to seek professional counseling when he returns home to Canoga Park, Calif., and recalls the moment when he learned his 24-year-old fiancee -- as well as two friends -- perished in the slide.

"That's when my life started to disappear," he said yesterday. "I love her more than my next breath. She was my princess."

Rebuilding lives after the slide hasn't been easy for Graham, and for some others who knew or were related to the victims. They say they are riding a roller-coaster of emotions, which Graham lists as "pain, agony, despair, hopelessness, frustration and anger." Some families declined to be interviewed, saying the pain was still too strong for them to talk.

Darcelle Chan, who has set up a Web page on the tragedy and has contacted many families of victims, said they are "just beginning to heal."

For April DeSaavedra of Hickam Air Force Base, the healing has had to contend with constant reminders of her daughter, Danielle Williams, who at 7 was the youngest person to die at Sacred Falls.

Tears well in DeSaavedra's eyes as she recalls how a dentist recently called her at home to remind her of an appointment for Danielle.

"Some days are harder than other days," she said softly. "A day never goes by when I don't think about her. ... There's not been one day I haven't thought about her or thought about what she would be doing."

For Graham, three lives are involved: his fiancee "Jenn," a college student majoring in environmental safety; her brother, Mark Johnson, 29, a Barbers Point sailor who was going to graduate from Chaminade University the next day; and her best friend Sara Johnson, 24, who was unrelated.

In referring to his request to enter Sacred Falls park, state Parks Division Administrator Ralston Nagata yesterday said he understands family members are not satisfied with the state and are seeking closure to the tragedy. But he said the site has to be protected because of pending litigation, and that no one is being allowed in.

That is little consolation for Graham, who is scheduled to return to California this afternoon and said he might risk going up to the site today with or without the state's consent. He doesn't want to get on the plane "without the memories I came here for."

"I came all this way," he said. "And I have three people I need to say goodbye to."

---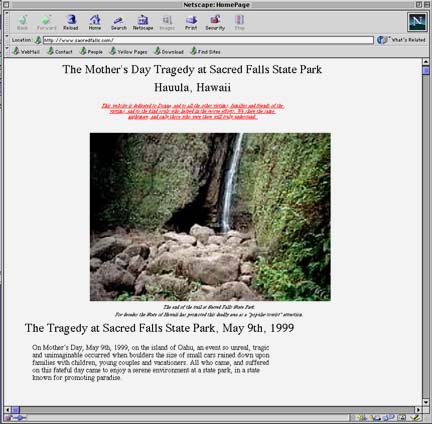 Web site serves as an outlet

By Jaymes K. Song
Star-Bulletin

When tragedy strikes, company helps. But sometimes finding fully empathetic company can be hard.

That was the situation for some of the friends and relatives of the victims of the Sacred Falls rock slide. Now the Internet is providing them with a way to work through their grief with the people best able to understand their situation -- each other.

A Web site dedicated to the tragedy (http://www.sacredfalls.com) began in June, shortly after the freakish slide at one of Oahu's most popular hiking attractions. It was posted by Darcelle Chan, the sister of Donna Kim Forsch, a 38-year-old California saleswoman who died from injuries suffered in the slide.

The site is dedicated to Forsch, the other victims, their friends and family, and rescuers. "We share the same nightmare," the dedication says, "and only those who were there will truly understand."

Chan said she "started asking questions" about her older sister's death a few days after burying her, and set up the Web site as a way to get and share information with other families. Since then, it has become a "meeting place."

"Most families just want to share their stories, questions," said Chan, a Honolulu resident who works for Hawaiian Airlines. "We have all gone through the same terrible event. It just helps to share thoughts, and to comfort each other."

One of those who appreciates Chan's effort is Faye Graham, a Canoga Park, Calif., resident who lost three friends in the rock slide. Graham said the site allows her to get news that otherwise would be difficult to obtain, and is a valuable e-mail link. "It helped tremendously," she said. "It was the only way we found the other families."

Like others who lost loved ones in the slide, Chan can tell a heartbreaking story about the victims. Forsch was celebrating her 10th wedding anniversary with her husband, Michael, a pharmaceutical salesman who suffered critical injuries but survived. The couple hoped to have a child, and she had a June appointment for in vitro fertilization. Her last words to a rescuer: "Tell my husband, Mike, I love him very much."

Chan believes the tragedy could have been prevented. Her Web site, which carries photographs and links to news stories, blames the state for luring "unsuspecting visitors" to Sacred Falls. She appears determined to get answers.

"When you lose a loved one unexpectedly, one tends to become passionate in wanting to know why," she said, "while others want to forget and move on."
E-mail to City Desk
---
---
© 1999 Honolulu Star-Bulletin
https://archives.starbulletin.com