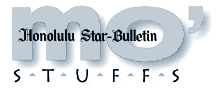 ---
Tuesday, September 7, 1999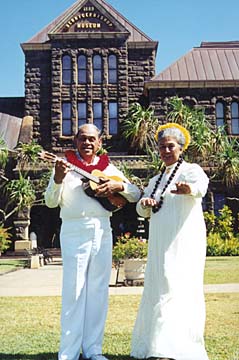 Kahauanu Lake, left, and Momi Kepilino
perform Sunday at Bishop Museum.
---
Bishop Museum
hosts 'Na Mele'
A series of three "Na Mele" concerts at the Bishop Museum pay tribute to Hawaiian Music Hall of Fame and Museum inductees.

The inaugural concert, "Na Mele Mai Ka Pu'uwai (Songs from the Heart)," will take place 6 to 7:30 p.m. Sunday on the Gallery Lawn fronting Polynesian hall. Compositions of Charles E. King will be performed by the Kahauanu Lake Singers; the Kamehameha Alumni Glee Club; hula dancers Momi Kepilino, Gordean Bailey, Raynette Miller and Paulette Stone; and Halau Na Kipu'upu'u.

Tickets are $10; $8 for museum members and Aloha Festivals ribbon holders. Keiki under age 3 will be admitted free, and beverages and snacks will be available for purchase.

The remaining concerts will be held in the museum's Hawaiian Hall. They are:

Nov. 19 -- "Na Mele No Na Lani 'Eha (Songs of the Heavenly Four)," featuring the music of King Kalakaua, Queen Lili'uokalani, Prince Leleiohoku and Princess Likelike, 8 p.m.

June 2 --"Na Mele No Kamehameha (Songs of the Kamehameha Family)," featuring pieces written by or in honor of members of the Kamehameha family, 8 p.m.

Tickets for the last two concerts are $55, or two for $100, and include pre-concert appetizers. Call 848-4187 or 848-4169.
---
Da Kine

Early birds save $
A series of financial education sessions to help people manage their money will run on four Saturdays beginning Sept. 25 at the Lanakila Multi-purpose Senior Center. Sessions will run from 9 to 11 a.m.

The workshops will feature island professionals on various money management topics with no company or product endorsements. Small discussion groups and a comprehensive workbook will aid attendees.

Cost is $25 per person or $35 for two for those who register before Sept. 11; $30 and $40 for two householders thereafter.

A "telecourse" also will be available for cable TV subscribers. Cost is $10 and guides are provided. The TV course will be broadcast on 'Olelo and TCI channel 55, and GTE Americast channel 21 at 4:30 p.m. Fridays and 10 a.m. Saturdays from Sept. 17 through Oct. 30.

Information: 956-7212
Festival time in Moiliili
Discover Moiliili through a festival that begins 9 a.m. Oct. 2.

Photos will be on exhibit at Central Pacific Bank, First Hawaiian Bank and the McCully-Moiliili Library.

A craft fair, farmers' market, keiki activities and entertainment will run to 2 p.m. at Stadium Park. Tales of old Moiliili will be told from 10:30 to 11:30 a.m. at the library and there will be all-day food fair at Puck's Alley.

And the "Moiliili Mystery Night," featuring an old-time obake film night and a ghost storytelling contest with Glen Grant, will begin at 5:30 p.m. at the Church of the Crossroads. Admission is $1 for adults, 50 cents for children.

Sites are within walking distance of each other. Parking is $2 at the Japanese Cultural Center, with a shuttle running to Stadium Park.

Information: 955-1555.
---
Scoops
Scholarships and more


Highlights seeks humorous stories for children: Highlights for Children magazine is holding a fiction contest for stories to be used in its publication. Stories can be any length up to 900 words. Stories for beginner readers should not exceed 500 words. Indicate the word count in the upper right-hand corner of the first page. Entries must be postmarked between Jan. 1 and Feb. 29, 2000. Send, with a self-addressed, stamped envelope, to: Fiction Contest, Highlights for Children, 803 Church St., Honesdale, Pa. 18431. Winners will be announced in June. Three $1000 prizes will be awarded.
---
Scoops, which runs Tuesday in Today, provides
information on opportunities for students and young adults.
Send items to: The Scoops, P.O. Box 3080,
Honolulu, HI 96802




Click for online
calendars and events.
---
Send WatDat? questions, stories
or any other story ideas or comments to:
Features, Honolulu Star-Bulletin, P.O. Box 3080,
Honolulu, HI 96802 or send a fax to 523-8509
or E-mail to features@starbulletin.com.
Please include your phone number.
E-mail to Features Editor
---
---
© 1999 Honolulu Star-Bulletin
https://archives.starbulletin.com