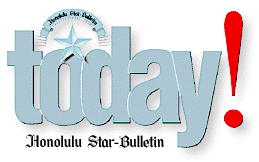 ---
Tuesday, September 7, 1999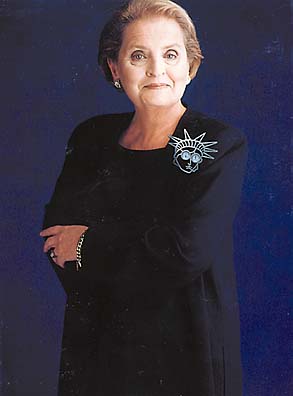 Secretary of State Madeleine K. Albright wasn't able
to pose for the exhibition's catalog cover, so a brooch (see Liberty,
below) from the collection was digitally placed on an existing
portrait by Timothy Greenfield Sanders.
---
"One watch is set upside-down for Mrs. Albright to know how long her appointment will last and the other for her visitor to know when to leave. Of course people may philosophize about peace, time, distance, diplomacy, etc., etc. but I think that politics are very one-dimensional." Liberty

BY GILS BAKKER, NETHERLANDS
Silver and watches

PIN-UPS


The secretary of state's penchant
for pins inspires an exhibition of
politically connected art

By Betty Shimabukuro
Star-Bulletin

Diplomacy may be her business and politics may be her game, but that doesn't mean a woman has to lack style.

Secretary of State Madeleine K. Albright's job is to make peace. Or, barring that, to hold the line on the type of antagonism that leads to the making of war.

She is the first woman in American history to sit in this powerful seat, and one of her weapons, rather than the big stick, is the sharpened pin. Albright wears dramatic brooches to negotiating sessions and often uses them to telegraph her aims. A dove pinned to the shoulder of the secretary of state during Middle East peace talks, for example, speaks volumes.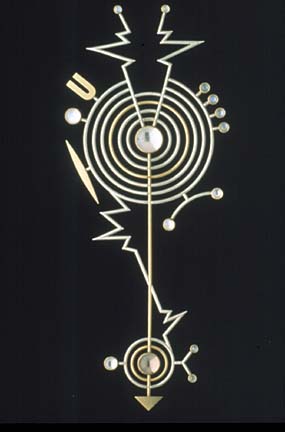 "I think this is an appropriate piece for somebody who must depend upon logic and flashes of perception. 'Lightning' could also act as a conductor and conduit for rational lateral thinking. It is the expression of a moment of energy."

Lightning
BY WENDY RAMSHAW, ENGLAND
Silver with 18-karat gold, amethysts and moonstone

When gallery owner Helen Drutt English read of Albright's stylish habit, the idea was born for an exhibition "in tribute to (Albright's) recognition of the power of brooches."

She invited 74 artists to take Albright as their inspiration and create brooches that would broadcast a political point of view if worn by a woman of such influence.




BROOCHING IT DIPLOMATICALLY

A Tribute to Madeleine K. Albright

On display: Through Nov. 7
Place: The Contemporary Museum
Hours: 10 a.m.-4 p.m. Tuesday-Saturday; noon-4 p.m. Sunday
Admission: $5; $3 seniors and students
Call: 526-1322




"Those chosen were those I knew were artists with strong creative, singular voices who could produce works of art that would have merit," said Drutt English, who has spent the week mounting her exhibit, "Brooching It Diplomatically," at The Contemporary Museum.

The exhibit has traveled internationally, expressing, "the reality that artists' jewelry can go beyond the limits of ornament to satisfy great aesthetic and political needs," Drutt English says in the exhibit catalogue.

The pieces range from whimsical to decorative to deadly serious. In that last category would be Merrily Tompkins' untitled silver piece showing a woman's torso with a house-shaped lock and key over the crotch area.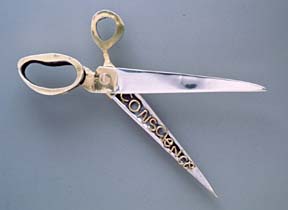 " 'Cutting' through conscience is having a sensitive regard for fairness and justice. This quality is central to Ms. Albright's role as secretary of state. In bringing her social and political conscience to bear, Madeleine Albright cuts new forms and enhances a vision of our nation."

Cutting
BY LAURIE J. HALL, UNITED STATES
Sterling silver, 24-karat gold

"This is a brooch for Madame Albright to wear when she visits people who condone the practice of female genital mutilation," the American artist writes. "These folks need to take a look in the mirror and say howdy-doo to Old Bendy himself."

The pieces in the collection are less reflections on Albright than they are statements about worldly matters of concern to the artists, Drutt English said.

"It's not a reflection of what she's doing or isn't doing ... it's a matter of supporting issues people feel quite strongly about."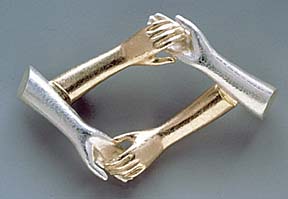 "A handshake is not only a gesture of courtesy and good will, but can also be as binding as a contract. I wanted to design something for Mrs. Albright with an image easily interpreted by people who do not speak English that projected the message of friendship, peace and keeping promises. I titled it 'Arms Agreement' because in all situations I think we need to have a little bit of humor."

Arms Agreement
NANCY WARDEN, UNITED STATES
18-karat gold and sterling silver

As for Albright's opinion about all of this, Drutt English said she kept the secretary's staff informed at each stage of the project.

"I didn't expect initial response -- they're very busy with world affairs," she said.

"I think we have to understand that this is an art project and not a matter of state."

But when the exhibit reached the American Craft Museum in New York, Albright did pay a visit, Drutt English said.

"She wrote a letter to say she thought it was thought-provoking and fabulous."






Click for online
calendars and events.
E-mail to Features Editor
---
---
© 1999 Honolulu Star-Bulletin
https://archives.starbulletin.com