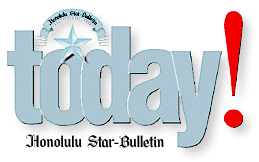 ---
Friday, September 3, 1999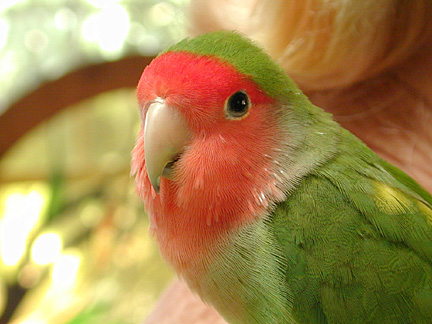 By Kathryn Bender, Star-Bulletin
Sweetheart returned!
---
Sweetheart finds
his way home


The lovebird lost for 7 months
is alive and well in Manoa

By Cynthia Oi
Star-Bulletin

Merrie Carol Grain and her mother Donna are flying high. Their pet lovebird -- lost for seven months -- is back in the nest.

"We are thrilled," said an ecstatic Merrie Carol.

After Sweetheart flew from their home in lower Manoa, the women searched the neighborhood, handed out fliers, ran ads in the lost-and-found classifieds and notified the humane society. Sweetheart could not be found.

"Oh, I missed him so much," said Donna. "I had prayed that someone was keeping him safe."

Someone was. Jane Wong and her husband Jonathan and their daughter Carianne had adopted the peach-faced lovebird sometime in late early April or early May, Jane said.

The bird had flown onto the lanai of a couple in the Wongs' Moiliili condo building. The couple didn't want him, but Carianne, 11, who already had a parakeet, did.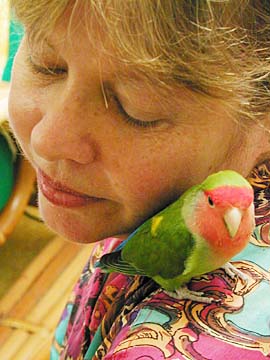 By Kathryn Bender, Star-Bulletin
Sweetheart perches on Merrie Carol's shoulder.
---
For four months, Sweetheart -- renamed Butter because the parakeet was named Peanut -- made his home with the Wongs.

Then two weeks ago, Jane was reading the Star-Bulletin and came across a story about the Grains' search. Reading the description under a photograph of the bird, Jane immediately realized that Butter was Sweetheart.

Jonathan Wong called the Grains, saying he was sure the bird was theirs.

"I'd heard that so many times," Merrie Carol said, "and so many times I was disappointed that I really didn't believe it."

That evening, the Wongs brought Butter over to the Grains.

"When we saw him, we just gasped because he looked just like Sweetheart," she said. "But he didn't act the same."

She took the bird around the house to his favorite places, but he didn't respond. And not wanting to take him away from the Wongs without being sure, she let Butter go back to Moiliili.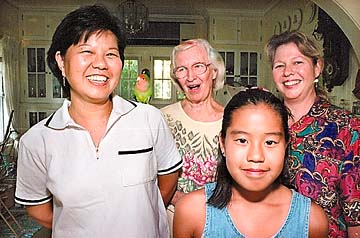 By Kathryn Bender, Star-Bulletin
Front: Jane Sakuma-Wong and 11-year-old Carianne Wong,
returned lost bird Sweetheart to Donna Grain, center,
Merrie Carol Grain.
---
As they drove home, Jonathan told his family, "This is their bird. They just don't know it yet."

Jane was sure, too. Beside the physical similarities, Butter also had Sweetheart's habits of running his beak against his cage and sleeping in her palm as he did with Donna.

Donna and Merrie Carol also began having second thoughts.

"He had been gone for seven months -- of course, he might be different," Merrie Carol reasoned.

"Maybe he was a little confused," Donna said.

After all, he had lived with the Wongs for a while, and since he'd been gone, the Grains had acquired four other lovebirds, changing his previous environment.

The Wongs had offered to leave Butter with the Grains for a few days and on Sunday, Merrie Carol took them up on it.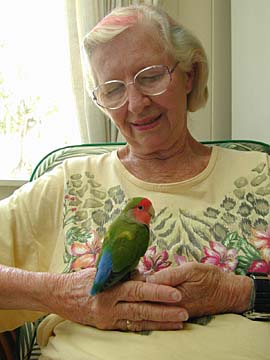 By Kathryn Bender, Star-Bulletin
Sweetheart, lost since early this year, has finally found his way home.
---
By Tuesday, Sweetheart was up to his old tricks, playing hide-and-seek behind the tapa cloth in the hallway and taking a midday snooze in Donna's hand.

Merrie Carol and Donna are grateful to the Wongs.

"He was so loved," Merrie Carol said. "They took good care of him."

Donna said she knows it wasn't easy for the Wongs to part with Sweetheart.

"They were so nice," said Donna, stroking the bird nestled in her palm. "Some people wouldn't do that."

The Grains gave the Wongs two baby lovebirds that they were raising in Sweetheart's absence.

Not that Jane will forget her Butter. Before taking him to the Grains, she spent the afternoon playing with him, taking his picture and hunting his feathers around the house "to remember him by."

"I miss him because he's so affectionate," Jane said. "But I'm so happy he's back with his family."

Now, if anyone happens to find a blue-and-white parakeet that answers to the name Blueberry, owner Richard Lightner has been looking for the bird since it flew from a Makiki apartment in March. Call 676-1878.






Click for online
calendars and events.
E-mail to Features Editor
---
---
© 1999 Honolulu Star-Bulletin
https://archives.starbulletin.com