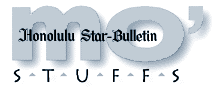 ---
Wednesday, August 25, 1999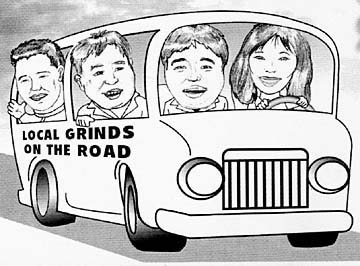 ---
Road food,
local style
Emme Tomimbang hit the road with chefs Alan Wong and Roy Yamaguchi this summer and the result is Friday night's "Local Grinds on the Road," a televised look at a gourmet summer.

The trio, plus Chuck Furuya, master sommelier, do Manhattan, hitting fabulous restaurants -- and the Soup Kitchen of "Seinfeld's" Soup Nazi.

They pick up more chefs, D.K. Kodama and Chai Chaowasaree, and do Paso Robles, an up-and-coming wine area south of San Francisco, where A Taste of Hawaii festival was held at Justin Vineyards.

Then they grab some nonlocal chefs, Ming Tsai and Francois Payard among them, and do Cusines of the Sun on the Big Island.

Within this examination of eating and drinking is a visit to Forage Field Days, also on the Big Island, a challenge that put 30 chefs to preparing dishes with beef raised without hormones or antibiotics and fed foraged grasses only.

"Local Grinds" airs 9 p.m. Friday on KHON-FOX and will be rebroadcast 2 p.m. Sept. 11.

UB40 to perform
British reggae band UB40 returns to Hawaii for two concerts beginning with Oahu's Blaisdell Arena at 7:30 p.m. Oct. 7, and 4 p.m. Oct. 10 at the Maui Arts & Cultural Center.

Tickets for the Oahu show are $27.50 and $35 and go on sale 9 a.m. Saturday at the Blaisdell box office. Tickets may also be purchased by calling Tickets Plus at 526-4400 or going online at www.ticketslive.com

Maui tickets go on sale Saturday at the MACC box office or by calling 242-SHOW (7469).

A murder mystery that really cooks
It looks like you can take the detective out of the police force, but it's hard to take the detective out of the policeman. Maj. Gary Dias, who retired from the Honolulu Police Department last year and then became The Queen's Medical Center security manager, brings his popular "Sherlock Holmes" mystery-night event to "Culinary Capers '99."

The event will run 7 to 9 p.m. Sept. 3 at the Neal Blaisdell Exhibition Hall.

"It's all part of a larger event, Culinary Capers, that promotes good nutrition and healthy lifestyles," explained Dias. "It has Hawaii chefs giving great recipes, ice carving, cake decorating, experts explaining foods with fiber, entertainment -- with a mystery to solve."

"Who Poisoned Waltah Babooze?" has a not-so-great detective investigating the suspicious murder of Hawaii chefs during a fictitious cook-off promotion. Dias has prepared a booklet giving all the particulars of the case, and participants can "interview" characters from the plot, played by local celebrities. At the end of the evening, the penultimate crime is reenacted and participants can deduce the guilty party. Or parties.

Participants can either go solo or as teams, depending on their deductive abilities and combined brainpower. The booklet, said Dias, contains all the clues that are needed. The booklet is not only amusing, it contains several recipes.

Admission to Culinary Capers is free. Each entry in the "Who Poisoned Waltah Babooze?" as an amateur detective is $5, and teams can contain up to five members. Proceeds from the event benefit Hawaii Food Bank and Mauli Ola, working with Native Hawaiians.

To register and get the booklet in advance rather than at the door, mail $5 per team member, plus name, address and phone number, to Gary Dias, Security Dept., The Queen's Medical Center, 1301 Punchbowl St., Honolulu HI 96813. Make checks payable to The Queen's Medical Center.

Information: 547-4509.

Work that face
Give your face a lift without the help of a plastic surgeon.

Waikiki Community Center is offering a seminar with holistic beauty consultant Margaret Goodheart, who will teach participants how to strengthen and tone face and neck muscles, keep skin healthy and learn to make beauty masks. An exercise book will be offered for $6.

The class is Friday from 6:30-8 p.m. at the center. Cost is $20 for members and $25 for others. Participants are asked to bring a mirror and drinking water.

Call 923-1802 for information.

Focus on women's health
Castle Medical Center will offer free mammography seminars in September and October to support women's health.

September is Women's Health Month and October is Breast Cancer Awareness month. In recognition of those priorities, Castle will offer the seminars Sept. 8 and 23; and Oct. 3 and 21. Wednesday seminars will take place noon-1 p.m., Thursday sessions will be 5:30-6:30 p.m.

Breast cancer prevention will be discussed and participants will have a chance to ask questions.

In addition to the seminars, Castle and the Windward American Cancer Society will present two health fairs to promote breast cancer awareness and prevention. They will take place 5 to 8 p.m. at Windward Mall on Sept. 7 and Oct. 5.

To make reservations for the seminars, or for more information, call 263-5400.

Honors for Yamaguchi
Chef Roy Yamaguchi and his chain of 15 Roy's restaurants will receive two industry honors.

On Sept. 4 in Dallas, Yamaguchi will be one of only six restaurant operators in the nation to receive the 1999 Golden Chain Award. Recipients of the award are selected by a panel of editors from Nation's Restaurant News, an industry publication. Awards are presented to restaurateurs demonstrating outstanding leadership during the past year.

While he is in Dallas, Yamaguchi will participate in a panel with other Golden Chain honorees before an audience of industry representatives.

Yamaguchi is one of only 100 restaurateurs to receive the Millennium Restaurant International Award of Excellence naming his Hawaii Kai establishment one of America's Top 100 Restaurants in the 20th Century. The award will be presented Nov. 2 in Las Vegas in association with the National Restaurant Association.

Isle chefs cooking up new venture
Think of them as the second wave of super-star island chefs -- continuing the mission of the forerunners of Hawaii Regional Cuisine while nurturing a new generation now learning the craft.

Eight chefs from four islands have formed an alliance called Hawaiian Island Chefs, committed to supporting diversified agriculture and aquaculture in Hawaii, and to supporting culinary programs in Hawaii's community colleges.

Co-chairs of the group are D.K. Kodama of Sansei Seafood Restaurant and Sushi Bar on Maui and Wayne Hirabayashi of the Kahala Mandarin Oriental Hotel.

Joining them are Chai Chaowasaree of Chai's Island Bistro and Singha Thai, Hiroshi Fukui of L'Uraku, Teresa Gannon of Hali'imaile General Store and Joe's Bar and Grill on Maui, Edwin Goto of the Manele Bay Hotel on Lanai, Jacqueline Lau of Roy's Waikoloa on the Big Island and James McDonald of pacific'O, i'o and The Feast at Lele on Maui.

Hawaiian Island Chefs' first group event is planned for early next year.

"Endless Summer"
David Paul's Diamond Head Grill presents a hands on cooking class with David Paul 11:30 a.m. to 3 p.m. Saturday. A backyard barbecue, salad, simple summer desserts, and cocktails will be prepared. Call 922-3734 for more information and reservations.






Click for online
calendars and events.
---
Send WatDat? questions, stories
or any other story ideas or comments to:
Features, Honolulu Star-Bulletin, P.O. Box 3080,
Honolulu, HI 96802 or send a fax to 523-8509
or E-mail to features@starbulletin.com.
Please include your phone number.
E-mail to Features Editor
---
---
© 1999 Honolulu Star-Bulletin
https://archives.starbulletin.com