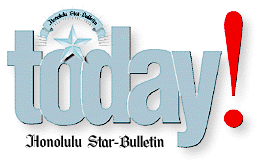 ---
Wednesday, August 25, 1999



Molokai and
Tahitian delights

Here are the recipes for dishes prepared by Melveen Leed Vairaaroa on "Hawaii's Kitchen" this week. The show aired at 5:30 p.m. Sunday and will be rebroadcast at the same time Saturday on KHON Fox 2.

Melveen's Moloka'i Sardine Pupu Delight

2 cans sardines (oiled)
1 round onion, sliced (preferably Maui onion)
1/4 cup chili pepper gravy, Del Monte or Springfield (yellow) preferred
2 or 3 yellow chili peppers, crushed
3 tablespoons shoyu
3 or 4 garlic cloves, minced

Put sardines in a bowl with oiled gravy; then add the rest of the ingredients and mix very gently.

Makes 6 to 8 servings.

Melveen's Steamed Butterfish Ualapue Style

2 pieces butterfish (either frozen or fresh), cut into bite-sized pieces
4 Chinese lup cheong sausages, sliced
2 cloves garlic, crushed
1 small piece of ginger root, crushed
1 block of tofu (firm)
4 leaves of mustard cabbage
1/4 cup oyster sauce (look for woman on boat pictured on the bottle -- it's the best for cooking)
1/4 cup Chinese parsley
1/4 cup green onions

Place butterfish in a loaf pan. Scatter garlic and ginger root on fish. Place lup cheong pieces in pan. Add oyster sauce and steam for 10 minutes.

Add mustard cabbage just before serving and steam for one minute.

Makes 6 to 8 servings.

Therese Amarau's Crepe Tahitian

1 cup all-purpose flour
2 eggs
1-1/2 cup vitamin D fresh milk
4 tablespoons real butter
Any kind of filling/topping you prefer (peanut butter; chocolate creme; granulated sugar; sour cream; raspberry topping, etc.)

Mix flour, eggs and butter together until smooth. Add milk a little at a time until well blended.

To cook: Use butter in heated pan and cook crepe batter in a very thin layer and gently turn over until light brown color.

Spread butter thinly on cooked crepe and add the topping or any other ingredient you prefer and roll crepe before serving.

Makes 8 crepes.

Nutritional information unavailable.






Click for online
calendars and events.
E-mail to Features Editor
---
---
© 1999 Honolulu Star-Bulletin
https://archives.starbulletin.com