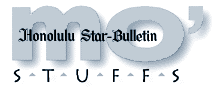 ---
Tuesday, August 24, 1999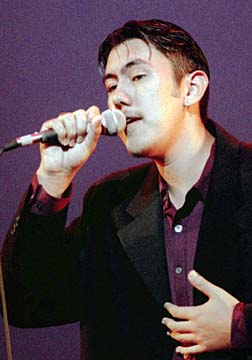 File photo
---
Molokai concert
Molokai Ranch will host singer Justin Young in a free concert at Maunaloa Cultural Park from 7 to 9 p.m. Saturday as part of Molokai Ranch's 1999 Himeni Hou Concert Series.

Young has recorded three albums and performed throughout Hawai and Guam and at West Coast colleges. The singer also has opened shows for the international reggae group Big Mountain. His awards include two Hawaiian Music Awards and a recent nomination for a Na Hoku Hano Hano Award for "Best Contemporary Album."

All proceeds from food and drink sales will benefit designated local charities and nonprofit organizations. This month's concert will benefit the Molokai Ranch High School Athletic Club, which supports all athletic teams at Molokai High School.

For more information, call Molokai Ranch at (808) 552-2741.

Preview
Coming to the big screen
One movie begins its Oahu run tomorrow:
In Too Deep
Rated R
Omar Epps goes undercover, and finds himself getting a little too close to the gangster he's supposed to take down. Co stars LL Cool J as the crack kingpin.
---

Five movies begin their Oahu run Friday:
The Astronaut's Wife
Rated R
Johnny Depp and Charlize Theron star as the perfect all-American couple. Depp is a courageous and honored NASA astronaut and Theron his beautiful schoolteacher wife. Then two minutes change their lives forever.

A Dog of Flanders
Rated PG
The popular children's tale published in 1872 is back again with a fresh version of the magical story. Central character is Nello, a poor orphan boy born with natural artistic talents. He wants to overcome his humble peasant status by winning a village youth art competition.

Dudley Do-Right
Rated PG
Set in the Canadian Rockies community of Semi-Happy Valley where nothing ever happens, Do-Right, played by Brendan Fraser follows the exploits of the dedicated but hapless young Mountie.

The Muse
Rated PG-13
Albert Brooks plays Steven Phillips, an aging screenwriter whose studio drops him because he's lost his edge. He consults his buddy, Jeff Bridges, who reveals that the secret of recovery is engaging the services of a Muse played by Sharon Stone.

The 13th Warrior
Rated R
The adventure thriller stars Antonio Banderas as Ibn Fahdlan, an emissary who is banished from his homeland and joins a band of Norse warriors when they are summoned to fight mysterious creatures legendary for destroying everything in their path.
---

There will be sneak previews Saturday of one movie:
Outside Providence
Rated R
The story of a young man's coming of age in the blue collar town of Pawtucket, R.I. Stars Shawn Hatosy and Alec Baldwin.

Scholarships available
to teen artists
An annual program of the National Foundation for Advancement in the Arts is now accepting applications for scholarships in eight categories: Dance, Music/Jazz, Music/Instrumental, Music/ Voice, Photography, Theater, Visual Arts and Writing. Eligible artists must be high school students, or 17-18 years of age.

Any eligible artist applying to the program will have access to $3 million in scholarship opportunities from more than a hundred universities and colleges. Interested students should contact their guidance counselor for an ARTS 2000 application, call 1-800-970-ARTS or apply online at http://www.nfaa.org. The deadline is October 1 and requires a $34 processing fee.






Click for online
calendars and events.
---
Send WatDat? questions, stories
or any other story ideas or comments to:
Features, Honolulu Star-Bulletin, P.O. Box 3080,
Honolulu, HI 96802 or send a fax to 523-8509
or E-mail to features@starbulletin.com.
Please include your phone number.
E-mail to Features Editor
---
---
© 1999 Honolulu Star-Bulletin
https://archives.starbulletin.com