---
Friday, August 20, 1999



P A D D L E B O A R D I N G
---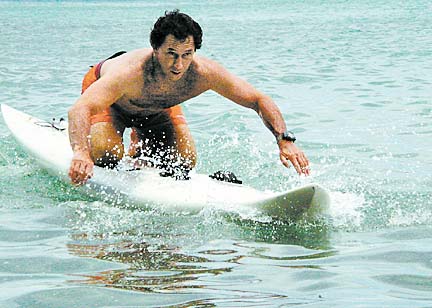 By Craig T. Kojima, Star-Bulletin
Race organizer Edmund Pestana is hoping that paddleboarding
can join other water sports enjoying a wave of popularity.
---
Afloat Again


After a four-year hiatus, the Duke Kahanamoku
World Championship Paddleboard Race is back—
and its organizer hopes the event can help
resuscitate interest in the sport

By Cindy Luis
Star-Bulletin

The sport of paddleboarding can be compared to the size of the surf. Sometimes it's flat, other times there are huge swells.

Edmund Pestana is hoping paddleboarding will catch the wave of popularity that many other water sports are currently enjoying. The interest is such that Pestana has revived the Duke Kahanamoku World Championship Paddleboard Race after a four-year hiatus.

"I've seen the interest go up and down," said race director Pestana, water safety captain for the lifeguard Ocean Center in Waikiki. "The Molokai Race and the Catalina Race (off California) have pushed the interest in marathon races.

"After we stopped the Duke Race (in 1994), the sport went down. But the sport needs a shot in the arm and I think it's on the way back up."




DUKE KAHANAMOKU
PADDLEBOARD RACE

When: Sunday, 11 a.m.
Where: Maunalua Bay to Honolulu Elks Lodge beach, Waikiki.
Course record: 1 hour, 14 minutes, 17 seconds, Laird Hamilton, 1991.
Ocean Sport Festival: Includes expression surf session, 9 a.m.; junior lifeguard state paddleboard championship, 2 p.m.; canoe surfing exhibition, 3 p.m. Appearances by cast members of Baywatch Hawaii.
Tickets: $15, includes poolside barbeque lunch and entertainment at the Elks Lodge. Benefit for Kumulokahi Canoe Committee, program for youth canoe paddling.
Information: 923-5722.




Previous Kahanamoku races have drawn nearly 100 competitors for the 9-mile event from Maunalua Bay to Waikiki. Pestana is expecting 60 for this Sunday's race, as well as some 25 entrants for the inaugural junior lifeguard state championship, a 1-mile race off San Souci Beach.

Adding to what is being called an Ocean Sport Festival are an expression surf session, canoe surfing exhibition and classic surfboard display on the beach behind the Elks Lodge. An extra boost is coming from the cast of the television series Baywatch Hawaii, who will help with the paddleboard awards ceremonies.

The finish of the Kahanamoku race is scheduled to be filmed and used in an upcoming edition of Baywatch Hawaii. Cast member Mike Newman, a former lifeguard, is expected to compete in the paddleboard race.

"Having Baywatch as part of the event is really exciting for us," said Pestana, the race director since the inaugural event in 1987. "Plus, it's a fund-raiser for a good cause. Kids are the future."

Proceeds will benefit the Kumulokahi Canoe Committee, a program that funds a youth outrigger canoe club sponsored by the Honolulu Elks Lodge 616. The committee purchases paddling equipment and pays for race fees.

Among those competing in the junior lifeguard race is 14-year-old Nathan Carroll. The Sunset Beach resident is in his third year of participation in the junior lifeguard program.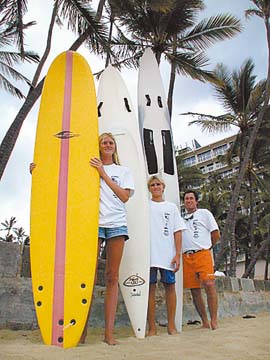 By Craig T. Kojima, Star-Bulletin
Natalie Krawciw (left) and Nathan Carroll (center) will
compete in the junior lifeguard event.
---
"I'm looking forward to Sunday," said Carroll, son of Tim and Dreama Carroll, both outstanding water sports competitors.

Nathan Carroll has already competed in the six-mile Aloha Joe's paddleboard race from Waimea Bay to Haleiwa. He said he hopes to compete in the Kahanamoku race next year.

Also entered in the junior lifeguard event is 15-year-old Natalie Krawciw, a sophomore on the Kalaheo High swim team. She is in her second year of the summer program, which teaches teen-agers water safety, ocean awareness and surf-rescue techniques.

"We're looking to get the most competitive of them into this race," Pestana said of his junior lifeguards. "It's a new event. Most of our competitions for them are team events.

"We're looking at sending them eventually to the junior nationals on the mainland. This event will give them a feel for competition."

Pestana is looking forward to Sunday as well. The Kahanamoku race is his favorite of all the local paddleboard races; he won the event in 1989.

"I love this race," said the 44-year-old. "Everyone who tries it falls in love with it. The course is all downwind. You end up catching waves and surfing for a lot of it. A lot of things come into play when you're paddleboarding. It's all about the conditions and how you can adapt to the conditions."
E-mail to Sports Editor
---
---
© 1999 Honolulu Star-Bulletin
https://archives.starbulletin.com