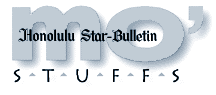 ---
Friday, August 20, 1999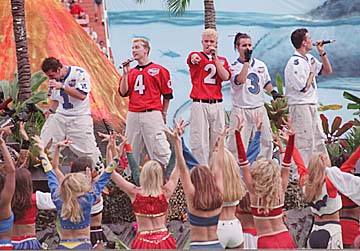 By Dennis Oda, Star-Bulletin
'N Sync performed at the 1999 Pro Bowl half time show
while the NFL cheer leaders danced in front of the stage.
---
'N Sync adds show
'N Sync will perform a third millennium show in Hawaii, this one at 8 p.m. New Year's day at the Blaisdell Arena.

Tickets for the new date go on sale 9 a.m. tomorrow at the Blaisdell box office. Buyers may enter the concourse from 6:30 a.m. Random tokens will be distributed at 7:30 a.m.

The group's Dec. 30 show already is sold out, but tickets remain for its New Year's Eve show, said promoter Tom Moffatt.

Reserved tickets for the Jan. 1 show are $45 each, but buyers using their Oceanic Cable Kupaa Card can purchase up to four tickets at $40 each at the Blaisdell box office only.

Other ticket venues include UH Campus Center, Tempo Music stores on Oahu, charge-by-phone at 526-4400, or online at http://www.ticketslive.com.

For more information, call 591-2211.

DMX performs at Blaisdell
Multi-platinum recording artist DMX performs at 7:30 p.m. Sunday at Blaisdell Arena

Tickets are $28.50 for arena level and $25 for loges and upper level.

Performing as a special guest will be Hawaii's own recording artist Fiji.

Since completing "The Hard Knock Life Tour" with Jay-Z, DMX has been in Los Angeles completing his third Def Jam Recording/Ruff Ryder release.

His concert should feature sneak previews of the disc.

The concert is being presented by I-94 Radio in conjunction with StarrPower Industries.

For more information, call the Blaisdell at 591-2211.
---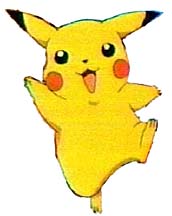 Pokemon play-off

Pokemon players, here's your chance to show your skill. A Pokemon Trading Card Game Trainer Showdown, from 10:30 a.m. tomorrow at Jelly's Comics and Books in Market City Shopping Center, is open to players ages 6 to 12.

Two tournament players will be selected to participate in an exhibition match with trainers from Japan at the Hawaii Tropical Mega-Battle Aug. 24 to 27 at the Hilton Hawaiian Village. The Mega-Battle will pit 36 master trainers selected at showdowns completed this summer in Japan and in nine U.S. cities.

But you have to join in the Trainer Showdown to have a chance at winning the Mega-Battle slot.

The Showdown entry fee is $15. Players must bring their own pack of 60 English-language Pokemon cards, and all participants will receive a prize.

The Jelly's phone number is 735-7676, but you have to go down in person to register for the tournament. While registration will probably be open right up to start time, if the numbers get too huge, participation will have to be limited.

There is no charge to watch the tournament.






Click for online
calendars and events.





---





Send WatDat? questions, stories
or any other story ideas or comments to:
Features, Honolulu Star-Bulletin, P.O. Box 3080,
Honolulu, HI 96802 or send a fax to 523-8509
or E-mail to features@starbulletin.com.
Please include your phone number.
E-mail to Features Editor
---
---
© 1999 Honolulu Star-Bulletin
https://archives.starbulletin.com