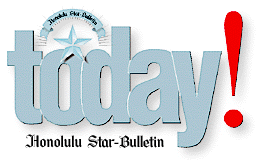 ---
Wednesday, August 18, 1999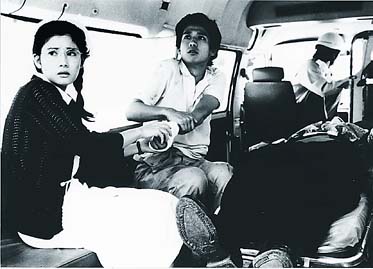 Photo courtesy HIFF
Hikari Ishida as Shizuko, left, and Masano Ando as
Satoru go for an ambulance ride with a gangster before
allowing him to drown and taking his money
in "Adrenaline Drive."
---
'Drive' takes viewers
on a wry ride

By Nadine Kam
Features editor
Star-Bulletin

HOW many times have you sat in a theater sending telepathic messages to the protagonist: "Don't do it!" "Don't open that door!"

"Adrenaline Drive," one of two movies being screened by the Honolulu International Film Festival and Hawaii Film Fans Thursday, is one of those films that never seems to run out of gas because its protagonists are so inept. They can't even rip off a bunch of dead gangsters.

The black comedy written, directed and edited by Japan's Yaguchi Shinobu, creator of the HIFF '97 hit "My Secret Cache," presents the ultimate get-rich-quick fantasy.




On screen

What: "Adrenaline Drive" North American premiere, in Japanese with English subtitles
When: 6:30 and 8:45 p.m. Thursday
Where: Signature Theatres Dole Cannery 18
Admission: $6 with HIFF membership card; $7 general
Call: 528-FILM (3456) ext. 21
Also: Screening at the same times, with separate admission, is "City of Glass" from the creators of "The Soong Sisters." The film is a love story spanning 20 years, with Hong Kong as its backdrop. In Cantonese with English subtitles.




Shizuko (Hikari Ishida) is a mousy nurse who keeps to herself and to her work. She doesn't even dare to dream -- as her co-workers do -- of finding the right man, much less a man of means.

When her horoscope tells her to expect adventure, she views that as approval to take a break from work to head to the nearest convenience store for snacks.

Then she hears an explosion, and in trying to aid its victims, she meets Satoru (Masano Ando).

He, too, is in need of something to wake him from a somnolent existence. He gets into trouble only when his boss tries to elicit an emotional response from him. One of the boss' tricks is to cover Satoru's eyes while he's driving, and they end up rear-ending the car of a Yakuza member, who immediately whisks Satoru off to his headquarters for retribution.

That's when the bomb goes off, leaving Satoru with more than a million yen that was being counted up.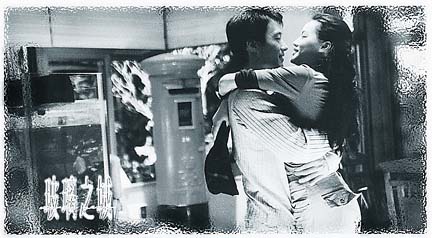 Photo courtesy HIFF
Hong Kong pop star Leon Lai, left, and acclaimed
actress Shu Kei star in "City of Glass."
---
Shizuko assists Satoru and they find themselves thrust into an ambulance with the lone surviving Yakuza, the same guy Satoru had crashed into earlier. When the ambulance crashes into a canal, the two innocents escape -- with the cash, 660,000 yen apiece -- leaving the Yakuza to sink into his watery grave ... or does he?

The duo only wants to run away from a dreary existence but it's not all that easy, with cops buzzing around and some minor thugs on their tail, not to mention money's corrupting influence.

The duo's mistakes pile up to the point where a viewer throws up hands and says, "For gosh sakes, have they learned nothing from the movies?"

From "The Terminator" alone we've learned that when on the lam, you don't call your family to let them know where you are. And you don't put on a show for convenience store surveillance cameras.

But I can't say it wasn't a fun ride while it lasted.






Click for online
calendars and events.
E-mail to Features Editor
---
---
© 1999 Honolulu Star-Bulletin
https://archives.starbulletin.com