---
Thursday, August 12, 1999
Carpenters Union's
Kupau called
charismatic, tough,
one of a kind


Accolades pour in for the dead
labor leader; one says 'he spoke his
mind, even if his words were
sometimes tough to take'

By Rod Ohira
Star-Bulletin

AS a voice for labor, Hawaii Carpenters Union head Walter Kupau stood out in a crowd. "Walter was a tough, courageous, innovative leader who fearlessly fought for his carpenters regardless of the odds," Gov. Ben Cayetano said about Kupau, who died yesterday on Kauai of an apparent heart attack at age 63.

"He will be remembered as one of Hawaii's outstanding labor leaders."

Kupau was conducting a training seminar for union staff members at the Kauai Marriott Hotel in Lihue when he collapsed at about 9:20 a.m.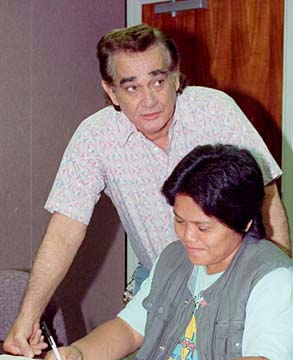 By Terry Luke, Star-Bulletin
Walter Kupau with Wanda Balanay at the
Carpenters Union in February 1992.
---
Paramedics were unable to revive him at the scene, and he was pronounced dead at Wilcox Hospital. An autopsy will be performed today to determine cause of death.

The stunning news of Kupau's death forced the union to close its office building at 1311 Houghtailing St.

During an afternoon meeting, the Hawaii Carpenters Union, Local 745, yesterday selected former Honolulu Police Commission Chairman Ron Taketa to serve as interim financial secretary and business representative.

---




'Walter was a tough, courageous,
innovative leader who fearlessly
fought for his carpenters
regardless of the odds.'

Ben Cayetano GOVERNOR

"Words cannot express the grief we all feel at Walter's sudden death," said Taketa, a member of Kupau's staff. "Walter was truly one of a kind."

As financial secretary and business representative, Kupau had been responsible for the day-to-day operations of the union since 1978.

He was the 7,000-member union's chief negotiator. In September 1997 the union ratified a five-year pact with 400 signatory contractors statewide which will boost carpenters' pay to $30.90 per hour in 2002.

"It's not an exaggeration to say that Walter deserves a great deal of credit for improving the quality of life in Hawaii over the last three decades," said Russell Okata, executive director of the Hawaii Government Employees Association.

Tony Rutledge, secretary-treasurer of the Hotel Employees & Restaurant Employees Local 5 AFL-CIO, says Kupau's legacy is that his union's membership has one of the finest wage and benefits packages in the country.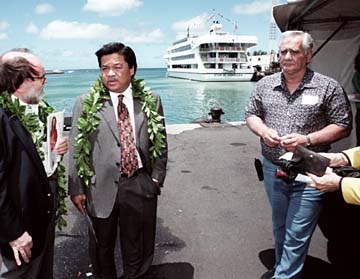 By Craig T. Kojima, Star-Bulletin
Walter Kupau (right) is shown at the dedication of a Kewalo Basin
area in July 1998 with U.S. Rep. Neil Abercrombie
and Gov. Ben Cayetano.
---
"Walter Kupau was a charismatic leader who was unafraid to fight to obtain a better life for his members and their families," Rutledge said.

Under Kupau's guidance, Local 745 became the fifth-largest union in the state and took an active role in local community issues, politics and public service.

As a member of the Hawaii Community Development Authority, Kupau publicly endorsed a D.G. "Andy" Anderson company proposal for a mixed-use retail and entertainment development along the Kewalo Basin waterfront, which was approved by the board.

Politics was a stage for Kupau.

Despite past criticism of Cayetano, Kupau pushed the carpenters to endorse Cayetano's re-election bid in 1996 after the governor announced plans to spend $1 billion to jump-start the stalled construction industry.

The union had previously endorsed Linda Lingle in her races for mayor of Maui, but Kupau said the carpenters would back Cayetano because "now is not the time to move someone up from paddling a rowboat to being captain of an ocean liner."

In 1996, Kupau pulled almost $30 million of union funds from First Hawaiian Bank, in part because it employed former City Council Chairman Arnold Morgado during his bid for mayor. The union considered Morgado "anti-construction" and supported his opponent, Jeremy Harris.

The following year, the union closed its $1.8 million account at Central Pacific Bank because CPB was using a nonunion contractor for a building project in Kona.

U.S. Rep. Neil Abercrombie described Kupau as a tenacious bargainer and shrewd strategist.

"He spoke his mind, even if his words were sometimes tough to take," Abercrombie said. "No one ever had to guess where Walter stood on the issues."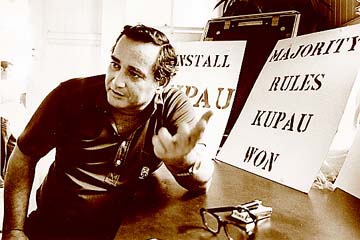 By Ken Sakamoto, Star-Bulletin
Walter Kupau discusses his victory in court in August of 1978 after
U.S. District Judge Dick Yin Wong ordered the Hawaii Carpenters
Union Local 745 to install Kupau as its financial secretary
and business representative.
---
Abercrombie said Kupau was a champion of working men and women in Hawaii.

"He was a fierce and unceasing advocate on behalf of the members of his union and all of Hawaii's working families," Abercrombie said. "He understood their needs and aspirations.

"Most importantly, he knew how to advance their interests."

Mayor Harris remembers Kupau as a "tough but practical negotiator."

"Back in the '80s, he saw the need for labor and management to work together and in his vision formed the Pacific Resources Partnership," Harris said. "Over the years, Walter shared his vision with his union and its membership, and today leaves behind a solid structure that will keep his union strong."

Kupau was the highest-paid union leader in Hawaii, earning over $250,000 annually.

But controversy came with the job.

In November 1984, Kupau and three other union staff members -- Keith Hirota, Francis Miller and Theodore "Joe" Hackbarth -- were charged with beating Mililani Town construction manager John Murchinson.

At the time, Kupau was free on probation and appeal bond for lying under oath about a 1980 labor dispute on Maui.

Kupau was born in Honolulu and attended St. Louis high school.

After serving three years with the Army Engineers, he returned to Hawaii in 1957. Kupau worked as a laborer for three years, then learned the carpenter trade and joined the Carpenters Union.

By the mid-'60s he was an administrative assistant for the union's business agent, Stanley Yanagi.

In 1969 he was named president of the Hawaii State Federation of Labor, AFL-CIO.

"I will always remember him for his leadership as the third president of the Hawaii State Federation of Labor from 1969 to 1984," Okata said.

"With him at the helm, the State Federation brought together different unions with different objectives and different personalities, and united us for a common good."

Kupau is survived by his wife, Davenie, and sons John, William, Terrence, Walter Jr. and Lance-Scott.

Funeral services are pending.
E-mail to City Desk
---
---
© 1999 Honolulu Star-Bulletin
https://archives.starbulletin.com