---
Wednesday, August 11, 1999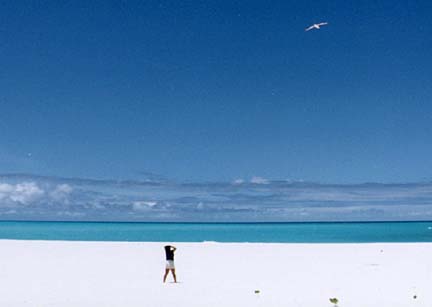 By Karla McDermid, Special to the Star-Bulletin
Whether it's walking among Laysan and blackfooted albatross chicks,
below, or observing a Laysan albatross hovering in clear blue skies, above,
many of the students enrolled in the University of Hawaii-Hilo's summer
marine science and atoll ecosystem courses on Midway become
mesmerized by the beauty of the island.
---
Class in session
on Midway


The University of Hawaii-Hilo
offers marine science and other
summer courses on the
idyllic atoll

Midway there: A few factoids about the island
Island cuisine: A private company surprises visitors
Campus connection: Who to contact

By Helen Altonn
Star-Bulletin

Swimming with spinner dolphins in crystal waters, exploring amid millions of seabirds, unique wildlife and history -- yet dining in a five-star French restaurant.

Sound like a dream vacation?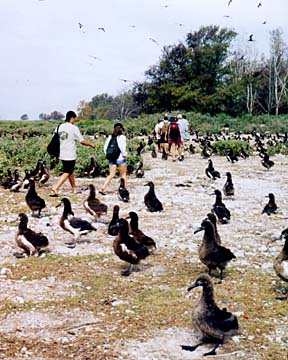 By Karla McDermid, Special to the Star-Bulletin
It's that and more for students enrolling in University of Hawaii-Hilo summer courses at Midway Atoll.

"UH-Hilo is the only academic entity as far as I know teaching classes on an atoll, and certainly in the north Hawaiian Islands," says Karla McDermid, marine science department chairwoman.

She said she got the idea for summer classes at the historic atoll, about 1,300 miles northwest of Honolulu, after going there to do research on seaweeds.

Eight students attended McDermid's first outdoor classroom on an atoll ecosystem in 1997 on Midway. The same marine science class was held last year, and two were added this summer to the college credit program.

Twenty students took the marine science/atoll ecosystem course and six attended a class on North Pacific seabirds. A workshop/class also was held for 10 teachers on marine science and atolls.

"One teacher that went up this summer said, 'This is one of those places that looks just like advertisement pictures,' " McDermid said.

" 'It looks just like you promised it would,' the teacher said, 'with beautiful white sand beaches, turquoise lagoon water and deep blue oceanic water outside the reef.'

"Birds are everywhere and there are extraordinary sunsets," McDermid added. "Of course, we were there to do a classroom."

She said the classes fit the refuge's mission to nurture educational opportunities, as well as restore wildlife habitats.

Bob Tracey, vice president-director of marketing for the Georgia-based Midway Phoenix Corp., which manages the atoll for the U.S. Fish and Wildlife Service, said Midway's unique ecosystem is its "single greatest value."

He said the company is "extremely passionate about sharing that with as many people as possible by establishing an academic community on Midway."

Its vision, he said, "is that through a virtual classroom, meaning electronically connected to the rest of the world, 12 students can enjoy the lecture but 1.5 million can learn from that."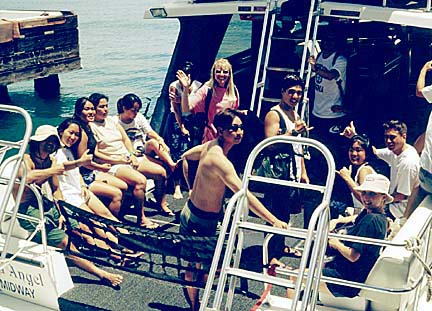 By Karla McDermid, Special to the Star-Bulletin
Students aboard the Sea Angel prepare for a group snorkeling trip
in the waters teeming with fish and coral at Midway.
---
The corporation is exploring different ways of achieving that goal with UH-Hilo, Tracey said.

He said the company wants "a full-time, 365-day-a-year global classroom" that would encourage professors, students and researchers to go to Midway to teach or learn.

McDermid said several other universities are interested in offering classes on Midway, and UH-Hilo "would be a clearinghouse ... making sure there are good academic classes and open access for our students."

Students who went to Midway the past three years "almost to a person ... genuinely changed and were moved by the experience," said Robert Smith, Pacific Islands manager for the Fish and Wildlife Service.

"There's a phenomenon at Midway," he said. "If you stay more than a week, you're hooked. You don't want to go home. It's a place that time has forgotten, like a step back into the '50s.

"There are no drugs there, no crime. You don't have to lock your door. There's a feeling of being safe, a wonderful tranquilizing feeling of being with all this wildlife and having wildlife so unafraid of you."

Midway has the largest colony of Laysan albatrosses in the world and the second-largest colony of black-footed albatrosses.

"Imagine one tiny atoll so important to these species of seabirds," Smith said. "It's incredible."

McDermid said UH-Hilo plans to have more classes next summer, perhaps on such subjects as marine archaeology, tropical or Hawaiian fish or marine mammals.

Students pay about $100 tuition per credit and about $1,500 for round-trip airfare, room and meals, snorkel trips and bicycle use, she said.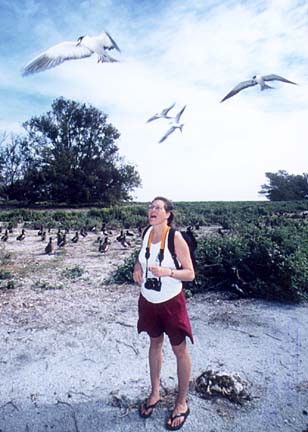 By Karla McDermid, Special to the Star-Bulletin
Terns fly over professor Karla McDermid on the historic runway at Midway.
---
Besides abundant wildlife, Midway has fascinating geology in terms of atoll formation and the Hawaiian Island chain, McDermid said.

"It's just a perfect place to teach classes. You can lecture on something and go right outside the classroom and see it."

The refuge also encourages research to help manage the ecosystem, she said.

In her first two years of collecting, she said she found seven new species of seaweed. "That's because, I think, for 50 years (under Navy control), not even scientists had very easy access to Midway."

There are also new species of shrimp, unusual fish and a pristine coral reef, she said.

"The other interesting thing is that it's very far north. The water is colder, so some interesting ecology is going on with coral at Midway."

Besides being a scientific treasure, she said, "It's a wonderful place for history of the Pacific," with airplane remains and shipwrecks and World War II gun emplacements and structures.

Fish and Wildlife Service biologists and rangers have "a wonderful interpretation program with daily tours and events," McDermid said.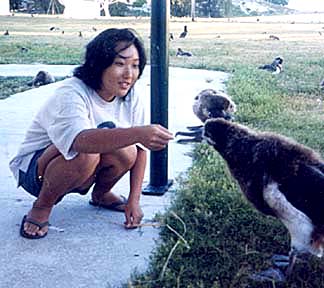 By Karla McDermid, Special to the Star-Bulletin
Yumi Kamada greets an albatross at her dorm.
---
Smith said the service began doing research to understand some of the challenges in managing the albatross colony and other species when Midway became a national wildlife refuge in 1988.

He said some 25 species of seabirds use Midway at various times of the year, as well as Hawaiian monk seals, green sea turtles and other marine animals. "It's just a fabulous place."

Smith said the corporation encouraged UH-Hilo to be on Midway, offering special rates to students for air fare, lodging and meals.

Many return to work in the ecotourism industry or as interns or volunteer technicians for the Fish and Wildlife Service, he said.

Under a more formal relationship being discussed for UH-Hilo on Midway, it would become an "anchor tenant" with buildings or other facilities needed for faculty, students and classes, Smith said.

"It very much fits with opportunities for educational excellence the UH system would have to offer," he said. "After all, what other university in the world has relatively at its back door an atoll system where students can go and learn in an outdoor classroom.?"




ABOUT MIDWAY

Location: About 1,300 miles northwest of Honolulu.

Islands: Two islands in an atoll 6 miles in diameter.

Area: Two square miles and a coastline totaling about 20 miles.

Discovered: 1859 by the United States.

Annexed: 1867.

World War II: Japan tried to seize Midway as a base from which to attack Hawaii -- an attempt ended by the famed Battle of Midway.

Arrangement: The Navy retained control over Midway but established a cooperative relationship with the U.S. Fish and Wildlife Service in 1988 to make it a national wildlife refuge.

Changes hands: In 1993, Midway was listed by the military as an unnecessary installation and the Fish and Wildlife Service won competition to become its primary landowner.

Executive order: Signed by the president in 1996 transferring Midway from the Navy to the service and making it a refuge.

Midway Phoenix Corp.: Was contracted by the Fish and Wildlife Service to run a self-sustaining public use program at Midway.

Sources: The World Book Encyclopedia and U.S. Fish and Wildlife Service.




---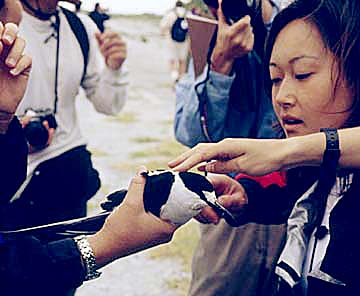 By Karla McDermid, Special to the Star-Bulletin
Eriko Todo and other University of Hawaii-Hilo students
examine an injured tern on Midway.
---
Other than the exceptional
restaurant, tranquil island
clearly a 'refuge'

Wildlife comes first, but a company that
manages the serene atoll has a few
surprises for visitors

By Helen Altonn
Star-Bulletin

SINCE the Navy left Midway, the island has attracted such celebrities as Muhammad Ali and Whitney Houston, as well as high-profile elected officials, says a Midway Phoenix Corp. executive.

But while the atoll has become a "resort/refuge destination," says Bob Tracey, vice president-director of marketing, "We're clearly not a resort. We're a refuge.

"You don't go there to ride jet skis and listen to loud bands until 3 in the morning. That's not what it's all about."

It's a refuge for people as well as for wildlife, Tracey said.

Guests accustomed to autograph hounds can walk around the island's "talcum-powder" beach with no one bothering them, and they do it while mingling with wildlife -- not just looking at it, he said.

The Georgia-based company has just completed its third year on Midway under a management agreement with the U.S. Fish and Wildlife Service.

"It's truly a unique relationship with the government -- probably one of a kind, with a private company in business with the U.S. government," Tracey said.

The Fish and Wildlife Service "inherited a small city," said Robert Smith, the federal agency's Pacific Islands manager.

He said the island has a 7,900-foot runway "that will land anything flying, with the possible exception of a space shuttle," as well as a crosswind, alternate 6,000-foot runway.

Facilities include airport hangars, ground support equipment, a fuel farm for large electric generators, sewage and water systems and a series of galleys, restaurants, dormitories "and you name it," Smith said.

"Therefore, we had to be creative about how this small refuge might support itself."

In designating Midway as a National Wildlife Refuge, the president provided no money to operate it, Smith said.

So the Fish and Wildlife Service planned a self-sustaining, public use program.

"We are basically transitioning the culture of Midway from a military culture to a culture of our own making," he said, built around ecotourism and the presence of a wildlife refuge.

"It is quite a challenge," involving a big investment that won't be returned for many years, Tracey said.

Midway Phoenix refurbished the island's bachelor officers' quarters as deluxe suites with accommodations for 100 people -- the guest limit at one time.

The resident population numbers 170 to 200, including Midway Phoenix, Fish and Wildlife and subcontractor employees.

In the first two years, Tracey said, an average of about 25 visitors were on the island daily. The number has increased about 20 percent, varying with the seasons, he said.

Divers and fishermen are there usually from May through November, while history buffs arrive year-round, he said.

Photo clubs are lured by the 2 million albatrosses inhabiting the island during winter, plus "amazing sunsets and sunrises," Tracey said.

Subcontractors operate scuba-diving and sport-fishing activities. But it's mostly catch-and-release fishing, Smith said. Only one open ocean fish may be caught per trip, for on-island consumption.

"We hope practicing sustained yield fishery management, we won't kill the golden goose," Smith said.

An unexpected attraction is the island's $1 million French restaurant. Midway Phoenix built it and hired two chefs from Paris, Tracey said.

"It's magnificent cuisine. People can't even believe it. They think they're going to get hot dogs and stale potato chips and all of a sudden they go to a five-star French restaurant overlooking a blue lagoon."

Aloha Airlines charter flights to Midway from Honolulu until the end of September cost $745 round trip with a free companion pass, Tracey said. Accommodations vary from $125 to $200 a night, he said.

Tracey said the company is designing a wedding chapel and preparing to refurbish some buildings to house 65 to 75 students and faculty.




CALL NOW

To learn more about college credit courses on Midway:

Contact: Karla McDermid, Marine Science Department, University of Hawaii-Hilo, 200 W. Kawili St., Hilo, HI 96720
Call: (808) 974-7650
E-mail: mcdermid@hawaii.edu



E-mail to City Desk
---
---
© 1999 Honolulu Star-Bulletin
https://archives.starbulletin.com