---
Wednesday, August 11, 1999
Sewer-relief measure
re-emerges

By Gordon Y.K. Pang
Star-Bulletin

A sewer-fee proposal that would lower bills for single-family dwellers at the expense of those living in apartments and condominiums has resurfaced.

Leeward City Councilman John DeSoto has reintroduced a bill to offset other measures now in the Council hopper aimed at lowering apartment-condominium tax rates at the expense of single-family rates.

All the bills were expected to get initial approvals today at a Council meeting in Kapolei.

The sewer-relief bill is designed to benefit those who conserve water while helping agricultural water users who say most of their water goes into irrigation and not down sewers.

DeSoto said it's unfair that the monthly base rate for single-family dwellings is higher than that of their multifamily counterparts.

Single-family households "go to the bathroom as much times as apartment dwellers," DeSoto said. "So how come they gotta pay more?"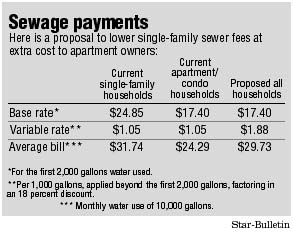 The bill calls for lowering the single-family homeowner monthly base rate.

To help agricultural households, the bill throws in an 18 percent discount on water above 2,000 gallons and places a cap of 18,000 gallons on the variable amount.

DeSoto introduced the same measure last year with the backing of Mayor Jeremy Harris. But the bill was thwarted in January by Budget Committee members from districts heavily populated by apartment-condominium dwellings.

Those same colleagues are now calling for fairness in property taxes, DeSoto said.

"Hopefully we can address their concerns and they'll address mine," he said.

Two bills call for apartment-condominium and single-family homeowners to pay the same tax rate. Currently, single-family homes are assessed at $3.65 for every $1,000 of valuation. Apartment-condominium units are assessed at $4.49.

Assuming the city takes in the same amount of revenues, a single rate would come out to $3.89. For the average multifamily homeowner, that would mean a $94 reduction in annual property taxes. The average single-family homeowner would see a $62 increase.

Another bill, up for public hearing today, establishes a tax credit for apartment-condominium owners who use private trash haulers.
E-mail to City Desk
---
---
© 1999 Honolulu Star-Bulletin
https://archives.starbulletin.com