---
Wednesday, August 11, 1999
Abercrombie pads his
election fund

By Pete Pichaske
Phillips News Service

WASHINGTON -- They aren't up for re-election this year, but the four members of Hawaii's congressional delegation have raked in $300,000 in campaign contributions so far in 1999, according to reports filed with the Federal Election Commission.

More than three-fourths of the money was collected by Rep. Neil Abercrombie, widely considered the most politically vulnerable of the four.

In fact, Abercrombie is on a pace to raise more than he did in his 1998 campaign, when he spent $1.1 million to retain his seat -- Hawaii's first million-dollar House campaign.

The Honolulu Democrat collected $230,197 for the first six months of this year, according to the FEC report, nearly $70,000 more than he took in during the same period two years ago. He also reported having $221,909 in cash on hand.

At this time two years ago, Abercrombie strategists said he was building up his campaign war chest early to dispel his image of vulnerability.

In 1996, he barely survived a vigorous challenge by Republican Orson Swindle. Last year, he won more easily against then-state Rep. Gene Ward.

This time, Abercrombie's camp appears more confident. But his fund-raising strategy is the same.

"He's had many tough races, and he wants to be ready for any challenge," said campaign co-chairwoman Ann Kobayashi.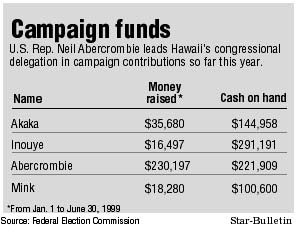 The rest of the all-Democratic Congressional delegation, meanwhile, appears willing to wait to raise whatever campaign money they may need.

Rep. Patsy Mink, D-rural Oahu/neighbor islands, took in $18,280 during the first six months of the year -- less than 10 percent of Abercrombie's total -- and has $100,600 on hand. She also has $127,590 in debts from last year's campaign.

Sen. Daniel Inouye, who is not up for re-election next year and might be serving his final term, nevertheless collected $16,497 and has a healthy $291,191 on hand.

Sen. Daniel Akaka, whose term is up next year and who said last month that he will run again, raised $35,680 and has $144,958 on hand.

Akaka spokesman Paul Cardus said the senator will kick his fund raising into a higher gear this fall and, in fact, has raised more money since June 30.

Two other potential House candidates filed campaign reports with the FEC. City Councilman Mufi Hannemann, who has talked of running for either House seat, reported no contributions but had $1,560 on hand. Republican Carol Douglass, who ran against Mink last year, reported raising $932 and had $10 on hand.
E-mail to City Desk
---
---
© 1999 Honolulu Star-Bulletin
https://archives.starbulletin.com