---
Tuesday, August 10, 1999
Father will stand
trial in baby's death


The mother tells the court
he called the infant girl
'a crybaby'

By Debra Barayuga
Star-Bulletin

The mother of a 4-month-old girl who suffered injuries doctors say are consistent with being shaken said she was not responsible for her daughter's injuries and never shook her baby.

But the father of her baby, Michael Bentosino, would speak loudly to the infant or call the child a "crybaby" when he was unable to stop her from crying, Nanette Arigo testified yesterday.

"What you crying for? I didn't hit you. You want me to give you something to cry about?" Bentosino would say, Arigo testified.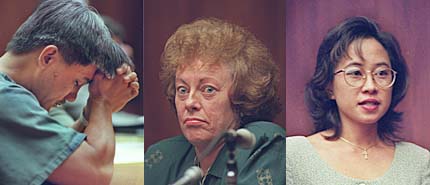 By Dennis Oda, Star-Bulletin
Michael Bentosino, at left, buried his face in his hands through most
of the testimony during his preliminary hearing yesterday. Dr. Cynthia
Tinsley, center, who treated his child, Tori Bentosino, said the 4-month-
old baby suffered injuries that showed signs of shaken baby syndrome.
Bentosino's girlfriend, Nanette Arigo, at right, said Bentosino told her their
daughter's fatal injuries occurred when he accidentally dropped the infant.
---
Bentosino, 43, is charged with second- degree murder for causing the baby's death. Tori Bentosino was declared brain dead Aug. 2, one day after she was brought to Kapiolani Hospital.

The infant suffered a skull fracture and other injuries, including bleeding and swelling of the brain and bleeding in the retina, Dr. Cynthia Tinsley of Kapiolani Hospital testified.

Bentosino told police and doctors at St. Francis-West and Kapiolani that the infant "threw" herself out of his grasp while he was holding her and trying to prepare a bottle at the same time, that she fell and hit her head on the counter, then hit the floor.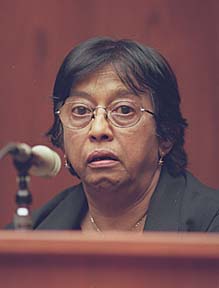 By Dennis Oda, Star-Bulletin
Dr. Bani Win, deputy medical examiner testifies during
Michael Bentosino's evidentiary hearing.
---
At his preliminary hearing in District Court yesterday, Bentosino sat much of the time with his eyes downcast or his face in his hands.

District Judge Allene Suemori found there was enough evidence to try Bentosino on the second-degree murder charge. Bail was confirmed at $100,000. He will be arraigned in Circuit Court on Aug. 23.

Tinsley, who cared for Tori early Aug. 1 after she was transferred from St. Francis-West Hospital, said Bentosino told her he had not shaken the baby. She said he appeared upset and "put his head down on the table" when she told him and Arigo the baby's injuries were not consistent with his version of events.

Arigo had left Bentosino alone with the baby at her Waipahu home July 31 while she took a shower. "You going leave her with me?" she recalled Bentosino asking her. When she got out of the shower and began preparing dinner, Bentosino told her he had dropped the infant and they needed to take her to the hospital. She said she believed him then, but is starting to have doubts.

Dr. Bani H. Win, deputy medical examiner who conducted the baby's autopsy, said the infant died of brain injuries due to blunt trauma.

But during questioning by Bentosino's attorney, Reginald Minn, she said she did not believe the trauma the infant sustained was due to a fall such as Bentosino had described. "Even a child falling from three flights of stairs wouldn't get this type of injuries," Win said.

She said studies show "a lot of force" is required to cause the type of trauma the infant sustained. The type of force required would be equivalent to that sustained in a car accident or a three-story fall.
E-mail to City Desk
---
---
© 1999 Honolulu Star-Bulletin
https://archives.starbulletin.com