---
Friday, July 30, 1999
Cooling Off In Kimono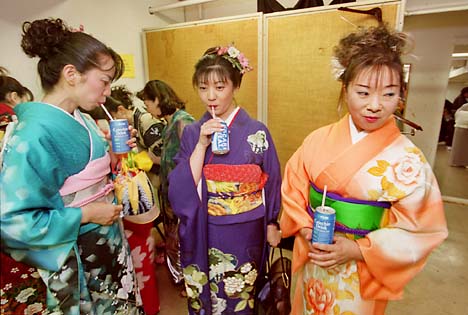 By Dennis Oda, Star-Bulletin
Models wearing cotton kimono, or yukata, quench their thirst after the
Nagoya branch of the Hakubi Kyoto Kimono School's fashion show
at Ala Moana. Japanese plantation workers are said to have made
aloha shirts from yukata when they came to Hawaii.
---
Japanese women on
peaceful pilgrimage


For 30 years, members of a
prestigious school have visited
to share their culture

By Susan Kreifels
Star-Bulletin

Just the thought of hot sun on silk breaks out a sweat on most. But there they stood atop Punchbowl in midday summer heat. An impressive sight -- 321 Japanese women exquisitely, precisely dressed in colorful silk kimono, bound at the waist by stiff sashes and looking quite cool.

"Ichi, ni, san," the photographer counted out loudly over the crowd covering the steps of the National Memorial Cemetery of the Pacific. A cloud of umbrellas disappeared, fans snapped shut, and he shot the event to a ripple of quiet laughter.

It's a scene that's been repeated for the past three decades atop Punchbowl. The women represent the Hakubi Kyoto Kimono School, Japan's largest such institution.

This week marked the 30th anniversary of students and teachers laying wreaths to honor America's war dead and promote peace. They also lay a wreath at the grave of the late Gov. John Burns, who helped them start the annual memorial services.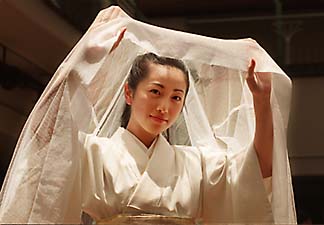 By Dennis Oda, Star-Bulletin
Chie Miura of the Hakubi Kyoto Kimono School models
a modern Japanese wedding dress that has
a light western-style veil.
---
The group members, most from Tokyo and Nagoya, pay their way to Hawaii, some doing so for the past decade or longer. But it's not a vacation. Instead, it's a time to roll up their silk sleeves for a hectic week of voluntary teaching and demonstrations around the island.

For these women have a mission: to promote peace and Japanese culture through their love of the kimono, the national dress of Japan. To them, there's no better way. They believe the silk dress represents the best of their culture -- calmness, inner peace and introspection, artistic beauty, and connection to nature's seasons through color and design.

"It's one of our major and important responsibilities, to represent the country and to help world peace, to express how we feel," said Miwako Kakutani, an expert on kimono textiles and design who has come to the annual memorial for 10 years.

Takayoshi Mizushima, president of the school, said the Hawaii trip is especially important to show "we Japanese appreciate how the U.S. protects us."

Mizushima, a member of the University of Hawaii Founders Club, has traveled the world to promote peace and teach Japanese culture through this symbol of silk. "When we wear kimono, everybody feels calm, quiet, deep in thinking," Mizushima said.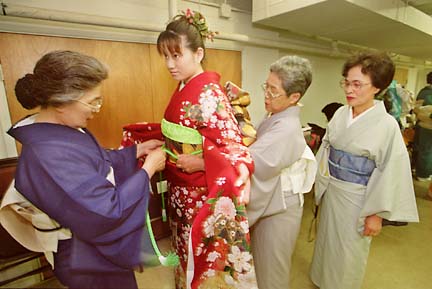 By Dennis Oda, Star-Bulletin
Teachers help Mio Kondo, 18, adjust her obi backstage at the
Ala Moana kimono fashion show. Kondo is wearing a
furisode designed for younger women.
---
He also works to preserve the kimono tradition in his homeland, where younger generations are dominated by Western styles. Many young women don't know how to dress properly in kimono, nor do they have the money to buy one -- a good silk dress that can be handed down through several generations can cost $8,000. They don't even have a place to store it.

Student Eri Machida, 24, says she didn't know how to dress in kimono before she enrolled, nor did many of her friends. It's still difficult, and her teachers prepared her for the Punchbowl service, taking 20 minutes to tailor her perfectly.

While she believes preserving the tradition is important, she also joined the school for other reasons that may stand as signs of the time for the modern Japanese woman.

"I heard the school was doing things throughout the world," Machida said, "and I was very interested in an international experience."

Mizushima's philosophy of peace through kimono has followers here as well. Hawaii resident Lily Nakao spends much of her time as his assistant organizing world travel. "I have great admiration for what they do," Nakao said. "They make a lot of sacrifices and spend a lot of their own money. They work hard but that's what they want. They find it a privilege."

Nakao said the volunteer work also gives them opportunities tourists don't get.

This week's visit was marked by a special show of juni-hitoe, Japan's original and most elaborate kimono developed during the Heian Era from 794 to 1185 as Chinese influence waned. The brightly colored juni-hitoe, a 12-layer dress that weighs at least 35 pounds and was worn by ladies of the court, is still used today by members of the Imperial Household during special occasions such as a royal wedding.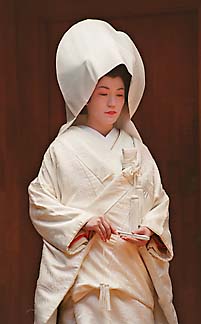 By Dennis Oda, Star-Bulletin
A model wears a shiromuku, above, a traditional formal bridal
kimono. It is believed to have originated in the 16th century.
---
Honolulu is only the second city to host the juni-hitoe show after the Boston Museum of Fine Arts.

The Hakubi Kyoto Kimono School enrolls 20,000 women in 350 schools, most in the Tokyo area, and has more than 1 million alumni. The school has taught and modeled in more than 20 countries, and has about 1,100 non-Japanese students around the world.

Mizushima believes the kimono is becoming more popular among the young in Japan. His proof: two decades ago, the average student's age was 38. Today it's dropped to 24.

That's due partly, he said, to growing popularity of the yukata, the cotton kimono originally used after bathing. Now well-known designers are creating modern, bold and colorful designs of softer materials to be worn at summer parties and other gatherings -- at a much more affordable price of several hundred dollars or less.

Young people's interest in traditional culture is also picking up, he said.

"The kimono is alive," Mizushima pronounced.

The school held a fashion show at Ala Moana Center showing some of the modern designs in softer cottons. Western influence also was evident: a white kimono wedding dress was accented with a light white veil worn over the head instead of the heavy, large headdress of the traditional costume.

Even though a kimono is not as essential in today's wardrobe, "it's still the dream of every little girl" to wear a beautiful one when she turns 20, Nakao said.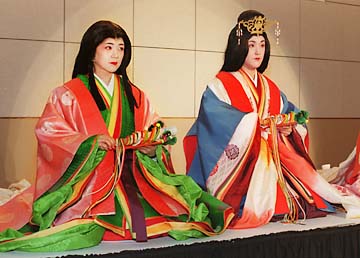 By Dennis Oda, Star-Bulletin
Yuka Arai, left, and Eri Machida wear ancient styles of kimono
called juni-hitoe during the kimono fashion
show held at Tokai University.
---
During the "coming out" party, a young woman will wear a silk kimono of bright colors and elaborate design. The sleeves will be long and flowing "to flirt with the guys," Nakao said, while married women wear shorter sleeves. Traditionally, the sleeves would not interfere with household work.

Some young women may rent the special kimono rather than buy one -- but that can cost $1,000-$1,500 to wear it to the shrines with their friends.

Nakao said no two kimono are alike -- from the colors and designs coordinated with the season, to the way the obi, the stiff sash around the middle, is tied at the back. Experts create hundreds of original ways to tie obi using pearls, flowers and chains to imitate nature such as roses or butterflies. For Hawaii, a teacher created a special hibiscus. Pendants and jewels add more individuality to each kimono, as does the way the cord is tied around the sash.

More layers of silk and color in the costume signifies greater wealth and prestige, a tradition started in the Heian Period when young women of the court were dwarfed by the heavy layers of silk. Today three to five layers are standard, Nakao said.

And there's a special time for all kimono. Women never wear one out of season, Nakao said.

But they do come with their best silk for the Hawaii trip, despite the summer heat.

"They love and respect Mr. Mizushima and are really amazed at what he does," Nakao said. "He can't do it alone."
E-mail to City Desk
---
---
© 1999 Honolulu Star-Bulletin
https://archives.starbulletin.com