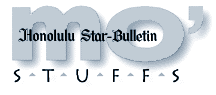 ---
Friday, July 30, 1999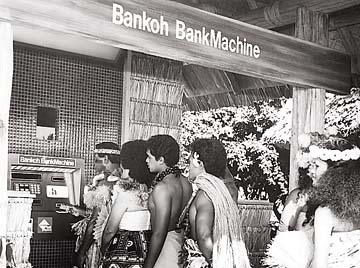 Bank of Hawaii photo.
---
Shiny ATMS replaced the
smile of friendly banktellers

A fundamental change in money-handling occurred in the late 1970s with the introduction of Automated Teller Machines, or ATMs. A kind of robot cash-dispenser, it allowed banks to trim the ranks of tellers, the people who put a human face on a bank. On the other hand, ATMs allow customers to conduct transactions 24 hours a day, and make it unnecessary to carry large wads of cash. The loss of human contact, however, led customers to view banks as alike and interchangeable. Banks countered this trend by warm-and-fuzzy advertising campaigns that stress "family" and "yes" and other upbeat sloganeering. Here, entertainers at Polynesian Cultural Center use a Bank of Hawaii ATM in 1984.
---
"Everyday Life" is a photo feature that examines the 20th Century.
Send snapshots and a description to EVERYDAY LIFE,
Honolulu Star-Bulletin, P.O. Box 3080, Honolulu HI 96813,
or email JPEGs or TIFFs to features@starbulletin.com.

Give it a tumble
July 31 has been proclaimed "National Gymnastics Day" by USA Gymnastics and the Kokokahi Gymnastics Team is joining the celebration by hosting an open house from 1 to 4 p.m. tomorrow at the Kokokahi Gym in Kaneohe, 45-558 C Kamehameha Highway.

There will be exhibitions, free activities and door prizes. The celebration's goal is to introduce youngsters to the benefits of the sport, as a booster of physical health and self-esteem.

For more information, call 235-6866.






Click for online
calendars and events.
---
Send WatDat? questions, stories
or any other story ideas or comments to:
Features, Honolulu Star-Bulletin, P.O. Box 3080,
Honolulu, HI 96802 or send a fax to 523-8509
or E-mail to features@starbulletin.com.
Please include your phone number.
E-mail to Features Editor
---
---
© 1999 Honolulu Star-Bulletin
https://archives.starbulletin.com