---
Island Images



Thursday, July 29, 1999

Guaranteed Big Aloha
Photography by Ken Sakamoto, Star-Bulletin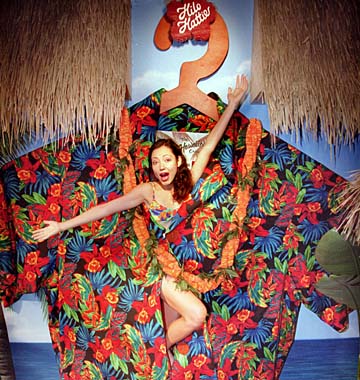 Above, Coco Masters models the world's largest
aloha shirt at Hilo Hattie on Nimitz Highway.

It's official: Largest aloha
shirt is in Hawaii
By Rod Ohira
Star-Bulletin

It took 26 yards of fabric to create the world's largest aloha shirt, which measures 168 inches or 14 feet around the chest, 161 inches at the waist and 60-1/2 inches for the neck.

And the record officially belongs to Hilo Hattie, the state's largest retailer of Hawaiian fashions, gifts and souvenirs.

"We are excited for Hawaii that the Guinness Book of Records has recognized, for the first time, the aloha shirt, an icon of Hawaii, as a new record category," said Chris Resich, president of Hilo Hattie.

Since it created the floral-print shirt for its Kamehameha Day Parade float in 1986, the Iwilei-based company has claimed the aloha shirt as the world's largest.

Four months ago, Hilo Hattie management decided to make it official by submitting its challenge to Guinness Publishing in London.

On May 24, Guinness Media Inc. researcher Ellen Mosher notified Hilo Hattie by mail that its claim for the largest aloha shirt had been accepted.

Resich made the formal public announcement today.

"Our big aloha shirt has been enjoyed by millions of tourists from all over the world and we are especially happy that Hilo Hattie was able to contribute in this effort of bringing additional recognition to Hawaii," Resich said.

The company claims 13 sumo-sized wrestlers can be fitted for the amount of fabric it took to create the record-holder.

It took three days for Hilo Hattie's design department to grade and size the pattern and cut and sew the garment. Two additional days were spent hand painting the shirt.

Holes were drilled in koa-wood beverage coasters, which were used as buttons.

If records are made to be broken, Resich says Hilo Hattie will do whatever it takes to keep the world's largest aloha shirt in Hawaii.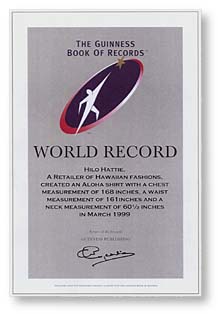 E-mail to City Desk
---
---
© 1999 Honolulu Star-Bulletin
https://archives.starbulletin.com