---
Thursday, July 29, 1999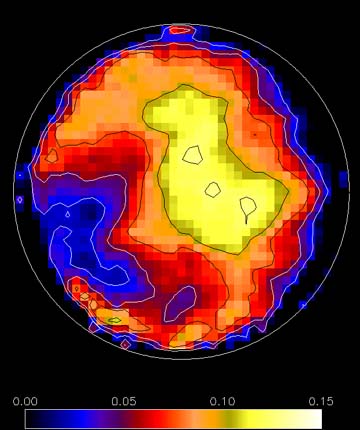 Keck Observatory photo
A pseudocolor version of Saturn's moon Titan with a
color bar below it. The bright yellow 'rubber-duck'
right of the center has characteristics consistent with ice.
---
Mauna Kea
scope spots possible
seas on Titan


The images are sharper than
those from the Hubble space
telescope, scientists report

By Helen Altonn
Star-Bulletin

Using a special technique with the world's largest telescope on Mauna Kea, astrophysicists have detected what may be frozen hydrocarbon seas on Saturn's moon Titan.

"This would make, besides the Earth, the first known object in our solar system that actually has a liquid lake, pond, puddle or what not," Keck spokesman Andrew Perala said by telephone yesterday from the Big Island.

Scientists from the Department of Energy's Lawrence Livermore National Laboratory and the University of California at Los Angeles and Berkeley obtained images of Titan that they said are sharper than those from the Hubble Space Telescope.

Livermore astrophysicist Claire Max said the images show that the moon has a bizarre surface, with dark regions that may be seas of liquid hydrocarbons and a bright rubber-duck-shaped region that appears to be a land-based mixture of rock and ice.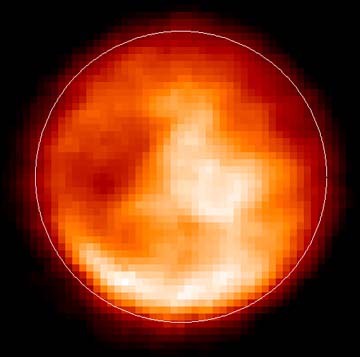 Keck Observatory photo
A a near-infrared image of the surface of Saturn's moon Titan.
---
The team's findings will appear in this month's planetary-science journal Icarus.

Perala said, "It is a step forward in understanding of the chemical processes of the planets and the moons, which may have implications for us trying to figure out how life may have formed on our own Earth.

"It is kind of fun stuff, especially when you realize it is done at a distance of 900 million miles."

The scientists used an observing technique called "speckle interferometry" to overcome blurring of the Earth's atmosphere and obtain high-resolution images of Titan. The technique involves taking hundreds of short exposures, at about 1,000th of a second, which freezes the incoming light, Perala explained.

The atmosphere moves light around, and each image would have the light in a different place, he said. But taking all the images, like slides, and juggling them by computer ends up with the light in one place for an accurate image, he said. "Otherwise, the atmosphere would blur the light."

Speckle interferometry enabled the Livermore-UC group to obtain "the first quantitative map of Titan's surface," said Livermore planetary scientist Seran Gibbard.

Saturn's largest moon, Titan is 3,200 miles in diameter and larger than the planet Mercury. It is the only object in the solar system with a nitrogen-rich atmosphere like Earth's. But since it is 900 million miles from the sun, its surface temperature is minus 290 degrees.

The scientists said it's difficult to observe Titan because ultraviolet light high in its atmosphere changes methane gases into a thick, smog-like organic haze that cloaks its surface.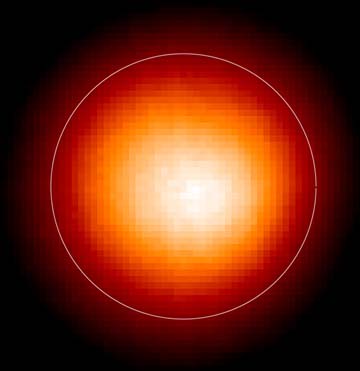 Keck Observatory photo
An image of Titan taken with conventional techniques
under excellent conditions that shows no detail.
---
Hubble and ground-based studies have shown Titan has a complex surface, the scientists said, but even Hubble doesn't have enough resolution in infrared light to penetrate the smog.

Max said, "With the tremendous power of the Keck Telescope we were able to map surface features 150 miles in size on a moon that is more than 800 million miles from Earth."

Scientists long have speculated that ethane smog could condense and rain black liquid onto Titan's surface.

Livermore astrophysicist Bruce Macintosh said the material could be a sea of liquid methane, ethane or other hydrocarbons."It could also be solid organic material," he said.

"Whether the material is liquid or solid," the group reported, "the breakdown and re-assembly of complex organic molecules on Titan is similar to complex chemistry that took place on Earth before life evolved. In some ways Titan is closer to the pre-biotic Earth than any other place in the solar system."

The spacecraft built by NASA and the European Space Agency is en route to Saturn and scheduled to land the Huygens probe on Titan in 2004.

"Ground-based studies such as Keck observations will help predict whether the probe will land on a solid surface or splash into an extraterrestrial sea," the scientists said.

Perala said the latest of a series of discoveries with the 10-meter Keck Telescope "shows technology is growing and forcing scientists to try to understand these leaps forward in knowledge. We're lucky in that we have sort of a leg up on the rest of the world in having a large telescope and advances in instrumentation that allow these increasing improvements in resolution.

"Basically, we're 10-fold ahead of the next-generation telescopes just coming on line. It's something ... they'll catch up with. There's so much to look at out there, the more the merrier."
E-mail to City Desk
---
---
© 1999 Honolulu Star-Bulletin
https://archives.starbulletin.com