[News]
[Business]
[Features]
[Sports]
[Editorial]
[Do It!]
[Info]
[Stylebook]
[Classified Ads]
[Home]


OBITUARIES and
WEATHER in the
news section daily.




Most recent columns



To March 18, 1996
PAST WEEK:
| M | T | W | T | F | S |






Aloha Worldwide

Join SETI team

1998 Election

Legislature

SAT Scores

Stylebook







Phone numbers, e-mail addresses, subscription info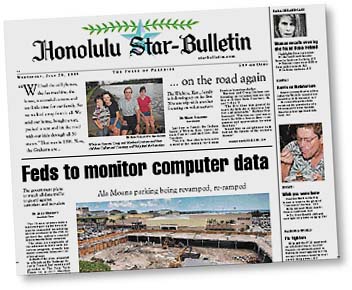 ---
Starbulletin.com publishes online editions Monday through Saturday.
Starbulletin.com publishes articles written by our staff and
selected articles of particular interest to our readers.
Entire contents of this Web site © copyright 1999 by
Honolulu Star-Bulletin. All rights reserved.

---
Featured on:




Lingle attacks Bronster; Ireland' all bloody'; Family travels; Mayor wants full restoration; New Straub boss; Cosmetic surgery; Shriners helps; Math conference; 'Big Ed'; Pupukea fishing; Kahala robbers; Newswatch; Kokua Line; Corky's Hawaii; Obituaries; Weather; Island Images; Whatever Happened To...






Cuisines of the Sun; Cuisines - Just desserts; Kinimaka's Samoan delicacies; Values on the Vine; Stuffs; Hawaii; Honolulu Lite; By Request; Less Fat, Still Ono




Calendars & Events.
Updated Thursdays




Carter going to NBA camp; St. Louis ranked No. 3 in country; Ed Masaki a hot shot; Sports Watch; Bodytalk; Hawaii Beat; Sports Notebook; Scoreboard



Blue-collar doctors; Schuler profits jump; Cruise line profits; Business Briefs; Executive Profile; Hawaii Stocks; Mortgage Rates



Marcos victims could go unpaid for years; Public television; Capitol View; Corky; Letters to the Editor