---




Newswatch

By Star-Bulletin Staff
Tuesday, July 27, 1999
---
Strong winds cut power to hundreds of homes

Gusty winds reaching 50 miles per hour on Oahu ripped off tree branches and swung power lines, knocking out power to hundreds of homes.

A wind advisory was called by the National Weather Service at 9:40 p.m. last night but was expected to be lifted by this afternoon.

Gusts up to 50 miles an hour were recorded in Manoa Valley and Alewa Heights.

About 600 homes in Manoa, St. Louis Heights and Kaimuki lost power for about 30 minutes last night when branches fell on power lines and power lines blew into each other, said a Hawaiian Electric spokesman.

Non-wind related cable failures caused 340 homes to lose power yesterday in Kahala and 300 homes this morning in Mililani.

Meteorologist Bob Larson said the unusually gusty winds were caused by a very strong pressure system directly north of the islands.




Do you believe in menehune?

MENTION the menehune and one gets ready for some spine-tingling tale of their mythical works.

Today, the menehune commonly conjures images of leprechaun-like creatures who are able to complete monumental tasks -- overnight, rarely seen and always in darkness.

Traditionally, the menehune, or manahune, mentioned in early Hawaiian and Tahitian chants may have referred to the conquered Marquesans, the first-wave migrants into Hawaii, says "Insight Guides: Hawaii."

To the second-wave migrants from Tahiti, the term may have come to refer to the mysterious gnome-like people who were already here when they arrived, the guide says.

Kauai, among Hawaii's oldest populated islands, is especially rich with menehune lore. Among the fabled creations of "the night marchers" are the Menehune Ditch in Waimea, which features unique stonework, and the Alekoko Fishpond -- a k a Menehune Fishpond -- outside Lihue.




Murderer's sentencing postponed until Friday

WAILUKU -- The sentencing of double murderer Daniel Kosi was postponed today, after he refused to appear in Maui Circuit Court.

Defense attorney Joseph Mottl III said Kosi refused to be transported because he didn't have enough time to shower and brush his teeth.

According to Mottl, Kosi said he would be willing to appear for sentencing if given enough time to be properly transported from prison facilities on Oahu to Maui.

Kosi, 25, was convicted for a number of felonies, including the gunshot killing of kick boxer Eric Vinge near his Paukukalo residence and the stabbing death of hostage Aisha Tolentino during a police standoff in Kihei in 1997.

Maui Circuit Judge Shackley Raffetto rescheduled the sentencing for Friday.




Corrections

A brown-bag seminar entitled "The Asia Currency in Crisis: Reforming the International System," will be held from noon to 1:30 p.m. Wednesday at the University of Hawaii-Manoa's Burns Hall, Room 4118. For more information, call 944-7443. A wrong date was published Monday.








---




Police, Fire, Courts



By Star-Bulletin staff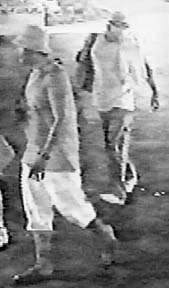 CrimeStoppers photo
A security camera captured pictures of two suspects in a
series of moped thefts from the Waikiki Lani Apartments at
2452 Tusitala Street just after midnight on Sunday morning.
Both suspects are described as males in their 20s, about
5 feet 8 inches tall. One suspect is of a medium build and
has a moustache. The other suspect is heavyset
and cleanshaven.
---
Mililani crash ends stolen car chase

A police chase that began in Pearl City ended this morning when an auto-theft suspect crashed into a tree in Mililani.

At 12:30 a.m., an officer observed a man sleeping inside a white Toyota 4-Runner while stopped at a red light on Kamehameha Highway and Lehua Avenue, a block away from the Pearl City police station.

When the light turned green, the driver remained asleep.

The officer turned on his flashing lights and learned, through a dispatcher, that the car was stolen.

When the officer walked up to the car to wake the driver up, the suspect sped off, police said.

Police pursued the man to Kaloapau Street where he crashed into a tree and suffered minor injuries.

Police hunting for info on Waikiki mopeds theft

Honolulu Police are asking for the public's help in indentifying suspects in the theft of mopeds from the covered parking lot of the Waikiki Lanai Apartments Sunday.

The suspects were seen entering the garage of the apartment building and leaving on mopeds later found to be stolen, police said..

Anyone with information about the men is asked to call CrimeStoppers at 955-8300.







E-mail to City Desk
---
---
© 1999 Honolulu Star-Bulletin
https://archives.starbulletin.com