---
Saturday, July 24, 1999



The ex-lawmaker's bail is revoked
after he again tests positive
for crystal meth

By Rod Ohira
Star-Bulletin

Milton Holt apparently is losing his battle against an enemy within.

Illegal drug use has cost the once-powerful lawmaker his freedom.

"You are unable or unwilling to address adequately the drug problem," federal Magistrate Barry Kurren told Holt yesterday. "I have no choice but to revoke bail."

It was Kurren who, in March, gave Holt his last chance to remain free on bail while awaiting trial on campaign fund theft charges.

Over the objections of Assistant U.S. Attorney Michael Seabright, Kurren ordered Holt to enroll in an inpatient substance-abuse treatment program with the warning:

"If there are any more violations, that will be it. Only you can deal with this, and I suggest you make this a priority."

Holt most recently violated his drug-free condition for release after completing the Salvation Army inpatient drug-treatment program, said Seabright.

Holt failed a drug test 12 days ago and has admitted to using crystal methamphetamine as recently as Wednesday, Seabright added.

The drug test was administered when Holt showed up for a court appearance on July 12, Seabright said.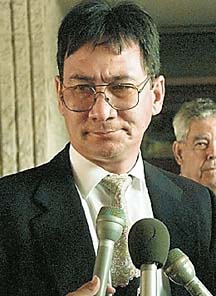 Milton Holt
FORMER STATE SENATOR
AND BISHOP ESTATE
SPECIAL PROJECTS OFFICER
---
"He used drugs that day knowing he would be tested," Seabright said.

Seabright previously sought to revoke Holt's pretrial supervised release after the former legislator admitted to using crystal meth on March 2 after testing positive for amphetamine/methamphetamine on Jan. 2.

Holt also tested positive for illegal drugs last Oct. 15, two days after he told a pretrial services officer that he had never used illegal drugs.

"Enough is enough," Seabright said yesterday when Kurren asked him for the government's position.

Fall from power

Holt had once been regarded by his peers as a brilliant lawmaker and power broker.

A Kamehameha Schools graduate, Holt attended Harvard in the early 1970s and became the starting quarterback on the football team. He was first elected to the Legislature as a state representative in 1978 at the age of 26.

Holt, who lost his Senate seat to former state Rep. Suzanne Chun Oakland in 1996, worked as a special projects officer for Bishop Estate.

He was removed from that position last month. Previously, he served as assistant athletic director of the trust-run Kamehameha Schools.

In 1992, Holt spent two days in jail after pleading guilty to a misdemeanor spouse-abuse charge. The next year, he was arrested in New Orleans for public drunkenness. The New Orleans arrest was later dismissed.

Holt has also acknowledged charging more than $23,000 on Bishop Estate credit cards at local restaurants and strip clubs, such as Misty II and Saigon Passion III. In several instances he entertained lawmakers at hostess clubs. He has said that he repaid the estate for the credit card charges.

Last October, a federal grand jury indicted Holt on two criminal counts of theft of campaign funds.

He was accused of writing four campaign checks totaling $14,695 to Ryan's Graphics Inc. and its president, Neal Kunimura, between 1993 and 1997. Ryan's and Kunimura then allegedly returned $9,940 of that money to Holt for his personal use.

A grand jury added four new criminal charges against Holt in March.

A final appeal

Reginald Minn, Holt's attorney, yesterday asked the court to do a final reassessment before making a decision on whether Holt should be held without bail.

In denying the request, Kurren told Minn: "This is not a crime of violation or a drug case. The court has given your client far leeway. ... We tried every step."

Holt, who is four months shy of his 47th birthday, said nothing in court, and Minn declined comment on the decision afterward.

Holt's trial is scheduled to begin in October.

---



E-mail to City Desk
---
---
© 1999 Honolulu Star-Bulletin
https://archives.starbulletin.com