---
Wednesday, July 21, 1999
Symphony's
Maestro Wong adds
Hong Kong job


Honolulu's music director
takes on another orchestra, but
remains here into 2002

By Tim Ryan
Star-Bulletin

Honolulu Symphony musical director Sam Wong has been named music director of the Hong Kong Philharmonic, beginning with the 2000-2001 season.

Starting in September 2000, Wong will succeed David Atherton as music director with a three-year contract that requires him to conduct at least 14 weeks of concerts a season. Wong will relinquish his post with the Ann Arbor Symphony in April 2000.

Wong will continue as Honolulu's music director at least through the end of his current contract, which expires in May 2002. He also is required to perform with the Honolulu Symphony 14 weeks a season, said Robert Levy, symphony president.

Wong is able to work at the different jobs because the music seasons vary by area and generally don't conflict.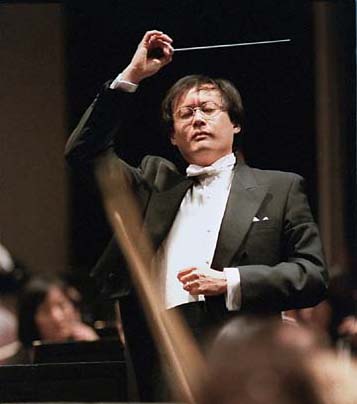 By George F. Lee, Star-Bulletin
The Honolulu Symphony's Sam Wong is adding a
part-time position in Hong Kong to his résumé.
---
The Hong Kong Philharmonic is a full-time orchestra with a 44-week season and a budget of about $12 million. It has toured in China, Japan and California and made recordings. Wong has been a guest conductor with the Hong Kong Philharmonic four times in the last six years.

"We are old friends," he said in a telephone interview from his home in New York City.

The Hong Kong Philharmonic told the Star-Bulletin several months ago it was considering Wong for the top job.

Wong hopes "some day" to tour with the Hong Kong Philharmonic to Carnegie Hall, again to the West Coast, and Honolulu. But his primary responsibility remains with the Honolulu Symphony, he said.

"I have increased my commitments with the Honolulu Symphony from 18 concerts a year to 24," Wong said. "I have great enthusiasm and love for Hawaii."

Michael Tiknis, Honolulu Symphony executive director, said the organization is "delighted that its musical director is in such demand around the world." He said it's not unusual for a symphony's musical director to hold more than one post.

Levy said Wong's new job will not conflict with his Honolulu duties.

But Wong's appointment apparently has stirred discord in the Hong Kong Philharmonic's ranks. The South China Morning Post said his belief that orchestras need to play a greater role in society has caused concern among some musicians.
E-mail to City Desk
---
---
© 1999 Honolulu Star-Bulletin
https://archives.starbulletin.com