---
Tuesday, July 20, 1999



R A I N B O W _ F O O T B A L L
---



'Bows get some
preseason exposure


While the football team is
expected to struggle, several players
get favorable mention

By Paul Arnett
Star-Bulletin

The national football magazines don't think much of Hawaii's chances this fall, but that didn't keep them from singling out a player or two on their preseason all-conference teams.

The Sporting News and Lindy's listed defensive lineman Tony Tuioti first team All-WAC, and Athlon put Anthony Smith as a first team linebacker.

Smith, who was moved from defensive back in the spring, was a second team pick by Lindy's. Wide receiver Dwight Carter, offensive tackle Kaulana Noa and linebacker Matt Paul were also second team selections by Lindy's and The Sporting News.

"It's a good feeling to be picked first team," Tuioti said. "But my main goal this fall is to help build a winning attitude here. We've been a losing team for too long."

Tuioti led by example last season. Despite being bothered by a ruptured disc in his lower back for most of 1998, the fifth-year senior toughed it out to finish third on the team in tackles behind Smith and Paul with 66.

Smith led the way with 103. UH defensive coordinator Greg McMackin shifted Smith to linebacker because of his ability to tackle and cover.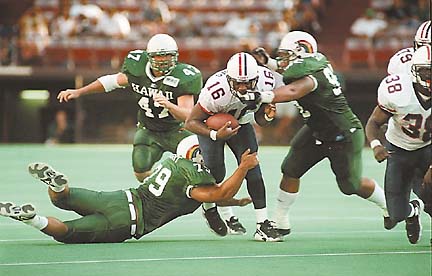 Star-Bulletin file photo
Senior defensive tackle Tony Tuioti was
third on the team in tackles last year with 59.
---
"He fits in well with what we're trying to do on defense," McMackin said after the spring game. "He's going to be a good one for us down the road."

Smith doesn't care what position he plays, just as long as he's somewhere on the field.

"I enjoyed being at linebacker," Smith said. "In this defense, the spot I play is a lot like a safety."

If the prognosticators are correct, the Rainbows are going to need more players like Smith. The Sporting News, Athlon and Lindy's picked Hawaii to finish last in the WAC.

The Sporting News has Hawaii rated No. 105 overall out of 114 Division I teams. Lindy's selected Hawaii No. 107.

New head coach June Jones figured the Rainbows wouldn't be at the top of anyone's list, but isn't too worried about it. Like most football coaches, he doesn't believe in polls.

The Sporting News ranked the WAC ninth overall out of the 11 conferences that play football. Fresno State is the highest-rated league team at No. 49. Lindy's picked the Bulldogs No. 48.

Texas was rated by several magazines to have the best recruiting class in 1999. The Longhorns open the 2000 season in Hawaii. The other three nonconference games for the Rainbows are Portland State, Louisiana Tech and Wisconsin.

Arkansas State was to be Hawaii's fifth nonconference game, but new WAC member Nevada will replace the Big West team on next year's schedule.

UH athletic director Hugh Yoshida also told the Star-Bulletin yesterday that Hawaii's four nonconference opponents in 2001 are Iowa State in the opener, Montana, Miami of Ohio and the Air Force Academy.

The 2002 nonconference opponents are Arizona, Cincinnati, Purdue and either Arkansas State or Louisiana Tech. Virginia, which was replaced on this year's schedule by Washington State, will come here in 2003.




All-conference picks

First team

Tony Tuioti, DT -- Sporting News/Lindy's
Anthony Smith, LB -- Athlon

Second team

Dwight Carter, WR -- Sporting News/Lindy's
Kaulana Noa, OT -- Sporting News/Lindy's
Matt Paul, LB -- Sporting News/Lindy's
Anthony Smith -- Lindy's




---




http://www.kaleo.org


http://uhathletics.hawaii.edu
E-mail to Sports Editor
---
---
© 1999 Honolulu Star-Bulletin
https://archives.starbulletin.com