---
Friday, July 16, 1999
Restaurant's return
faces neighbors'
opposition


Traffic, noise and smoke are
feared by many in the vicinity of
the Willows, a Moiliili landmark
due to reopen soon

By Mary Adamski
Star-Bulletin

The people who have fond memories of the Willows -- a kamaaina landmark with lush greenery, open-air dining and spring-fed ponds -- aren't those who live close by.

Neighbors of the Hausten Street restaurant, which will open soon with the same name and new owners, turned out in force yesterday to complain about past traffic congestion, noise and kitchen smoke. More than 60 people packed the Honolulu Liquor Commission hearing on a liquor license application from GDK Inc.

The commission approved the license in a 4-1 vote after hearing two hours of testimony from opponents who included McCully/Moiliili Neighborhood Board members, City Councilman Andy Mirikitani and state Rep. Scott Saiki (D, Moiliili, Pawaa).

Opponents presented a petition from more than 650 area residents, but it fell short of the 51 percent needed to automatically squelch the license application. It represented 42 percent of property owners within 500 feet.

"This would not be happening in a more affluent neighborhood," Hausten Street resident Kevin Mulligan told commissioners. "It makes no sense to have commercial zoning in the midst of this residential community."

Dick Higuchi of Kaapakea Lane lives within a few feet of the restaurant and remembers his home filling with smoke "like the thick fog at Waimea" from the imu.

"This is a very narrow street," said George Shinohara. "An ambulance could not pass with the limousines and buses parked along the street. I have to assume there will be limousines and buses again."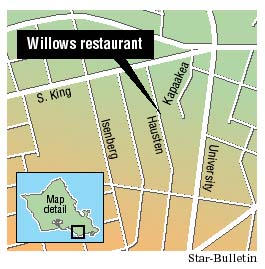 Wendy Tao recalled circling several blocks to get home, having to avoid Hausten Street because it was blocked. She predicted a return to being awakened in early morning hours by power cleaning tools being used and bottles and cans being dumped.

The noise problems should be alleviated because much of the bar and restaurant space was enclosed and air-conditioned as part of the $2 million renovation, attorney Reuben Wong told the commission. "They are complaining about noise they haven't heard yet," said Wong, who represents landowner Honolulu Ltd., a profit-making arm of the Weinberg Foundation, as well as the operators Garrett Kamei and Kyle Nakayama.

The owners bought five parcels of land surrounding the old Willows to provide for parking and delivery, and as a buffer for near neighbors, he said.

Tropical plantings and an open-air dining pavilion beside the pond are features retained from the old Willows, which was closed in July 1994.

Something new is a free-standing wedding chapel which, Wong said, only has room for eight people. There have always been weddings at the Willows, he said.

Wong said that although the dispenser general license allows alcohol to be served until 2 a.m., "we do not anticipate that. This is a restaurant; we expect (to serve) dinners until 10 or 11 p.m." He said the higher prices that will be charged "will cut out the riffraff."

Eugene Carson, spokesman for the owners, extolled the new Willows as "a touch of aloha spirit we all seek and rarely find." He said there may be strolling musicians, but most entertainment will be taped music played within the enclosed dining rooms and bar.

Kanemi Kanazawa said "despite the aesthetic and altruistic claims, there is a detrimental environmental effect. A place catering to people until 2 a.m. does disturb neighbors."

John Kato, chairman of the McCully/Moiliili Neighborhood Board, said the applicants refused to hear residents at recent board meetings or enter proposed mediation sessions. "If they had been willing to remediate ... they could have headed off opposition."

Wong said they had sent a representative to talk with opponents, and "we got the sense of a one-sided thing. They're not open-minded. They want to usurp the power of this commission."
E-mail to City Desk
---
---
© 1999 Honolulu Star-Bulletin
https://archives.starbulletin.com