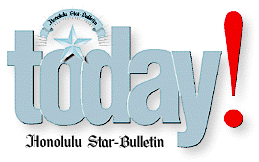 ---
Thursday, July 15, 1999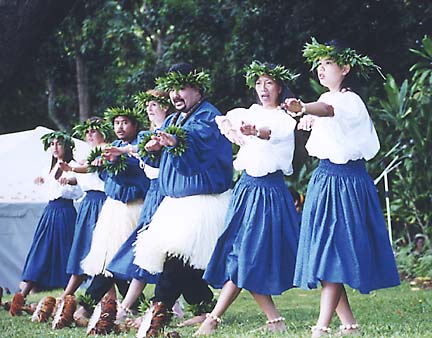 Eddie Freeman photo
Vicky Holt Takamine's Pua Ali'i 'Ilima will be among
the halau participating in the Prince Lot Hula
Festival Saturday.
---
Hula is a rich
connection to the past

By Heather Tang
Star-Bulletin

FOR Kaimana Domingo and many other Native Hawaiian youth, hula serves as a valuable cultural link and ancestral tribute. The 22 year-old is part of a growing generation of Hawaiian youth exploring their roots through dance.

On Saturday, Domingo will be among 500 performers participating in the 22nd annual Prince Lot Hula Festival, a free event at Moanalua Gardens. "It gives me a sense of pride every time I get on stage," said the Big Island native. "As soon as you enter, you get this overwhelming feeling. There's so much culture around you, it's a great feeling."

Hawaiian Studies major Jon Kuahiwi Moniz agrees. The 24-year-old will sing and play ukulele with Pua Ali'i Ilima at the festival. He says Hawaiian music should be perpetuated and brought to the public.




PRINCE LOT HULA FESTIVAL

When: 8:30 a.m. to 3:30 p.m. Saturday
Place: Moanalua Gardens
Admission: Free
Call: 839-5334




"We need to hear it in the community more. I'm singing for my halau and my hometown, and do it purely for the love of hula," said Moniz. "There's a Hawaiian renaissance going on right now; that's why many young people are getting into hula. Elders that came before us made a big impact, made their struggles of living and being Hawaiian known."

In the early 1800s, hula was shrouded in secrecy, held in public disfavor and prohibited by law. Today, its song and dance are treasured and the Prince Lot festival celebrates hula's diversity.

Other hula festivals, such as the Merrie Monarch festival and King Kamehameha pageant, are indoor competitions; the Prince Lot festival stands out as Hawaii's oldest and largest non-competitive outdoor hula event.

Kumu hula Vicky Holt Takamine and Coline Aiu have performed at every Prince Lot festival since its 1977 inception. "We enjoy the Prince Lot because it allows each philosophy and school to present itself without being judged or categorized," said Aiu. "There's no pressure on the kumu hula to glamorize."

This year's event features 12 of the state's premier halau from Oahu, Lanai and Kauai, including William Kahakuleilehua "Sonny" Ching's Halau Na Mamo O Pu'uanahulu (overall winner of the 1999 Merrie Monarch Festival) and Michael Nalanakila'ekolu Casupang's Pupukahi I Ke Alo O Na Pua (winner of the 1999 Kalihi-Palama Secondary Schools' Hula Kahiko competition).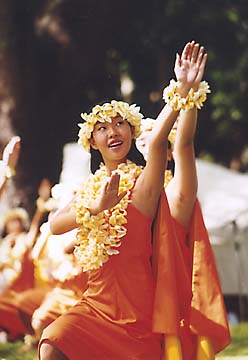 Eddie Freeman photo
Coline Aiu's Halau Hula O Maiki returns to
the Prince Lot Hula Festival.
---
About 10,000 people are expected to attend, said festival executive director, Marilyn Schoenke. The event will honor kumu hula Edith McKinzie and Pat Namaka Bacon, for their perpetuation and appreciation of the hula.

Highlights also include music by Aaron Mahi and the Royal Hawaiian Band; a Hawaiian quilt display; Hawaiian games; lauhala weaving and Hawaiian instrument-making demonstrations; arts and crafts and food vendors.

The event's Moanalua Gardens location has special meaning since hula was traditionally centered in the valley during the reign of Oahu's King Kakuhihewa. After battles between the chiefs of Maui and Oahu decimated the population, hula was forced underground as a refuge for Oahu's surviving storytellers and chanters. Moanalua was eventually inherited by Prince Lot Kapuaiwa, the adopted son of Kamehameha's cousin, Kame'eiamoku.

"The Prince Lot Hula Festival is located in a sacred valley, where our chieftains dwelled and walked. That's more sacred than performing in a theater, stadium or auditorium," said Moniz.

Hula, legally prohibited since the time of the missionaries, was revived under the sponsorship of Prince Lot and his half-sister, Princess Ruth Ke'elikolani.

"Hula allows you to partake in the richness of the Hawaiian culture. It made me see our Islands as a gift from God. When I dance, all of that spirituality comes out," said Aiu.






Click for online
calendars and events.
E-mail to Features Editor
---
---
© 1999 Honolulu Star-Bulletin
https://archives.starbulletin.com