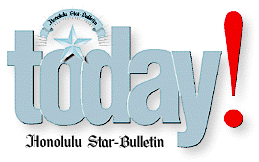 ---
Thursday, July 15, 1999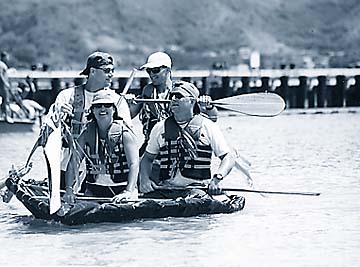 BayFest photo
It's sink or float time at BayFest when four-man teams test
their homemade boats during Sunday's 2 p.m.
Bathtub Regatta.
---
BayFest promises plenty
of fun on Windward side

By Burl Burlingame
Star Bulletin

What's in a name? Obviously, there's mojo in the right band name. When "Long John And The Silver Beetles" pared themselves down to just "The Beatles," they started to get gigs.

A good band name has commercial cachet. There must be dozen bands out there called The Drifters, for example, but there was only one "original" Drifters.




BAYFEST '99

What: 10th anniversary summer festival
When: 5 p.m. to 1 a.m. tomorrow, noon to 1 a.m. Saturday and noon to 11 p.m. Sunday
Where: Marine Corps Base Hawaii, Kaneohe Bay
Cost: $2.50 adults and $1.50 for children 5 to 11 from noon to 5 p.m. Saturday and Sunday. $3.50 for adults and $2.50 for kids 5 p.m. to closing nightly. Kids with an Oceanic Keiki Club Card get $1 off admission Saturday
Hot line: 254-KBAY (5229)




Other band names are put to rest forever, and good riddance. Freddy Fender changed his name hoping to get commercial endorsements, but didn't get dime one from the Kings of Strat. Stark Naked and the Car Thieves was a popular band in the '60s in Hawaii, but you don't hear much from them anymore.

Enough buts. This comes up because one act in this weekend's Ocean Concepts BayFest '99 is Bad Company, performing at 9 p.m. tomorrow and 11:15 p.m. Saturday.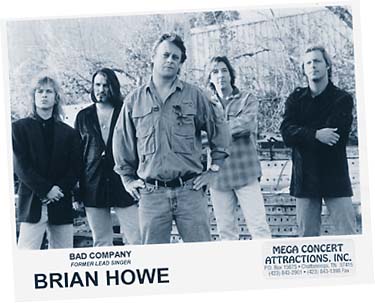 Mega Concert Attractions
Bad Company former lead singer Brian Howe, center, performs
at 9 p.m. tomorrow and 11:15 p.m. Saturday at BayFest '99.
---
Sort of. Read the fine print. It's actually more like "Bad Company's Brian Howe." Howe is the fellow who replaced Paul Rodgers in the group that had hits such as "I Can't Get Enough of Your Love." Howe served with Bad Company until the early '90s, and then lit out on his own. There was some sort of legal unpleasantness, and Howe walked away with the right to use "Bad Company" in conjunction with his own name.

At any rate, the Bad Company founding fathers are back together and are touring this summer as well, and to avoid confusion, are calling themselves "The Original Bad Company." Got that?

Also appearing at BayFest are country-western singer Brady Seals and Michael Owen Miller, performing at 7:30 and 9 p.m. Saturday. Both will also be part of Sunday's "Country Night" festivities, with Miller performing at 8 p.m. and Seals on stage at 9.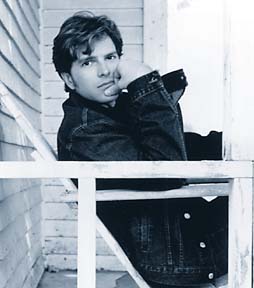 Warner Bros.
Ccountry singer Brady Seals performs at 9 p.m.
Saturday and Sunday at the event.
---
Music is just part of the event. There's also a Hooter's Dunk Tank Contest and AT&T Boxing Challenge tomorrow.

On Saturday, there will be a fishing tournament, all-day kayak rides and Ocean Concept Children's Snorkel Treasure Hunt and fitness competition.

Sunday fare includes a scuba treasure hunt, bathtub regatta, new car show and more.

On tap daily are E.K. Fernandez rides, a slew of food booths. Oh yeah, there'll be Grucci Brothers fireworks at 10:30 nightly.






Click for online
calendars and events.
E-mail to Features Editor
---
---
© 1999 Honolulu Star-Bulletin
https://archives.starbulletin.com