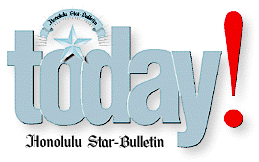 ---
Thursday, July 15, 1999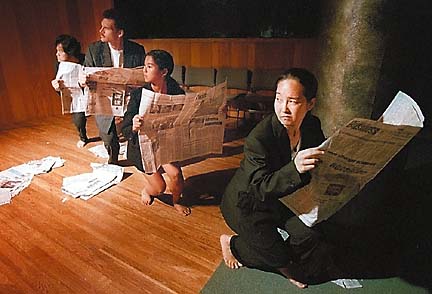 By George F. Lee, Star-Bulletin
Lori Ohtani, right, leads the Tangentz Dance Company
through her butoh work,"Johatsu."
---
Darkness yields beauty


TANGENTZ DANCE COMPANY

Two new works: "Johatsu" and "The Little Match Girl II"
On stage: 7:30 p.m. Saturday
Place: Atherton Performing Arts Studio, 738 Kaheka St.
Tickets: $15 general; $12.50 Hawaii Public Radio members; $10 students
Call: 955-8821

By Dawn Sagario
Star-Bulletin

PEOPLE going underground, choosing to live beneath the realm touched by sunlight. The dehumanization of a society as embodied in the ridicule of one poor, little girl. These concepts are at the heart of two works by the butoh dance company, Tangentz.

Tangentz's philosophy is based on the belief of beauty in imperfection. Western culture has a tendency to portray everything as perfect, elevating beautiful people above all. Going against the norm, Tangentz founder Lori Ohtani chooses to turn her eye toward things not generally considered to be aesthetically pleasing.

"The little flaws make things a lot more interesting and have more beauty; like a weathered branch," she said.

Her piece, "Johatsu," making its Hawaii premiere, is inspired by a book by Jennifer Toth, "The Mole People." The story looks at the plight of the homeless living within the complex, multitiered community of the New York subway system. In this darkness, the author descends into the lives of those who are underground, exploring seven different levels of existence.

Life on the bottom level amounts to total separation from the world above. The journey from the realm of light into darkness depicts the regression of man into a more primal state.

The literal translation of "johatsu" is evaporation. Ohtani explores the possibility that many who live in this dark world do so out of free will. "They wanted to live in a different world, a different society. The piece is dealing with this feeling of being anonymous in your own society. A woman goes down (into the subway system) to explore, and at the end comes to the revelation that it was her choice to become anonymous; to live in a world where there were no bounds and to live in a world of ultimate freedom."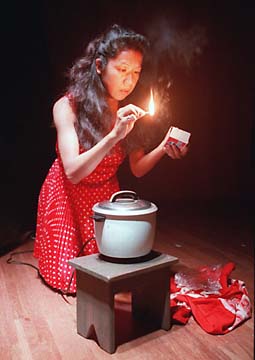 By George F. Lee, Star-Bulletin
Naoko Maeshiba plays the Little Match Girl in her original work.
---
Guest artist Naoko Maeshiba also performs, premiering her piece, "The Little Match Girl II," based loosely on the Hans Christian Andersen fairy tale about a poor girl who sells matches to help support her family.

As she stands barefoot on Christmas Eve, the girl strikes one match to keep warm and sees three images in the flame. The first image is of an elaborate holiday dinner, followed by a decorated Christmas tree, then lastly, a scene in which both the girl and her grandmother go to heaven. The next morning the girl is found dead, but with a smile on her face.

"The little match girl is being ridiculed by the modern world and she finds gems in her illusions and people she encounters in her illusions," Maeshiba said.

"The Little Match Girl II" contrasts the big world, big names and dramatic things vs. small things and simple lives. According to Maeshiba, events in the big world have no affect on the girl's life. "It doesn't make her rich or poor. She's just living. What's very valuable for her may not be valuable at all for most people. There are many living this small life."

Ohtani began dancing butoh in 1989 and was an assistant director and principal dancer with Iona Pear Dance Theatre. She left in 1994 to form Tangentz.

There is no sense of competition between the two dance companies, she said, but there are differences in style and artistic vision.

"My style is a little less refined, a little bit more raw," Ohtani said. "Raw meaning starting from the sense of a baby, a newness ... a sense of where it's not always perfect, and finding beauty in imperfection or the mundane.

"I try to be true and honest and keep the spirit of butoh alive in my work. I'm always trying to define what it is."

Butoh is an art form difficult to define, she says, because the dance is going through many changes. For some, butoh may conjure up images of slow-moving, naked bodies covered in white paint. But Ohtani says that does not define butoh.

"As long as you keep that essence, it will show through, makeup or not," she said. "Butoh is very much in transition and is trying to find itself again."

John Wat, a performer in Maeshiba's piece, said he enjoys butoh because it moves a person to examine things past a superficial level.

Audiences should be prepared for something different, Wat said. Those accustomed to Western dance may be disappointed by the stark nature of butoh.

"I like butoh as an art form because it's complex and there's a quality of suggestion that's non-literal. It's not simple, it's deep."






Click for online
calendars and events.
E-mail to Features Editor
---
---
© 1999 Honolulu Star-Bulletin
https://archives.starbulletin.com