---
Friday, July 9, 1999
Watch, listen, be
very careful, police say
in hunt for gunmen


Police say they have lots of
good leads on the armed
bank robbers

By Pat Omandam
Star-Bulletin

Rewards totaling $45,000 have produced some good leads about the suspects responsible for Wednesday's bank robbery in Kahala, the CrimeStoppers coordinator said today.

"We have at least 20 extremely good leads," Honolulu police Detective Letha DeCaires said. "We've received hundreds of calls within the past 36 hours and have investigated every tip.

"I think we're closer to identifying and finding the suspects," she added.

A special task force, headed by police Lt. William Kato, has been working around-the-clock coordinating the hunt for the five gunmen responsible for the American Savings Bank robbery at 1215 Hunakai St.

Meanwhile, Honolulu police are warning the public to be aware of their surroundings.

The five suspects could strike again, and people need to know what to do if they become an innocent bystander at another robbery, DeCaires said.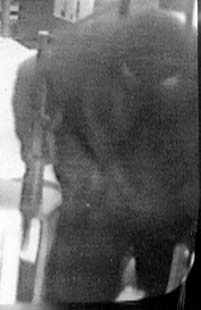 This is a scene from a security videotape taken during
the American Savings robbery on Wednesday in which
gunmen took over the bank using automatic assault-
type weapons.
---
"Until these people are caught, it is presumed that they will strike again," she said.

"And we want to make sure that people are staying awake and alert, no matter where they're going, whether it's their bank, their supermarket or where ever. These people have no desire to protect life, and its very apparent by the behavior exhibited at the bank," she said.

Police released detailed descriptions of the five men who robbed the bank.

Police said four suspects entered the bank at 10 a.m. Wednesday. The first suspect ordered the dozen customers and staff to lay on the floor. Two others went behind the counter and ordered employees to open the vault and cash drawers, and took the money.

A fourth man stayed at the front of the bank. A fifth man was seen outside and may have served as the getaway driver.

After an exchange of gunfire with a police officer outside the bank, three robbers escaped in a stolen truck, the fourth in a hijacked van and the fifth walked into the Kahala Mall complex and could not be found.

The bank's surveillance equipment worked for less than 30 seconds before the suspects damaged it, DeCaires said.

She advised anyone who finds themselves in the middle of a similar bank robbery to stay calm and alert, and make mental notes on what's going on. Things that people may not think are important become extremely critical for the task force as they try to locate and arrest these suspects, she said.

The Hawaii League of Savings Institutions and the Hawaii Bankers Association have offered up to $25,000 reward through CrimeStoppers.

The FBI and Honolulu police will pay another $20,000 for information that leads to the arrest and conviction of these suspects. Anyone with information can call CrimeStoppers (955-8300) or the FBI (521-1411).

"We really want the public to continue to be very vigilant in listening to what people are saying and watching the behavior out there."




Suspect 1

First to enter the bank. He is described as Caucasian, between 5 feet, 9 inches and 5 feet, 10 inches tall with a heavy build. He has light gray or green eyes. He wore a ski mask, black long-sleeve pull-over, dark camouflage pants, dark shoes, black gloves, and possibly carried an assault rifle.

The bank surveillance photo provided by police showed the suspect's legs and the rifle pointing at the ground. He may be the same person who hijacked the bakery van.

Suspect 2

First to go over to the teller window to empty out cash trays. He is described as between 20 and 30 years old, 5 feet, 6 inches tall with a husky build. He wore a light gray knit ski mask, gray long-sleeve shirt-type jacket and black camouflage pants. He was armed with an assault rifle.

Suspect 3

Second to go behind the teller counter: He is described as 5 feet, 8 inches to 6 feet tall with a muscular build. He wore a ski mask, black gloves, black long-sleeve pullover shirt, dark military-type pants and boots. He was armed with an assault rifle slung over his left shoulder.

A surveillance photo showed the man with his weapon slung over his right shoulder.

Suspect 4

Fourth man to enter. He is described as having a dark complexion, from 5 feet, 8 inches to 6 feet tall, heavy-set. He wore dark clothes, with his hair possibly set in a dreadlock or long, stringy/bushy hair style.

The man was seen running on foot through Kahala Mall and possibly on 22nd Avenue dressed in a red T-shirt and carrying a shoulder bag. Police released a blurry photo of this man walking into the bank.

Suspect 5

A man observed waiting outside the front door. Described as tall with a medium build. He wore a long-sleeve dark-colored shirt.



E-mail to City Desk
---
---
© 1999 Honolulu Star-Bulletin
https://archives.starbulletin.com