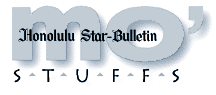 ---
Friday, July 9, 1999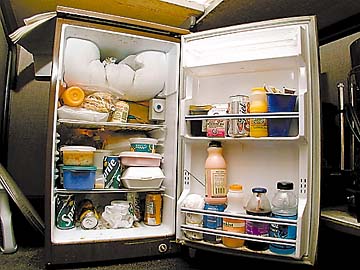 By Craig T. Kojima, Star-Bulletin
This office refrigerator smells worse than it looks.
---
Cool kitchen stuff prize
in gross fridge contest
If you are afraid, very afraid of what's inside your refrigerator, now may be the time to investigate some of those containers unopened since Christmas. Yes, that furry black-white-and-blue mold and putrid produce may pay off $5,000 in a kitchen appliance makeover.

The makeover is being sponsored by Whirlpool, which is conducting a search for America's Most Disgusting Refrigerator."

In a recent poll conducted by the appliance manufacturer, nearly 25 percent of Americans clean out their refrigerators less than twice a year, making them a breeding ground for health-threatening mold and fungus.

To call attention to this inattention, one family will be awarded with a new Whirlpool refrigerator, range, dishwasher and microwave oven, plus $1,000 to restock their refrigerator.

Four runners-up will receive a new Whirlpool microwave, so they can reheat those leftovers before they have a chance to fester with fungus.

To enter, families can send a photograph or five-minute videotape of their refrigerator, with a 100-word description of its contents to: Whirlpool Grossest Refrigerator Contest, P.O. Box 9569, Downers Grove, IL 60515.

Entries must be received by Aug. 31. Winners will be notified by Sept. 30. Complete rules may be obtained by sending a self-addressed, stamped envelope to the contest address.
---
Cataluna screenplay
takes Hollywood
Star-Bulletin

Lee Cataluna, former Hawaii's news anchor, will have her screenplay "Hoolawe: Give and Take," filmed this fall in Hawaii by Ovid Pictures, a Los Angeles-based independent production company.

Cataluna's screenplay, a comedy set in contemporary Hawaii, won honorable mention honors at this year's Monterey Film Festival. Her play, "Aloha Friday," this year won the Kumu Kahua Playwriting Competition.

"Hoolawe: Give and Take" tells the story of Oahu's toughest repo man who loses his edge. During Hawaii's economic slump, main character Cliff Ahia finds he can no longer take from his "brothers and sisters" who are struggling to make ends meet.

Ahia's crotchety office manager hires a young man who has "anger management issues" in hope of bringing the fire back to Ahia's repossession business.

Producers will be in Honolulu next month to audition actors for feature roles.






Click for online
calendars and events.
---
Send WatDat? questions, stories
or any other story ideas or comments to:
Features, Honolulu Star-Bulletin, P.O. Box 3080,
Honolulu, HI 96802 or send a fax to 523-8509
or E-mail to features@starbulletin.com.
Please include your phone number.
E-mail to Features Editor
---
---
© 1999 Honolulu Star-Bulletin
https://archives.starbulletin.com