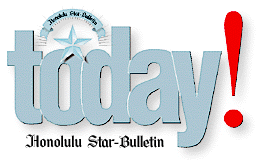 ---
Friday, July 9, 1999



Kathleen Tyau crosses the ocean
once again, returning to the place she
still considers home

"Makai," By Kathleen Tyau (Farrar, Straus and Giroux), $24 By Suzanne Tswei
Special to the Star-Bulletin

THE beauty of giving directions the Hawaiian way lies in its simplicity. If you are not going mauka -- toward the mountains -- you are going makai.

For Kathleen Tyau, makai is something more complicated than just going toward the ocean. It means going away, as she first crossed the ocean for the mainland nearly 30 years ago. It means coming back, from the opposite direction toward the same Pacific ocean that surrounds the place of her birth, childhood and adolescence.

Makai is everywhere you look, and everywhere you may be heading. A simple everyday word, yet complex and inscrutable. Like a woman's life.




AUTHOR'S READING

What: Readings from "Makai" by Kathleen Tyau
Where: Noon, Sunday, Borders Books at Waikele Center; and 2 p.m., Sunday, Borders at Ward Centre.
Neighbor islands: 7 p.m. Monday, Borders Kailua-Kona; 7 p.m. Tuesday, Borders Hilo; 2 p.m. July 17, Borders Kahului
Admission: Free




"Makai" is the title of Tyau's latest book -- the reason she flew across the ocean this week to return to the islands. She is on the Hawaii leg of a West Coast book tour, doing readings and meeting fans at bookstores here through next week.

Alternating between standard English and pidgin, "Makai" details the manifold relationship between two Hawaii women coming of age during World War II. Their lives are like the ocean, the vast blue water representing the many events and unresolved issues in their lives, Tyau said.

Alice is the sensible one, quiet and sturdy. Without uttering a disapproving word, Alice packs a pair of rubber slippers when her friend Annabel wears high-heeled sandals to the beach. "For when her feet get sore later on."

Annabel, pretty and impulsive, helps Alice adjust to life at St. Andrew's Priory. She steals two carnations, a red one and a white one, from the governor's mansion next door and leaves them on Alice's pillow as a gesture of welcoming the new girl to the boarding school.

The two roommates become cohorts in mischief and rivals in romance, maintaining a bond built upon friendship as well as tension and secrets.

Their lives remain interwoven because of the men they both desire and their children who fall in love with each other.

Tyau uses Alice and Annabel, who are of her mother's generation, to sort through the complexity of women's lives and relationships. But Tyau did not intend "Makai" to be "a woman's book."

"There are men in this book, and I want men to read it, too. The book has gotten good reviews. Men have read it, and they liked it."

The book is written in a brisk style more reminiscent of Ernest Hemingway than a stereotypically sentimental woman's book. The story unfolds through Alice's voice, clear-eyed and straightforward in unembellished language.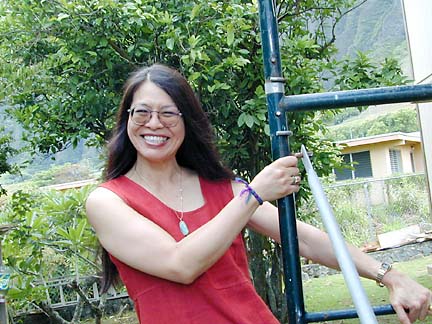 By Craig T. Kojima, Star-Bulletin
Author Kathleen Tyau has come home to read from her
new book, "Makai." Above is the artwork from the book.
---
"Last night my daughter Beatrice came home from the mainland with her boyfriend. She brought him home, to our house on Oahu, to sleep with her.

"She's thirty-two, old enough to know what she wants, and I guess it's not her husband, Frankie."

Alice worries plenty about everybody and everything: her rebellious Mainland-educated daughter, her fisherman husband Sammy and Annabel, who's coming for a visit. But Alice is wise enough to keep her thoughts to herself.

"She is not perfect," Tyau said of Alice. "But I think she's the stronger of the two. She is a likable character. She is kind of typical of the (Asian) women here. They are very shy, they don't talk much. But just because they don't talk, that doesn't mean they are stupid. They just sit back and listen, and go along with everything. In the end, they get what they want anyway," Tyau said.

Tyau had intended to use Annabel, who moved to Florida, as the voice of the novel. Like Annabel, the author also left the islands.

Tyau grew up in Waikiki and Pearl City, and left for college on the mainland in 1965 when she graduated from the Priory. After earning a bachelor's degree in English, she became a hand weaver and legal secretary. She remained on the mainland even though she missed the islands, and hearing Hawaiian music always made her cry.

"It came to a point when I had to stop listening to Hawaiian music. It was too emotional for me. I think I have a Hawaii soul. I don't think that goes away no matter how many years I have been away," said Tyau, who is Chinese and one-eighth Hawaiian.

Her island roots provided inspirations for her writing. First she wrote a simple, straightforward essay about cooking rice -- measuring the rice with finger joints, rinsing until the water is clear and other specifics her mother taught her. The essay became a more elaborate piece, and that led to a literary agent. Eventually it became her first novel, "A Little Too Much Is Enough," published in 1992.

Building each chapter upon island food themes, her first book follows the life of fictitious Mahealani Suzanne Wong and members of her large island family.

With both books, Tyau draws on her own life and the people she has known to create the stories, but she said no character is based completely on any real person.

"There are some parallels. Alice almost drowns in a flood, and I am afraid of water," said Tyau. She nearly drowned when she was about 5 years old.

Her uncles tried to teach her to swim by throwing her off the reef.

"To this day, I don't like to get my head under water. Snorkeling gives me a headache."

Yet, she craves the ocean, which is far from her home in Oregon -- a 52-acre tree farm she shares with her second husband.

"I love the ocean. Seeing it means I am coming home, either to Hawaii or to Oregon. Both ways I have to go over the ocean, I have to go makai."






Click for online
calendars and events.
E-mail to Features Editor
---
---
© 1999 Honolulu Star-Bulletin
https://archives.starbulletin.com