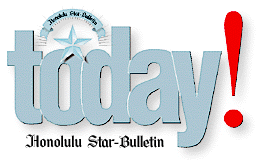 ---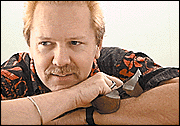 Island Mele

By John Berger
Friday, July 9, 1999
---
Reincarnated Na Wai
has promise

Together, by Na Waiho'olu'u O Ke Anuenue, Way Out West Productions NA Waiho'olu'u O Ke Anuenue -- often called Na Wai for short -- surfaced as recording artists with "Jawaiian Rainbow" on John Kahale Chang's Kahale Records in 1990. Lina Naipo and Luisa and Bella Finau were Na Wai's heart and soul. Shawn Pimental and Brian Chang inflated the act to five.

Tahitian originals by Uncle Tommy Taurima showed Na Wai capable of an imaginative Polynesian pop sound. Instead they became formulaic pseudo-Jamaicans. Their Kahale albums included textbook examples of the vapid cultural plagiarism that led to the popular Hawaiian backlash against "Jawaiian" music.

Na Wai released "The Rainbow Journey" for Kahale in 1993 and broke up for reasons never made public. Six years later, the Finau sisters and producer "Radical Rob" Onekea have resuscitated Na Wai. Chang and Pimental are history, and Gigi has replaced Naipo. The new album finds them somewhere between Hawaii's reigning "girl group," Na Leo Pilimehana, and the young reggae/local pop sound of Reality. It is by far the most impressive work by any version of Na Wai. Deleting the tinny synthetic sonic filler that underlies several arrangements would make Na Wai's return even more impressive.

Na Wai enlists Sudden Rush for a half-sung half-rap version of "Kaulana Na Pua." Producer Onekea provides no translation or background information on the nationalist anthem, and fails to credit composer Ellen Predergast, but Sudden Rush conveys her sentiments to good effect while adding an uncredited interpolation of Bob Marley's "Redemption Song."

Fiji and B.E.T. add welcome texture and soulfulness on other songs.

The title track and "More & More" are notable originals that combine pop and local reggae nuances. A reggae beat take on the Temptations' 1968 hit, "I Wish It Would Rain," is better than most Jawaiian remakes. Smooth harmonies and faux Jamaican rapping makes it a hot pick for play on Hawaii's "island music" radio stations.

---

Paradise, Daniel Ho, Aire Music An imaginative take on "Pupu A'o 'Ewa" is the notable track on pianist Daniel Ho's third instrumental album of 1999. "A Ho'i Ho'i Mai" is the other island standard included along with another eight originals.

Dean Taba (bass) and David Ho (keyboards) appear from time to time on the tranquil and introspective arrangements.

A portion of the proceeds from album sales will fund Wyland Foundation programs for the protection of ocean life.

See Record Reviews for some of John Berger's past reviews.

---




John Berger, who has covered the local
entertainment scene since 1972, writes reviews of recordings
produced by Hawaii artists. See the Star-Bulletin's Home Zone
section on Fridays for the latest reviews.
E-mail to Features Editor
---
---
© 1999 Honolulu Star-Bulletin
https://archives.starbulletin.com