---
Wednesday, July 7, 1999



S W I M M I N G
---



Medals for
UH swimmers


Simon Thirsk takes gold and
Nicholas Folker bronze at the
University Games

Star-Bulletin staff

PALMA DE MALLORCA, Balearic Islands -- South Africa's depleted team gained its first two medals, thanks to two swimmers from the University of Hawaii at the University Games yesterday.

Simon Thirsk draped himself in South Africa's colorful flag after winning the 100 backstroke in 55.97, and Nicholas Folker was third in the 100 freestyle.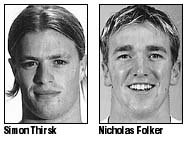 Several South Africans in swimming, tennis, fencing and volleyball, as well as the country's entire soccer team, withdrew on the eve of competition because of financial reasons. South African team chief Malumbetle Ralethe said Thirsk paid $1,500 out of his own pocket to come to Mallorca.

"This is a great win for Hawaii," UH swim coach Sam Freas said in a press release. "It's the first time the university has had individual winners in the University Games. We can be proud to share the award between the university and their country."

Thirsk also will compete in the 200-meter backstroke final tomorrow and Folker will swim in the 50-meter freestyle on Friday.

Thirsk and Folker, also will compete in the Pan Pacific Games next month.
E-mail to Sports Editor
---
---
© 1999 Honolulu Star-Bulletin
https://archives.starbulletin.com